"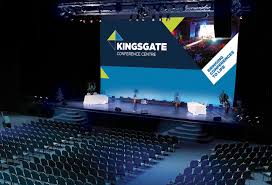 The number one benefit of Parallels  is the wide range of devices supported. Being able to implement [the Parallels product] on Macs, Windows, iPads and other devices has been very successful." Pete Charlton, Technical Manager, 
KingsGate Community Church – Company Overview
In September 1988, Dave and Karen Smith left the city of Oxford, where Dave was completing a doctoral thesis on the 18th Century Evangelist George Whitefield, and they both moved to the city of Peterborough. They had a mandate to build a local church that would impact the city, the region, the nation and beyond.
In 2006, the Peterborough congregation moved into a brand new, purpose-built facility: KingsGate. In 2010, a second centre was launched in Cambridge and a vibrant, growing community is being established.
The Challenge
KingsGate Community Church has typical office administration operations, which include extensive use of Microsoft Office, Microsoft Project and Sage Line 50 for Finance. The church also has a significant number of users with Mac laptops, so the ability to offer them simple integration into the system was nearly impossible without a server-based computing solution. Likewise, the costs associated with purchasing new PCs and devices, along with maintaining hardware, was not scalable with the church's growth. Finally, and most importantly, KingsGate wanted to ensure that its IT infrastructure was secure.
The Solution
KingsGate Community Church turned to Parallels RAS for virtual desktop and application delivery. They currently use the Parallels RAS, the church has one Parallels Gateway server and one Windows Server.
The organization has been able to offer a "bring your own device" (BYOD) environment to a good number of members. This has resulted in the transfer of numerous PCs to other users, and has proved to be a very successful strategy to meet the church's growth requirements. Furthermore, it has meant that KingsGate has been able to take on more staff (paid and voluntary) with very little additional cost to the organization, yet retaining a high level of security.
The church also started to re-use existing end-of-life desktop machines. This gave extended life to previously expired hardware, therefore saving KingsGate a substantial amount of capital expenditure.
Key Benefits
KingsGate Community Church found that the major benefits of Parallels RAS were the wide range of devices supported, availability, and cost savings. Being able to implement the product on Macs, Windows, iPads and other devices has been very beneficial.
The initial trial stage was supported very professionally by the software provider. KingsGate had a number of conversations with the company's technical representatives to help the church work through the implementation process. Also, as KingsGate was new to virtual desktop and application delivery technology, it faced a steep learning curve that was helped by Parallels Support and Parallels Online Documentation. Following the purchase of Parallels RAS, KingsGate used the Parallels email support service a couple of times and found it to be quite satisfactory.
As KingsGate grows, it is very easy to see how the software will further support its rapid growth and flexibility to work both in the main churches and off-site.
About KingsGate Community Church

KingsGate Community Church is a large, contemporary, community focused Christian church, based in Peterborough, Cambridge and Leicester, England. Its first service in 1988, held in a house, was attended by just nine people, and today it has a congregation of over 1,600. KingsGate represents people with different backgrounds, all ages and over 50 different nationalities. In 2006, the congregation moved into its new, £7m, 84,000sq ft building, which in addition to meeting rooms, offices, kitchen facilities and children's rooms, contains an auditorium which will eventually seat 1,800 people. In September 2010, KingsGate launched a new centre in Cambridge, and in February 2014 KingsGate launched a new centre in Leicester.  For more information, visit www.kingsgateuk.com.
About Parallels
Parallels acquired 2X Software in February 2015. The synergy between the two companies will ensure provision of the best technology and expertise to businesses and individuals, enabling access to and use of any applications and files on any device, at any time, wherever the user is located.
Parallels is a global leader in virtual desktop, application delivery and mobile device management solutions. Thousands of organizations worldwide trust in the reliability and scalability of Parallels products. Parallels offers a range of solutions to make every organization's shift to cloud computing simple and affordable. The company's product line includes the award-winning Parallels Remote Application Server (Parallels RAS), providing platform-independent virtual desktop, application delivery and integrated thin client management from a single software package to any modern operating system, as well as to mobile devices including smartphones and tablets. Parallels Mobile Device Manager (Parallels MDM) offers a complementary (or standalone) solution that enables Parallels 's customers to monitor and manage corporate and employee-owned mobile devices. With Parallels MDM, customers can track their devices and remotely lock or delete data if a device is lost or stolen. In addition, organizations can monitor mobile devices for malware and remove inappropriate apps.