Modern and fast application delivery with Parallels RAS and appCURE
Today, we are announcing tight integration between appCURE Studio and Parallels® RAS (Remote Application Server). Now, appCURE Studio can generate MSIX app attach packages and publish directly to Parallels RAS environments to simplify modern application delivery. This blog post discusses the integration, why it is important to achieve modern application delivery management, and how you can benefit from it. 
Introduction
Today's hybrid workplace requires organizations to be agile when it comes to providing access to applications and data in a fast, secure, and cost-effective way. Whether an on-premises data center or a cloud-based environment, delivery quality and secure access to applications are common client requests and crucial to any organization. Together, Parallels RAS and appCURE provide actionable insights. Simplify your application management, save time on application delivery solutions, and automate application lifecycle management by converting applications to a modern application format. 
A solid application delivery platform with MSIX app attach
Parallels RAS provides MSIX app attach management and integration, enabling IT administrators to easily manage, assign, and publish MSIX app attach packages to end users, even outside of Microsoft Azure Virtual Desktop (AVD). Parallels RAS includes version tagging for easier life cycle management. And finally, MSIX applications always need to be signed by a code-signing certificate. Parallels RAS automatically ensures that all host servers trust the certificate without any manual action and displays the expiration date. For more information, visit this blog post on the MSIX app attach integration included in Parallels RAS. 
Application delivery process: Capture, Update, Remediate and Execute
appCURE Studio is based on CURE (Capture, Update, Remediate, and Execute). appCURE Studio is designed to significantly reduce the time it takes to transition applications when shifting to modern digital workspaces, server, and cloud environments. In addition, appCURE Studio helps you future-proof against potential problems and vulnerabilities.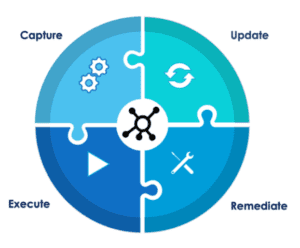 Using appCURE Studio, you can convert any application to MSIX and even capture running applications in case the original installer is no longer available. After an application is transformed into an MSIX app attach package, appCURE Studio then transforms and outputs the package, and Parallels RAS provides the delivery for successful end user access.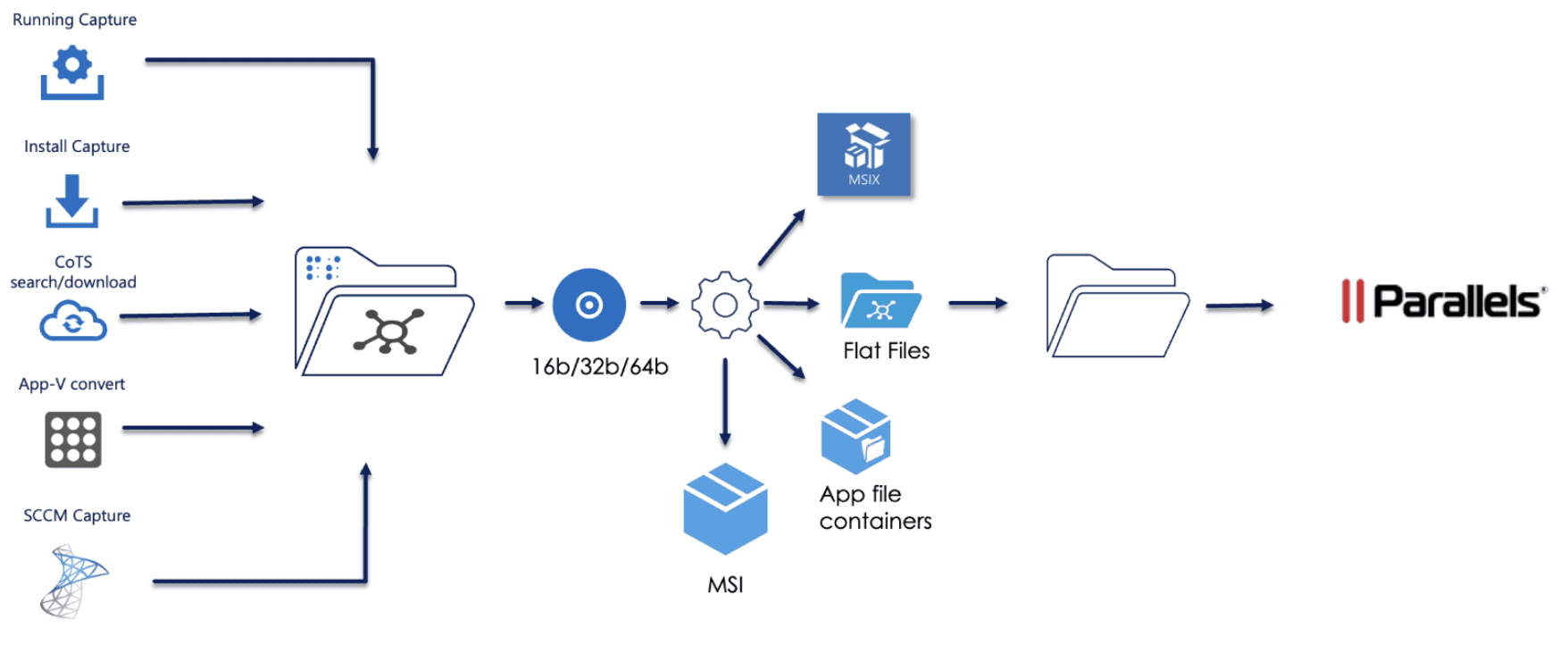 Reliable application delivery: Parallels RAS integrated in appCURE studio
Starting with appCURE Studio version 3.3.3, there is direct integration between appCURE Studio and Parallels RAS. By leveraging the REST API that Parallels RAS provides, appCURE Studio can output MSIX app attach packages directly to Parallels RAS. After outputting to Parallels RAS, the MSIX app attach package becomes available within Parallels RAS and can then be published to any multi-user or single-user session host. 
With this integration you can capture, transform, and publish applications in the new MSIX format to any user on both 1:1 as well as 1:many environments. Without any manual action or scripting, administrators can provide access to Windows applications inside Parallels RAS that are packaged in the new MSIX packaging format. This significantly reduces the time spent managing the application landscape, reduces the number of template images needed, and allows for a fast update cadence of applications. 
By combining appCURE Studio and Parallels RAS, organizations benefit from fast application delivery and easier application life cycle management while providing access to business-critical Windows applications. The screenshot below shows the Parallels RAS integration inside appCURE Studio where MSIX app attach packages are being imported directly as Application Packages into Parallels RAS.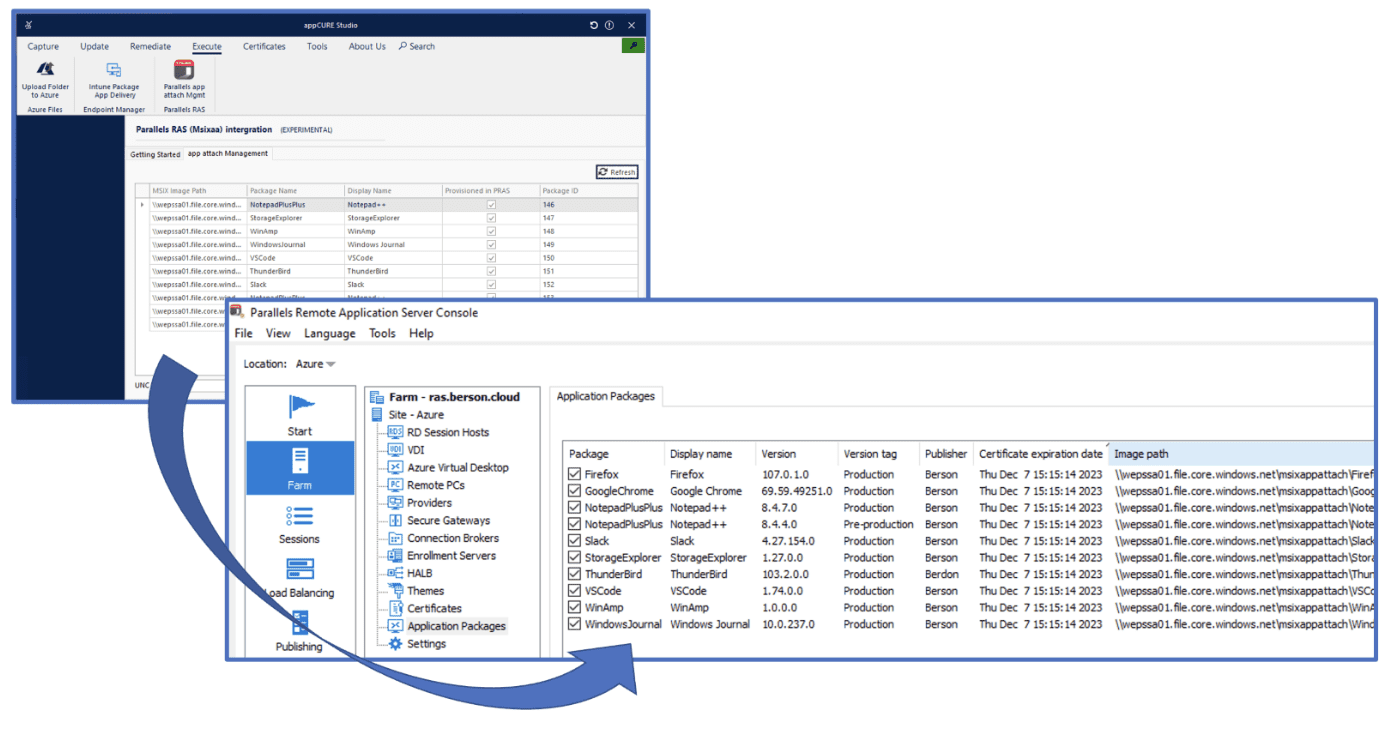 Regardless of whether your environment is an on-premises data center or a cloud-based or multi-cloud environment, having proper application delivery management in place is crucial. Parallels RAS provides choice and is the ideal delivery solution for enterprises that present virtual apps and desktops to end users. By combining Parallels RAS with appCURE and delivering MSIX applications, you can deliver applications faster, ensure application performance, and optimize your overall application delivery management. 
See it in action!
The video below shows the Parallels RAS integration in appCURE Studio.
Learn more about Parallels RAS