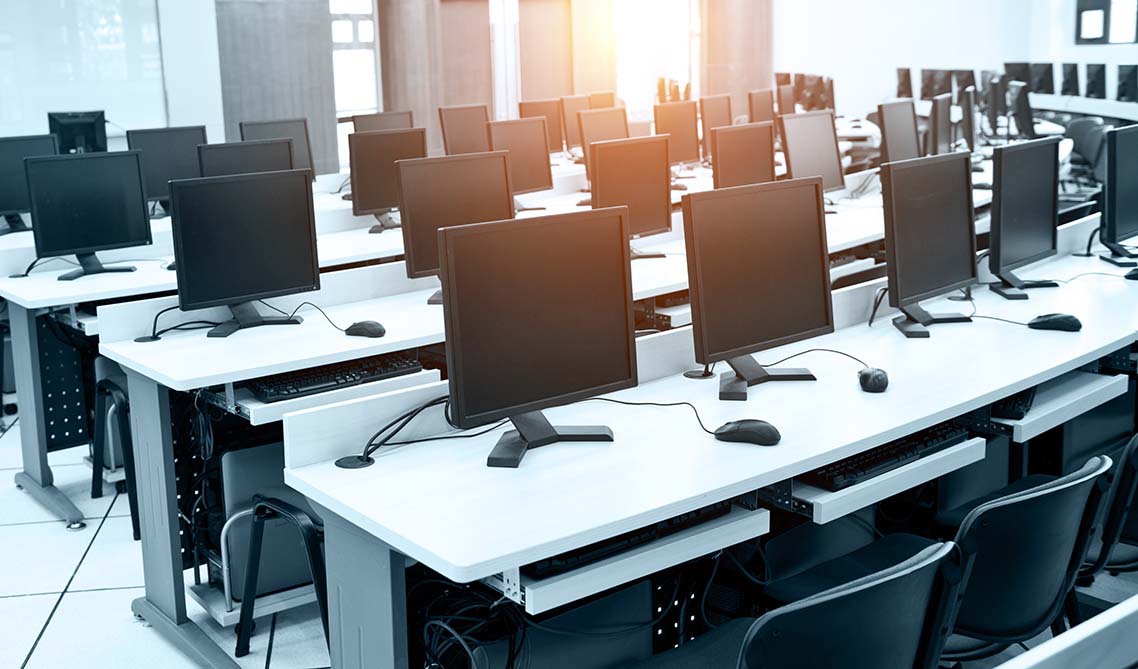 A Complete Guide to VDI Thin Clients
In a virtual desktop infrastructure (VDI), endpoint devices are used to access virtual desktops hosted in datacenters. Thin clients, or devices with minimal system configurations, are perfect under this setup since endpoint devices do not perform any actual processing. There are many considerations when using VDI thin clients and other hardware options. This article discusses thin clients in detail, including their differences from thick and zero clients, their use cases and benefits, and how you can use Parallels® Remote Application Server (RAS) to manage them.
Definition of a Thin Client
A thin client requires a network connection for it to perform its main task, which is to access a virtual desktop running in the datacenter. Once a connection is established, a thin client allows users to work as if they are in front of a virtual desktop, accessing and running the applications they need to perform their work.
Aside from a network connection, a thin client requires a thin client operating system (OS). A thin client can perform its basic functions with this software, such as connecting to a virtual desktop. A license for a thin client OS is often less pricey than a normal OS license.
While they can be as secure as any desktop computer, thin clients are more compact since they do not require a hard drive. The lack of a hard drive means thin clients do not require any fans to cool them down. Thus, thin clients are less noisy, consume less power, and are priced more attractively than full desktops. This also means that they require less maintenance.
In a VDI, all processing is performed in on-premises or cloud-based datacenters where virtual desktops are accessed by thin clients. At the same time, all applications and data remain on the virtual desktops. Since thin clients neither store any data nor have applications installed on them, they are less of a security concern to IT teams.
Thin vs. Thick vs. Zero Clients
While thin clients may be ideal for VDIs, you can also choose from other hardware options such as thick and zero clients, depending on your requirements.
Thin clients merely display terminals for virtual desktops—they do not perform any actual processing. Instead, processing takes place on the virtual desktop, and the results are displayed on the thin client. This simplicity in function means that you can repurpose not-so-old desktops that still offer decent graphics performance into thin clients, helping you save on costs.
Centralized management is another benefit of thin clients. For example, thin clients with similar configurations can be applied with a common user-profile policy. This allows the deployment of thin clients to your users without much difficulty.
When you have more complex requirements, such as multi-monitor support and video conferencing, you may have to choose from more expensive thin clients that have these capabilities. Display protocol and backend display processing are other considerations when choosing thin clients. However, when a thin client breaks down, you may have to replace it totally instead of just replacing or fixing a failing component.
As their names suggest, thick clients are the opposite of thin clients. Thick clients often have the capabilities of full desktop PCs, with all their attendant costs, including increased IT overhead in the form of more maintenance.
One thing going against thick clients is that you do not realize the savings from building a VDI, including lower power consumption, centralized management, and better security. In terms of licensing, you may also be required to purchase an OS license for a thick client, aside from the OS license for the virtual desktop. Since thick clients also come with hard drives and media ports, they are not as secure as thin clients.
Zero clients are even more extreme than thin clients. They neither require any configuration nor have any data stored on them. This means that they even use less power than thin clients. Unlike thin clients, zero clients do not require an OS.
There are also zero clients requiring software and memory resources, contrary to the assertion that they do not require any management and maintenance. Zero clients can also be proprietary and tie you down to a single vendor. If your virtual desktops require access to native components on your endpoint devices, a zero client will not give you that flexibility.
Use Cases for Thin, Thick, and Zero Clients
While cost and ease of management should be taken into account when choosing hardware for your VDI, you should also consider your own requirements to see if your selected hardware devices are ideal for the job.
Thin clients are best if your users require access to applications based on job function. The same is true if your users are required to share devices among themselves.
On the other hand, if your users require peripherals and access to applications that need to be installed locally on endpoint devices for better performance, it might be better to go with thick clients. This is also true when virtual desktops serve only as backup options for emergency situations. However, this means foregoing the advantages that VDI offers your organization, such as lower cost and better manageability.
Zero clients are ideal for organizations mandated to follow standards, such as the Payment Card Industry Data Security Standard (PCI DSS) and Health Insurance Portability and Accountability Act (HIPAA) in the financial sector and healthcare industries, respectively. Since they do not have any access points that bad actors can compromise, zero clients offer limited exposure to potential security threats.
Lastly, thin and zero clients are ideal for those operating on a tight budget since they are less costly to acquire and maintain compared to thick clients.
Advantages of VDI Thin Clients
Many IT departments still prefer thin clients over thick and zero clients. This is because VDI thin clients possess distinct advantages over the other hardware options, including:
Higher cost savings: Thin clients help lower IT support costs due to their simplicity. They also require less expensive upfront purchases, thus lowering your capital expenditures. In terms of licensing, aside from paying a fee for the virtual desktop OS, you only need to purchase a lower-priced license for the thin client OS. Your energy expenditures and carbon footprint are also lower with thin clients since they consume less power.
Simplified and centralized management: VDI thin clients are managed centrally from your datacenters. Thus, everything, from software and hardware upgrades down to backups and security policies, is implemented from a central location, without necessitating visits to your thin clients, wherever they may be located. This means less downtime since you can schedule maintenance while users are away from their endpoint devices.
Improved security: Users are prevented from installing and using unauthorized software on thin clients, thus lowering the risk of compromising the security of your IT infrastructure. Since thin clients do not have any other hardware such as storage and optical devices, your users cannot copy any data you don't want to leave your company premises. Centralized monitoring means that your IT department can keep a broader watch over potential security threats, increasing the chances of preventing them from hitting your organization.
Better productivity: Thin clients are easy to set up and can be up and running in minutes. They are also easier to maintain compared to full desktops. This leads to increased productivity among your IT staff.
Innovative Thin Client Management with Parallels RAS
With Parallels RAS, your organization can easily set up a complete VDI solution serving full-featured applications and desktops to your users, even if you have only low-end workstations as your thin clients. You do not have to upgrade your old workstations for them to serve your needs.
Parallels RAS limits all processing to your datacenters. None of your data resides in your endpoint devices, thus ensuring data security. You can even transform your old machines into Kiosks, which are essentially secure thin clients that only call up virtual desktops from your datacenters when required. You have to worry only about locking down your datacenters to secure them from external threats.
Parallels RAS offers a central console from which to manage your VDI thin clients. From the Parallels RAS Console, you can allow users to access native OS functions and resources and directly control thin clients.
Thus, Parallels RAS offers the following benefits:
Turns old machines into thin clients that are easy to manage and more secure than traditional workstations.
Extends the lifecycle of old hardware, helping you save on costs.
Allows central device management with the Parallels RAS Console.
When needed, enable instant remote access to and direct control of thin clients.
See how Parallels RAS can help you create a VDI solution using thin clients!