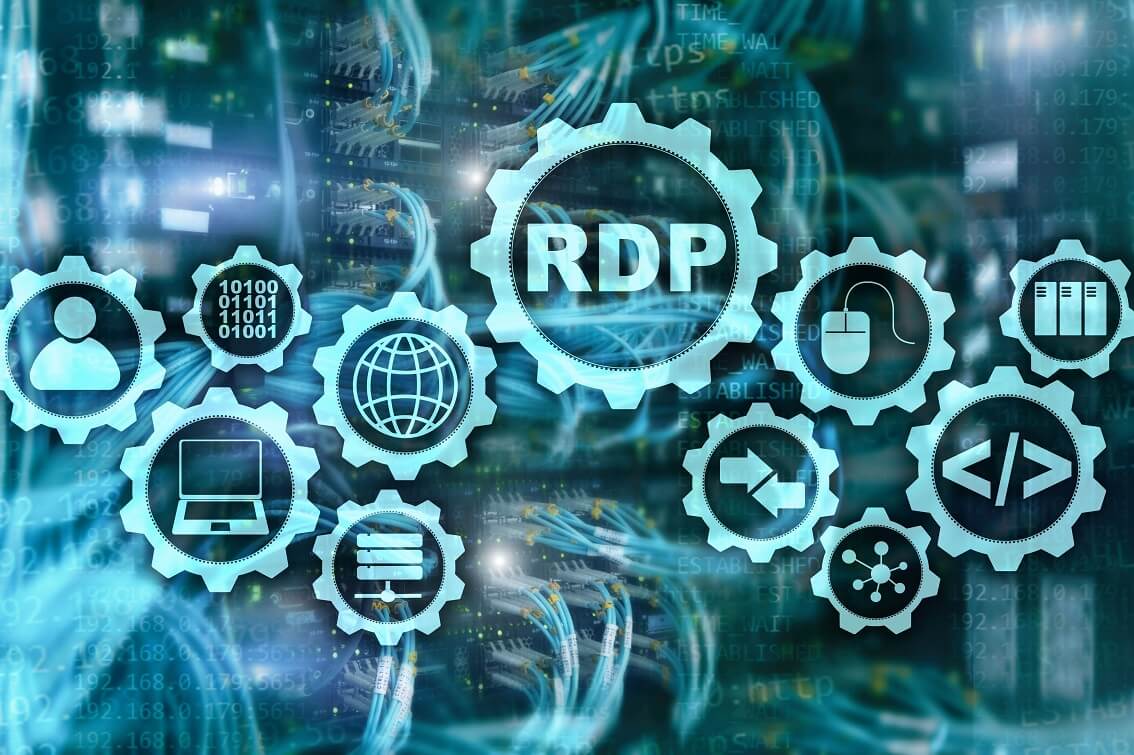 What Is RDP? | Parallels Explains
Microsoft Remote Desktop Protocol (RDP) is a secure network communications protocol used to provide access to virtual desktops and applications hosted on Remote Desktop Services (RDS) or hypervisors.
Here we discuss how to enhance Microsoft RDP performance with Parallels® Remote Application Server (RAS), an easy-to-deploy, cost-effective application, and desktop delivery solution.
With Microsoft RDP, IT administrators can provide encrypted, remote access to shared resources hosted on a central location. Furthermore, RDP allows administrators to offer technical support through access to remote desktops. IT staff can view and take over a remote desktop session, giving them the ability to diagnose and correct problems from a remote location.
How to Enable RDP on Windows 10
By default, the RDP feature is disabled on Windows 10 Pro; therefore, you need to enable it. There are various ways you can enable the RDP feature. First, let's review the most straightforward approach:
Click the Start button and type "Settings."
Next, click "System"> "Remote Desktop."


Click on the "

Enable Remote Desktop

" toggle button. Click the "Confirm" button to complete the process.

 
You can also enable the RDP feature through System Properties as follows: 
Click the Start button, type "Advanced System Settings."

 

 

Click on the "View Advanced System Settings."


Click 

on the

 

"

Remote

"

tab

Enable

 

the "

Allow remote connections to this computer

" checkbox.





 
Common connectivity issues with RDP
As useful as the RDP feature is, things can go wrong when trying to establish a remote connection to the server. Common connectivity problems include:
Network failure
If there's no valid communication path between the client and the server, you'll not establish a remote connection. This usually happens because some network resources such as routers aren't working as they are supposed to. It's appropriate to test the connectivity between the client and the server.
Disabled RDP feature
By default, the RDP feature is disabled. When you establish a connection to a disabled RDP server, the connection fails.
Firewall issues
A typical scenario you're likely to come across is that of blocked ports or conflicts with port assignments. For a reliable remote connection, you need to ensure that the default RDP port (in this case, 3389) is not blocked on the server. Also, you have to ensure that the port is assigned to RDP.
DNS issues
If the server's IP address changes, clients cannot establish a remote connection. Unless you manually clear the cache and force a fresh DNS resolve mechanism, a remote desktop connection is impractical. In some cases, clients cannot connect to the server if they are using an external DNS server that can't resolve hosts on the company's private network.
Authentication issues
If the client lacks the necessary permissions to login onto the RDP server, Windows displays an authentication error message. You need to add the account to the "Remote Desktop Users group" or "Administrators group" to authenticate such a user to the RDP server.
Exceeded connections
Sometimes the RDP server can surpass the maximum allowed connections. Some servers may also refuse client connections if they are too busy or if the remote desktop connection is likely to weaken their performances.
Dropped connections
If the available bandwidth is incapable of supporting RDP requirements, you'll experience dropped connections. Under such circumstances, you need to close any bandwidth-intensive applications.
Security Issues
| Date reported | Vulnerability | Description |
| --- | --- | --- |
| July 2019 | Reverse RDP attack (CVE-2019-0887) | It allows an authenticated attacker to abuse the RDP's clipboard redirection and runs code on the remote server. It can affect unprotected remote connections on Windows 7, 8, and 10. It can also affect Windows Server 2008, 2012, and 2016. |
| May 2019 | BlueKeep attack(CVE-2019-0708) | BlueKeep is a wormable malware. As such, it can replicate to all the nodes within a network without any permission from users. It can affect unprotected remote connections on Windows XP, Windows 7, and Windows Server 2008. |
| May 2019 | Skype for Android Information Disclosure (CVE-2019-0932) | It allows the malefactor to access the Android-based Skype app by listening and recording voice calls. For business executives who use Skype regularly, CVE is a potential RDP vulnerability problem. |
| December 2018 | WER attack (CVE-2019-0863) | It exploits the Windows Error Reporting (WER) protocol to execute code on the unrestricted system linked via RDP. It allows the malefactor to download, delete, and create new administrator accounts. It can affect unprotected remote connections on Windows 7, 8, and 10. It can also affect Windows Server 2008, 2012, and 2016. |
Microsoft RDP Limitations
Since the release of Windows Server 2008 R2 OS, Microsoft has referred to Microsoft RDP software as Remote Desktop Services (RDS). However, RDS-based application and desktop delivery as a standalone solution can create some hiccoughs in an organization's activities.
There are a number of concerns that commonly arise when using Microsoft RDS alone:  
Tedious setup and maintenance

 

Limited experience on mobile devices

 

Lacks automatic load-balancing

 

Printer redirection

 
How Parallels RAS Enhances Microsoft RDS
From installation to effectively managing the remote infrastructure, IT administrators face a tough challenge with Microsoft RDS. Most features do not come auto-configured, and it requires expertise and experience to successfully deploy and operate them.
Parallels RAS is easy to deploy and straightforward to manage, allowing seamless and fast delivery of applications and desktops. Parallels RAS includes load balancing features and reinforces data security with multifactor authentication, advanced granular filtering and client policies.
Excellent Client User Experience, Even on Mobile
In contrast to Microsoft RDS, Parallels RAS enables you to deliver Windows applications to any device and platform, including Mac, Linux, iOS, Android, HTML5, and Chrome OS. This allows IT staff the flexibility they need to deploy a full bring-your-own-device (BYOD) or carry-your-own-device (CYOD) policy.
Want to take try out Parallels RAS? Download a 30-day trial.  
---
References
Understanding the Remote Desktop Protocol (RDP)