Parallels RAS Team at MSPWorld 2018 Conference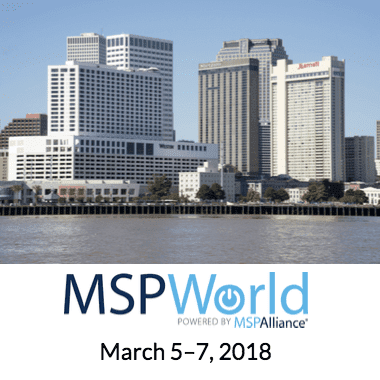 We're excited to announce that the Parallels team will present Parallels® Remote Application Server (RAS) at the MSPWorld® 2018 Conference in New Orleans, Louisiana, on March 5–7, 2018.
At the event, the Parallels team will meet and greet with managed service providers (MSPs) as well as showcase the awarding-winning Parallels RAS—a virtual application and desktop delivery solution.
Additionally, we will present the Parallels Managed Service Provider (MSP) Program, which is tailored to MSPs who are interested in offering their customers Software as a Service (SaaS), Desktop as a Service (DaaS), and file sharing on any device.
The Parallels MSP Program provides a straightforward path to becoming a hosted desktop and application service provider. Parallels RAS—which comes with comprehensive, all-inclusive virtualization features—is aggressively priced to make your services more affordable and competitive without sacrificing your margin. Learn more.
While MSPWorld is one of the most talked-about conferences for cloud and managed services professionals each year, it is also the only event in the managed services industry brought to you by MSPs, for MSPs.
This year's theme at MSPWorld is "Focus on the Future!" The event will gather the best and brightest minds in the industry to help you forge the most lucrative path to MSP success.
What: Parallels RAS Showcase at MSPWorld 2018 Conference  
Where: New Orleans Marriott at 555 Canal Street  
When: March 5–7, 2018
If you have any questions or would like to learn more about Parallels RAS, please contact us.