Parallels RAS Technology Partnership
For over two decades, Parallels has brought together an extended network of technology partners to deliver the best solutions to the market. Our partnerships with leading technology providers support the success of our customers and channel partners.
Parallels® Remote Application Server (RAS) is an industry-leading solution for application delivery and virtual desktop infrastructure (VDI). Together with our technology partners, we offer the necessary tools to reduce the complexity and deployment costs of cloud-computing infrastructure.
MicrosoftNutanixHPELenovoIBSBrocadeSoftware2IvantiHPIGEL10ZiGCentermVXLAtrustThinPrintScale

Microsoft and Parallels have been working together for over 15 years to provide their products with a cutting-edge technology solution.
Parallels RAS leverages Microsoft RDS to provide an application and desktop delivery environment with extended functionalities at low costs.
The Nutanix solution enables easy deployment of any virtual workload, including large-scale VDI, development/test applications, private clouds, and big data (Hadoop) projects. Nutanix customers can radically simplify and seamlessly scale out their datacenter infrastructures with cost-efficient appliances that can be deployed in under 30 minutes for rapid time to value.
When Parallels RAS is combined with Nutanix Enterprise Cloud Platform solutions, you can further reduce the cost of application delivery and VDI. While Nutanix integrates datacenter resources, Parallels RAS integrates application and desktop delivery interfaces into a central console.

Hewlett Packard Enterprise (HPE) offers information technology (IT) and enterprise services solutions. The company focuses on technology that enables customers to build cloud-enabled, mobile-ready solutions suited to their needs. HPE provides its services to various enterprises and governments. The company's portfolio includes enterprise services as well as software and financial services businesses.
Parallels RAS supports the HPE Hyper Converged 250/380 family, providing a turnkey virtualization delivery option for medium-sized businesses, large enterprise organizations, and Internet as a Service (IaaS) providers.

Lenovo is one the most significant personal computer vendors in the world. It markets the ThinkPad line of notebook computers; IdeaPad, Yoga, and Legion notebook laptops; and the IdeaCentre and ThinkCentre lines of desktops.
Parallels has collaborated with Lenovo to offer more accessible and dependable VDI technology. Platformed on a hyperconverged infrastructure, Parallels RAS makes VDI more efficient.
Founded in 1992, IBS is a major Russian developer of complex IT solutions. The company transforms its team's expertise and understanding of IT industry trends into new ideas, helping its clients increase their competitive advantage and achieve cutting-edge results.
Parallels RAS supports the IBS SKALA-R hyperconverged architecture, reducing cost, complexity, and hardware footprint to deliver virtual applications and desktops.

Brocade's networking solutions help the world's leading organizations turn their networks into platforms for business innovation. With solutions spanning public and private datacenters to the network edge, Brocade is leading the industry in its transition to the New IP network infrastructures required for today's era of digital business.
Alongside the Brocade Virtual Traffic Manager (vTM), Parallels RAS frees applications from the constraints of legacy, proprietary, hardware-based load balancers, allowing them to run on any physical, virtual, or cloud environment.

AppsAnywhere, Software2's flagship product, integrates with a variety of technologies, including Parallels RAS. It provides users with access to all their organization's software—in one place, on any device, at any time—in a flexible way that doesn't tie business IT to a particular application-delivery tool.
Parallels RAS seamlessly integrates with AppsAnywhere to enable users to access Windows applications on any device, anywhere. Parallels RAS supports Windows applications as well as the delivery of virtual desktops, at a fraction of the cost of traditional VDI solutions.

Ivanti provides solutions for IT asset management, IT service management, endpoint security, supply chain management, and more. The company enables organizations to gain control of service delivery, simplify service management processes, acquire real-time visibility across their services and infrastructure, and orchestrate the interactions of people, process, and technology for optimum service performance.
With Parallels RAS, organizations can deliver applications and desktops to any user on any device, anywhere. With Ivanti, this digital workspace experience is extended, providing persistent and additional personalization with the aim of enhancing users' productivity.

HP Inc. provides products, technologies, software, solutions, and services to individual consumers and small- and medium-sized businesses (SMBs), as well as to the government, health, and education sectors worldwide.
Parallels RAS and HP Thin Clients run simplified and locked-down operating systems and provide intuitive device management software—all while giving users the PC-like performance they crave. HP Thin Clients help create a dependable, secure, turnkey client solution with long life cycles for virtual environments.

IGEL Technology is one of the world's leading thin-client vendors. It is #1 in Europe for Linux-based thin clients and is the UK's fastest growing thin-client brand.
Parallels RAS is the perfect match for a thin-client infrastructure managed by IGEL. Parallels RAS Client supports seamless RDP protocol with RemoteFX for Linux and Windows, guaranteeing the best end-user experience.

10ZiG Technology provides cutting-edge thin client and zero client endpoint devices for the latest virtual desktop solutions.
Combined with 10ZiG zero clients, Parallels RAS offers a first-rate user experience, with lightning-quick start-up times, centralized management made easy through intuitive controls, and extremely low energy consumption.
Thin-Client Infrastructure
With its flexibility to work simultaneously with VDI, remote desktops, and virtual applications, Parallels RAS is also the perfect match for a thin-client infrastructure managed by Centerm, VXL, and Atrust.

Founded in 2002, Centerm is the leading provider of thin clients, smart terminals, Desktop as a Service (DaaS) cloud solutions, and payment products in the Asian Pacific market. For several years, Centerm has ranked #4 worldwide and #1 in the Asia-Pacific Excluding Japan (APEJ) market for thin clients and terminal-client devices, according to IDC.

VXL is a global leader in cloud-computing technologies. For over three decades, it has been manufacturing world-class cloud-client devices, thin clients, and zero clients. VXL provides a high-quality range of high-specification, value-for-money models that provide medium and large enterprises with the lowest cost of ownership relative to alternative IT solutions.

Atrust is a creative, professional, and enthusiastic team that has rich experience in designing and producing thin client, zero client, server, and management software. The objectives of Atrust are to provide customers with high-quality, high-efficiency, and environmentally friendly products, as well as comprehensive solutions.

ThinPrint is the leading provider of print-management software and services for businesses.
Parallels RAS and ThinPrint support any endpoint device, from a desktop PC to a smartphone or tablet. The combined solution deploys seamlessly on premises or in the cloud and strengthens business IT infrastructure as it completes its transformation to a device-agnostic, mobile-ready workplace.

Scale Computing is the leader in edge computing innovation. Scale Computing patented technology transforms isolated locations into unified, self-managing micro-datacenters for edge computing. When ease-of-use, high availability, and TCO matter, Scale Computing HC3 is the ideal infrastructure solution.
Parallels RAS supports Scale Computing's HC3 hyper-converged infrastructure allowing organizations to deploy a cost-effective and straightforward end-to-end VDI solution.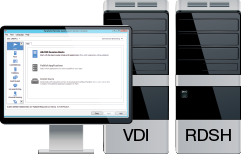 Contact Us
If you are interested in becoming a Parallels RAS Technology Partner, please contact us by phone or email.