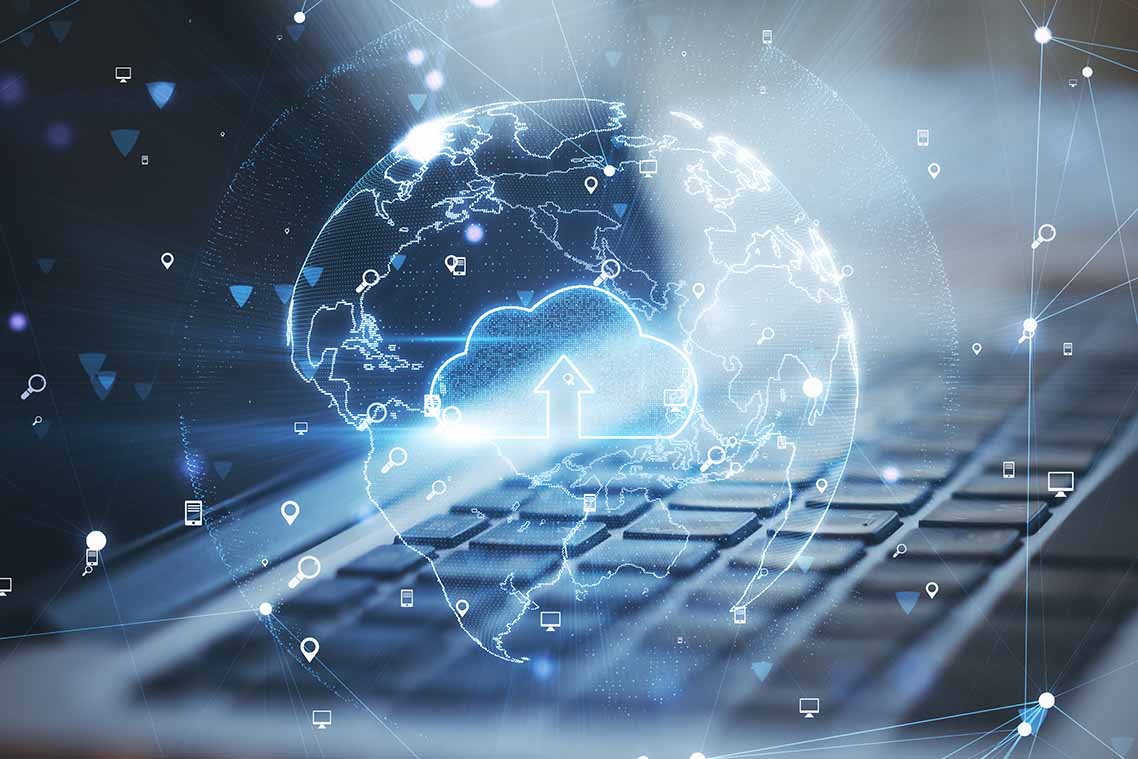 Deployment Models of Cloud Computing and Their Use Cases
Migrating from on-premises to cloud-based services is an important strategic decision for organizations because it offers many benefits such as reduced IT costs, mobility, scalability, and collaboration efficiency. However, despite these benefits, there are risks and challenges that can be analyzed only in the context of the deployment models of cloud computing. Such deployments would include public, private, hybrid, community, and multi-cloud models.
A cloud computing deployment model allows the company to identify the environment that will house the IT infrastructure based on ownership, accessibility, scale, and cloud's nature and purpose. It defines how your cloud-based infrastructure will look, what the IT teams can change, and whether you can access all the services or you'll create everything for yourself. Learn more about deployment models of cloud computing and find out what is suitable for your organization.
Public Cloud Model
A public cloud is an IT infrastructure model where a cloud service provider (CSP) offers on-demand computing services such as virtualized compute, networking, and storage over the public internet to its subscribers. Most public cloud environments leverage multi-tenant architectures to allow users to run and use workloads on a shared infrastructure.
Public cloud architectures have three common service models:
Infrastructure as a service (IaaS). In an IaaS model, the CSP hosts infrastructure components like servers, networking, and storage resources. It then delivers these resources to subscribers via virtual machines (VMs) accessible through the public internet.
Platform as a service (PaaS). In a PaaS framework, the CSP hosts hardware and software tools on its own infrastructure and delivers them to subscribers to help in application development. Leveraging PaaS helps to free developers from the tedious and complex in-house installation of hardware and software. This allows them to focus on application development.
Software as a service (SaaS). This is a software distribution framework where a CSP hosts applications and makes them available to subscribers over the internet. Smaller independent software vendors (ISVs) may contact large CSPs such as Amazon Web Services (AWS) or Azure to host and deliver their applications to subscribers.
Public Cloud Advantages
Public cloud models have various advantages such as:
Unlimited and dynamic scalability. Public clouds are scalable because the organization can simply buy more capacity on a pay-as-you-go pricing model when needed. For example, startups that cannot afford costly servers don't need to wait for months to prove their viability as they can get the correct amount of compute they need to get into business quickly.
Free maintenance services. Because CSPs own and operate the datacenters, public clouds can eliminate the need for in-house IT administrators.
Lower total cost of ownership (TCO). Organizations can derive significant cost savings by avoiding expenses associated with procuring, purchasing, and maintaining on-premises IT infrastructure.
Minimal Investment. B

ecause it is a pay-per-use service, there is no substantial upfront fee. This makes it excellent for enterprises that require immediate access to resources.
Public Cloud Disadvantages
Despite these benefits, public clouds have known disadvantages, including:
Limited controls. Because the organization has limited control over its IT stack, it may be risky to run some workloads, such as legacy applications, in public clouds.
Runaway costs. Public clouds may appear a cheaper option, especially for startups that don't have enough budget to purchase expensive servers. However, increasingly complex costs and pricing schemes can make it hard for companies to keep track of their IT spending.
Private Cloud Model
A private cloud—also called the internal or corporate cloud—delivers computing services via a proprietary architecture dedicated to a single subscriber or business entity. Like other cloud computing environments, private clouds provide extended and virtualized computing resources (compute, storage, and networking). This is done via physical components located on-premises or at the CSP's data center.
A private cloud combines many of the cloud computing benefits such as self-service and scalability with the control and security of the on-premises IT infrastructure. Suppose the security of your workloads is a major concern. In that case, a private cloud may be the best option because IT teams can manage data governance, ensuring compliance with any industry regulations.
Private clouds can also provide the support you require for legacy applications that can't be moved to public clouds.
Private Clouds Advantages
Some advantages of private clouds include that they:
Are easily customizable. IT teams can easily configure on-premises-hosted private clouds to meet specific user requirements. As such, private clouds provide an exact environment required to run proprietary applications.
Offer more control and visibility over IT resources. Because all workloads run behind the organizations' own perimeters, IT teams can keep a tighter grip on security controls.
Are fully compliant with regulatory standards. Private clouds are ideal for enforcing compliance regulations because you can deploy them with any retention and access-control policies.
Supports Legacy Systems.

This approach is designed to work with legacy systems that are unable to access the public cloud.
Private Clouds Disadvantages
Like public clouds, private clouds have also their demerits such as:
High up-front costs. Fully on-premises-hosted clouds require significant capital to purchase and maintain the necessary hardware.
Difficulties when maximizing capacity utilization. With a private cloud computing model, IT teams are fully responsible for maximizing the infrastructure's capacity utilization. An under-utilized cloud environment can be costly for the business.
Difficulties with scalability. An organization that wants extra computing power must take extra time and money to scale up the infrastructure under a private cloud model.
Hybrid Cloud Model
A hybrid cloud is an approach that integrates on-premises IT infrastructure, private cloud, and the public cloud via an orchestration platform. This result is a single, unified, and agile computing infrastructure where the business can run seamlessly and scale its traditional and cloud-native workloads.
The hybrid cloud is the most commonly used model because many organizations already own some hardware that they would like to continue using alongside cloud-based services. A hybrid cloud strategy is the best option if the company has some legacy applications or mission-critical workloads with sensitive data.
In this case, it can decide to run these applications on-premises while deploying the rest to the public cloud. This way, the company achieves the benefits of both worlds.
Hybrid Cloud Advantages
The hybrid cloud model has several advantages:
It enhances security regulatory compliance. You can run highly regulated workloads and applications with sensitive data behind the organization's perimeter and use cost-effective public cloud services for less sensitive applications and data.
It is resilient and scalable. You can leverage public cloud services to scale up quickly and inexpensively to respond to unplanned spikes in traffic without affecting the private cloud workloads through a process called cloudbursting.
Flexibility and control. 

Businesses with more flexibility can design personalized solutions that meet their

particular needs

.

 

Cost

.

Because public clouds

provide for

scalability, you'll only be responsible for paying for the extra capacity if you require it.

 
However, one problem you're likely to encounter with a hybrid cloud is that it may be complex to operate. Because resources span on-premises and public infrastructure, the hybrid cloud creates another abstraction level requiring an effective orchestration solution that may be costly.
Community Model
It allows systems and services to be accessible by a group of organizations. It is a distributed system that is created by integrating the services of different clouds to address the specific needs of a community, industry, or business. The infrastructure of the community could be shared between the organization which has shared concerns or tasks. It is generally managed by a third party or by the combination of one or more organizations in the community.  
Community Cloud Advantages
Cost-effective.

It is cost-effective

because the cloud is shared by multiple organizations or communities.

 

Security.

Community cloud provides better security.

 

Shared resources.

It allows you to share resources, infrastructure, etc. with multiple organizations.

 

Collaboration and data sharing.

It is suitable for both collaboration and data sharing.

 
Community Cloud Disadvantages
Not

customized

to all

organizations

.

Community

cloud

may not be a good choice for all organizations, especially because of confidentiality issues.

 

Adapting to data.

Community

cloud adapts

to data very slowly making it a time-consuming process

 

Limited amount of storage.

With a fixed and limited amount of data storage and bandwidth, it becomes difficult for many organizations to use it.

 
Costlier than other options.

Community cloud is certainly costlier than public cloud

 

Sharing.

It is difficult to share responsibilities within a community cloud among organizations.

 

Security Considerations.

With multiple organizations accessing and controlling the infrastructure in a Community Cloud, it requires

specialized

security configurations.

 
Multi-Cloud Model
A multi-cloud model is an approach where an organization incorporates public cloud services from more than a CSP. In a multi-cloud configuration, a company may run workloads on IaaS or PaaS from multiple vendors such as AWS, Azure, or Google Cloud Platform.
An organization can choose a multi-cloud strategy because of various reasons. Some may want to avoid the vendor lock-in problem since getting stuck with one CSP can make it difficult for them to adopt a responsive strategy. Others may select a multi-cloud strategy because they want to spread the risks of failure.
For example, spreading resources across multiple CSPs can help realize redundancy if one vendor's services go down. Multi-cloud deployments can also help combat shadow IT. For example, employees can still benefit from a specific public cloud service even if the service does not meet strict IT policies.
Multi-Cloud Advantages
Below are some advantages of a multi-cloud deployment model:
It allows organizations to optimize return on investment (ROI). A multi-cloud deployment model allows organizations to choose the specific services that work best for them. They can then maximize the resources and pay only for what gets used.
It provides a reliable architecture. Using multiple CSPs creates redundancies that minimize the risk of a single point of failure. It reduces the chances that a single service failure will make the entire organization go offline.
It provides freedom of choice. Multi-cloud models allow companies to choose the best CSP based on contracts, payment flexibility, and customizable capacity. This is especially important as business requirements change, allowing companies to allocate resources accordingly.

Reduced Latency:

To reduce latency and improve user experience, you can choose cloud regions and zones that are close to your clients.




 
However, like the hybrid cloud, a multi-cloud has one downside: governance. Managing multi-cloud environments can be complex if the organization uses traditional tools.
Flexible Cloud Deployment Models when Using Parallels RAS
Parallels® Remote Application Server (RAS) is a flexible, cloud-ready, ease-to-use, and low-cost virtual desktop infrastructure (VDI) solution. Parallels RAS supports various cloud deployment models, including public, private, and hybrid.
Organizations can use Parallels RAS to deploy Windows applications and desktops on public clouds such as AWS, Azure, and Google Cloud Platform seamlessly. The platform also integrates seamlessly with Azure Virtual Desktop, allowing IT teams to unify and manage all virtual workloads from a single console. This would include Windows 10 Enterprise multi-session.
If the organization requires end-to-end control over its applications and data, Parallels RAS provides this support with an easy-to-install application and various cross-platform clients to support end-users. Parallels RAS also supports a hybrid cloud model, providing the necessary flexibility for organizations to enjoy the benefits of private and public clouds.
Most importantly, Parallels RAS supports major hyper-converged infrastructure (HCI) solutions such as Scale Computing HC3 and Nutanix Acropolis.
Find out how it supports various cloud deployment models!