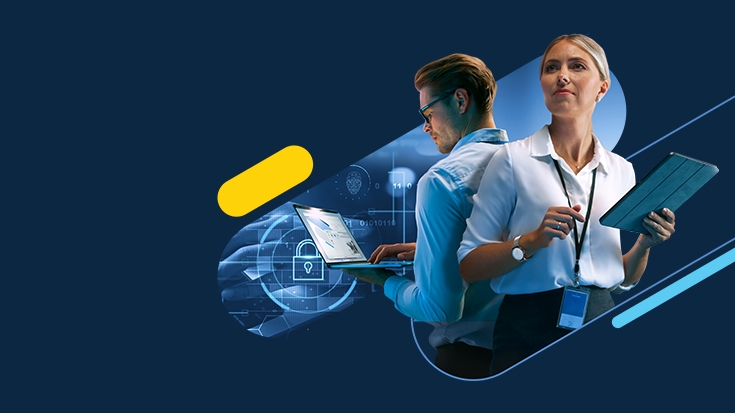 Zero Trust strategy: Why RBI is the superior defense for today's workforce
In the current digital landscape, remote work and Bring Your Own Device (BYOD) policies are the new normal.
These paradigms offer flexibility but also expose organizations to cybersecurity risks.
A robust zero-trust strategy is paramount, and it should include remote browser isolation (RBI) technology as a core component to protect remote and BYOD workforces effectively.
This article explores why remote browser isolation surpasses phishing training in terms of effectiveness and insights into budget allocation for enhanced security.
Ready to start your journey towards Zero Trust, including remote browser isolation? Start your free trial of Parallels RAS now!  
The surging growth of malicious links
The sheer vastness of the internet has enabled the proliferation of malicious links.
It's essential to consider some key statistics to appreciate the significance of remote browser isolation.
Phishing attacks on the rise: In 2021, the Anti-Phishing Working Group (APWG) reported a  22.3% increase in phishing attacks compared to the previous year. With the continuing prevalence of remote work, this trend is expected to persist and intensify.
Exploiting post-pandemic fears: The COVID-19 pandemic created fertile ground for cybercriminals. According to Check Point research, Corona-virus related domains were 50% more likely to be a threat than other domains, harboring malicious links aimed at stealing sensitive information.
Zero-day vulnerabilities: In March 2023, Mandiant's research revealed a remarkable year over year increase in zero-day vulnerabilities. These vulnerabilities are often exploited via malicious links, underscoring the urgency of proactive security measures.
The evolving complexity of phishing attacks
Phishing attacks have evolved from simple schemes to highly sophisticated and cunning tactics.     Here's why remote browser isolation stands out as a superior solution:
Spear phishing prevalence: Verizon's 2021 Data Breach Investigations Report revealed that 36% of data breaches involved phishing attacks. Spear phishing, a highly targeted form of phishing, accounted for only 4% of these attacks but resulted in a staggering 36% of the breaches. Remote workers and BYOD users are particularly vulnerable to these personalized attacks.
Evasive techniques: Hackers increasingly use tactics like obfuscating malicious URLs and payloads to bypass traditional security measures. A remote browser isolation solution is vital for containing and neutralizing these threats by executing web content outside the user's device.
Zero Trust approach: A zero trust strategy adheres to the principle of "never trust, always verify." Remote browser isolation aligns seamlessly with this philosophy by treating all web content as untrusted, regardless of its source. This ensures that even if a user encounters a malicious link inadvertently, their device remains unharmed.
Why remote browser isolation outshines phishing training
While phishing training programs have their merits, remote browser isolation technology offers a more effective route to technical control.   Here's why:
Human error mitigation: Phishing training primarily educates users to identify malicious links. However, human error remains a significant factor. Employees can still fall victim to increasingly sophisticated attacks. On the other hand, remote browser isolation acts as a proactive barrier, eliminating the risk of human error altogether.
Real-time protection: Training programs can be effective but often lag behind emerging threats. Remote browser isolation provides real-time protection by isolating potentially harmful web content, ensuring immediate threat containment without relying on user awareness.
Resource allocation: Many organizations allocate substantial budgets for phishing training, but its efficacy can vary. Redirecting some of these resources toward implementing remote browser isolation can yield a more robust security posture and better protect against a wide range of threats.
Data security budget allocation considerations
While budgets for phishing training programs can vary widely, a significant portion of this budget should be reallocated toward implementing remote browser isolation.
Here are some factors to consider:
Cost-effective solution: Remote browser isolation solutions often offer cost-effective licensing models, making them accessible for organizations of all sizes.
Reduced incident response costs: Investing in remote browser isolation can lead to fewer security incidents, ultimately reducing the costs associated with breach response, investigation, and remediation.
Risk reduction: The cost of a successful phishing attack can be substantial, including data breaches, regulatory fines, and reputational damage. Allocating funds toward proactive security measures like remote browser isolation can substantially reduce these risks.
Why is RBI an integral part of an effective Zero Trust Security strategy
The growing threat landscape of malicious links and the increasing sophistication of phishing attacks necessitate a zero-trust strategy for organizations with remote and BYOD workforces.
Remote browser isolation technology is superior to phishing training for safeguarding against evolving threats.
By reallocating a portion of the budget typically earmarked for training, organizations can bolster their defenses and achieve higher security resilience in the digital age.
Ready to implement a Zero Trust strategy that encompasses RBI at your organization? Get your full-featured free trial of Parallels RAS now!