REST API | What Does It Mean When an Application Has a REST API?
Introduction to REST APIs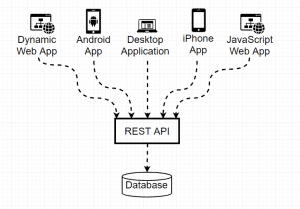 Representational State Transfer Application Programming Interfaces—more commonly known as REST APIs—are primarily used to integrate applications and automate processes. For example, in the case of Desktop as a Service (DaaS), a REST API can be instrumental in automating the process of deploying virtual desktops as soon as a customer completes a purchase, thereby eliminating the need for human interaction from the DaaS provider.
This capability can be quite useful for Internet service vendors (ISVs) and service providers (SPs) who wish to provide virtual applications and desktops through an automated process. Let's say I'm a service provider offering DaaS but not taking advantage of REST API-powered automation. When a user clicks a link to request an application or desktop, there has to be someone monitoring the system 24/7, or at least a notification system that would let the ISV know as soon as the purchase is complete. REST API automates the actions required, starting from the user clicking "Buy" down to the actual delivery of the service or application.
Who Uses REST APIs?
Because REST APIs are programming interfaces (the operative word being "programming"), they are seamless to the users. The people who directly interact with REST APIs are usually developers or IT staff who know how to implement the code. So, for example, a developer might use a particular solution's REST API to connect a web application and allow that application to get content from or perform operations integrated with that solution.
From the perspective of the user, a REST API makes things faster and less complex, minimizing the wait time and human interaction needed to access a service.
Using a REST API
The most common usage is in web services. To take advantage of a solution's REST API for a web service, the user must know what specific HTTP GET, POST, PUT, and other operations are allowed. This is usually specified in the documentation. The documentation will also include information such as which resources can be created, which resource representations can be retrieved and which resource representations can be updated, among others.
What a Parallels RAS REST API Means for Customers
In the case of Parallels® Remote Application Server (RAS), its REST API will enable organizations to integrate their web applications, dashboards, backups, and more with Parallels RAS. This capability will enable those same organizations to perform cloud automation on several processes and offer new services.
If you want to give the Parallels RAS REST API a test run, try the free, 30-day trial of Parallels RAS now.
---
References
Happycoding | https://happycoding.io/tutorials/java-server/rest-api
Oracle | https://www.oracle.com/industries/hospitality/what-is-hotel-pms.html
Apigee | https://cloud.google.com/files/apigee/apigee-apis-for-dummies-ebook.pdf
TechTarget | https://searchmicroservices.techtarget.com/definition/RESTful-API
Quora | https://www.quora.com/Where-do-travel-search-engines-get-their-data-from-Room-pricing-airfare-etc