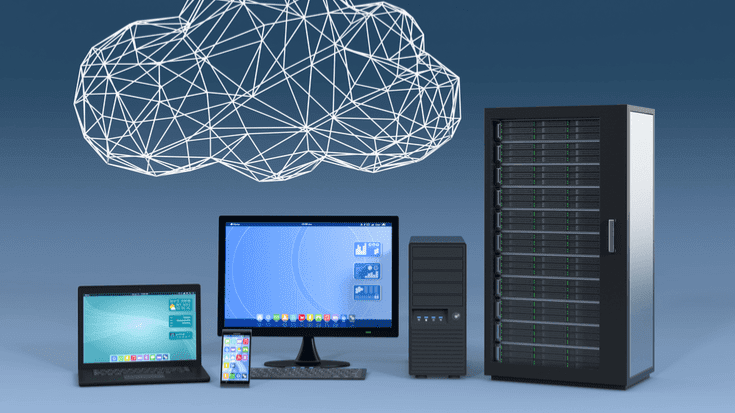 Citrix and VDI: Their Difference and an Alternative
Citrix Virtual Apps (formerly Citrix XenApp) is an application delivery solution that enables access to Windows-based applications to any device compatible with Citrix Receiver. What exactly is the difference between Citrix and VDI?
VDI stands for virtual desktop infrastructure. A VDI desktop is a desktop running on a server in the datacenter that a user can access from virtually any device. To use VDI with Citrix, you need to purchase Citrix Virtual Apps and Desktop (formerly Citrix XenDesktop). Citrix Virtual Apps and Desktop (formerly Citrix XenDesktop) and VMware Horizon are two well-known solutions to implement and deploy virtual desktop infrastructures.  
What is VDI?
VDI comprises host servers for desktop operating systems and application software residing inside guest virtual machines. The VMs are accessible from devices of any kind, e.g. desktops, tablets PCs, and mobile devices, within the network.
Users connect to VMs, or their virtual desktops, using their preferred devices. Virtual desktops can be assigned to either a single user or multiple users:
Single-use desktops are configurable by their assigned users
Multiple-user desktops go back to their default configuration once a user completes their session
What makes the above possible is an abstraction layer known as a hypervisor, which allows guest VMs to be installed on a single server. It's possible to scale the IT infrastructure up or down according to demand by adding more servers with more VMs. Hypervisors manage the VMs and broker the connections to the VMs.
What Are the Different Types of VDI?
While there is a standard definition of VDI, there are various methodologies to deliver virtual desktops, classified into three main categories: 
Desktop-Based VDI – A desktop running in a virtual machine that is hosted on a server in the datacenter.

 

Server-Based VDI – A desktop running in a server operating system that is available only for a single user at a time (Remote PC).

 

Session-Based VDI – An individual session running inside a server OS on either a virtual machine or a physical server.

 
How to Deploy VDI with Citrix
To deploy VDI with Citrix, organizations must consider what kind of VDI they need for their infrastructures (desktop, server, or session-based). They also need to be aware that publishing applications require either Citrix Virtual Apps or Citrix Virtual Apps and Desktop Enterprise/Platinum version.
Citrix's VDI solution, Citrix Virtual Apps and Desktop, works in small environments and large ones, but it's geared toward the medium and big enterprise. Citrix Virtual Apps and Desktop is available in three versions.
Virtual Desktops Standard
This version provides only the basic Citrix virtualization technology, restricting the delivery options to VDI for both pooled and dedicated services on Windows 7 and Windows 10.
In terms of productivity, the Virtual Desktop Standard does not provide optimized Skype and Microsoft Teams for business. Also, the app doesn't allow for Citrix casting (transitioning applications and desktops from a mobile device to any display-connected device in a Citrix Ready hub) and Workspace Environment Management.
Virtual Apps and Desktops Advanced
This version offers more virtualization features including, server-based hosted apps, server-based virtual desktops, VDI (for both pooled and dedicated services), Remote PC access, and VM hosted applications.
The main benefit of this version is the inclusion of extra features, such as optimized Skype and Microsoft Teams for businesses that are not available in Virtual Desktop Standard. However, it still lacks Citrix casting and Citrix SD-WAN for WAN optimization that could boost efficiency in an organization.
Virtual Apps and Desktops Premium Edition
This version includes all VDI features, plus an enhanced version of Citrix Virtual Apps called Virtual Apps Premium (formerly XenApp Platinum). It also includes a couple of additional features such as seamless local applications, self-service password reset, and a UX network analysis.
 Note: To deploy a fully-featured application and desktop delivery infrastructure with Citrix, you also need to purchase Citrix add-ons such as Citrix ADC (previously NetScaler). 
Parallels RAS Is a Great VDI Alternative
Parallels® Remote Application Server (RAS) is a good Citrix alternative that is easy to deploy and maintain. It delivers applications and desktops from Microsoft Remote Desktop Services (RDS), virtual desktop infrastructure (VDI), Azure Virtual Desktop and Remote PC without feature limitations. In addition, it is available for a variety of deployments including on-premises, hybrid and the public cloud.
So, what are you waiting for? Download the Parallels RAS trial today!