VDI Meaning | Wondering What VDI Is? | Parallels Explains
VDI Meaning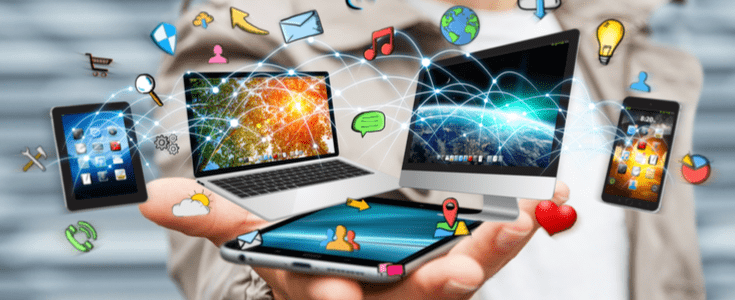 The VDI meaning is an acronym for virtual desktop infrastructure. It's a technology used to create a complete virtualized desktop environment hosted on a single remote server. VDI splits the server into variant virtual desktops, which users can access through their devices. Virtualization software like Parallels® Remote Application Server (RAS) or VMware manages the virtual machines (VMs) that host those virtual desktops.
Purpose of VDI
Organizations are looking to deploy VDI meaning; they implement the ability to lower the cost of equipment by utilizing a single server to host multiple desktops for users. It also presents a secure platform that is available to users from anywhere and any device. VDI cuts down the total cost of ownership for many organizations, compared to traditional computing infrastructure.
VDI can simplify end-user support, lower licensing costs and help streamline management and backups. A few of its benefits include:
Save money on individual workstations/PCs by deploying thin clients
Monitor, manage and back up your virtual infrastructure centrally
Provide secure remote access from anywhere and any device
Reduce cost for multiple software licenses
Types of VDI meaning deployments
There are two main types of VDI: persistent and non-persistent.
Persistent VDI, or one-to-one, provides each user with the ability to customize the desktop image. This allows the user to log in to the same desktop for each use. This VDI type is similar to using your computer.
Non-persistent VDI, or one-to-many, provides a single standardized desktop environment that reverts to the standardized base image once the user logs out. This VDI type is similar to a kiosk computer.
VDI Meaning: How VDI works
Deploying VDI means the organization has many users and wants to keep management central. In that case, a high-end server with two or more server-spec processors (expensive and multithread/core) and a massive amount of RAM (usually a minimum of 32 GB) along with a RAID storage filesystem take place.
Apart from the hardware server, a hypervisor is also required. Some of the common hypervisors used are VMware ESXi, Microsoft Hyper-V and Kernel-based Virtual Machine (KVM).
The vital component to creating a VDI infrastructure is virtualization software that runs on the server. Apart from providing the server with the virtualization capabilities, the software must provide the capability to administer the application and desktop delivery to guest machines. Some virtualization solutions are cloud-based and require a monthly fee. There are also hybrid solutions that combine both on-premises and cloud-based components, depending on the organization's demands or needs.
VDI and Parallels RAS
Whether you're looking to shift or implement VDI in your infrastructure, Parallels® Remote Application Server (RAS) is a great solution. Parallels RAS is an all-in-one virtualization solution capable of publishing both applications and desktops from all major hypervisors. Serve your employees and end-users with highly secure resources to any device of their choice, while keeping management central. Be it a Windows application like Microsoft Excel or a CRM application like Sage, Parallels RAS will securely and instantly make it available to access on the go.
Download your 30-day evaluation period of Parallels RAS today and elevate your organizations' standards up to the cloud!
---
References
Lifewire | https://www.lifewire.com/what-is-vdi-4589078
VDI meaning | https://www.acecloudhosting.com/blog/what-is-vdi-how-it-work/
VDI meaning | https://www.pcwdld.com/vdi
Wikipedia | https://en.wikipedia.org/wiki/Desktop_virtualization#Virtual_desktop_infrastructure
Parallels | https://www.parallels.com/products/ras/capabilities/vdi-solutions/