Cloud Managed Services | The Perfect Time for Service Providers to Sell!
Cloud Managed Services for Business Agility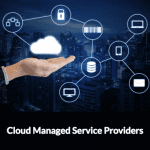 With businesses seeking better ways to improve business agility and employee flexibility while reducing costs, managed service providers (MSPs) are in the perfect position to come in and meet these needs. They can do that through cloud managed services.  
Emergence of 
R
emote 
W
ork, BYOD and 
V
irtual 
W
orkspaces
Back in the day, MSPs were mainly expected to relieve businesses of the complexities of managing their IT assets. While that hasn't changed, new trends like remote work, bring your own device (BYOD) and virtual workspaces are introducing new challenges that call for non-traditional MSP service offerings.  
In a study recently conducted by Buffer in 2019, 99% of respondents indicated that they wanted to "work remotely at least some of the time for the rest of their careers." This practically universal desire is forcing companies—and in turn, MSPs serving these companies—to adopt new ways of delivering applications, desktops and files to end users.  
The Advantages and Disadvantages of Cloud Managed Services
There are a number of advantages and disadvantages to take into account if you're thinking about working with a managed service provider in the cloud. These factors might not influence your choice, but being aware of them can help you make sure you get the most out of whichever providers you select.
The Benefits
The benefits would typically include:
Resource optimization
You may find the services that meet your workloads the best with the aid of MCSPs. They can also show you how to set services to maximize performance while lowering expenses as well as which pricing schemes are the most cost-effective for your needs.
Flexible Costs
To accommodate a variety of demands, several MCSPs adopt a tiered, subscription-based support approach. This gives your budgets more flexibility and might assist you in making sure that you are only spending what you expect each month.
Cloud Services
A major advantage of MCSPs is integration support, especially if you're attempting to build a hybrid or multi-cloud environment. Multi-clouds mix cloud services from several providers, whereas hybrid clouds combine on-premises and cloud resources.
The Drawbacks
The cons would sometimes include:
High initial cost
Hiring an MCSP increases your cloud budget even if invoicing may be predictable. Provider services may be expensive depending on the quality of the services you receive and the complexity of your systems.
Multi-Tenancy Raises Security and Privacy Risks
Cloud MSPs employ a multi-tenant approach, just as public cloud services in general. This implies that service providers are in charge of a large number of clients simultaneously, and that all client data is kept in a single area.
Performance optimization at the cost of optimization
Utilizing lesser data storage tiers or performance options is frequently necessary for cloud resource optimization. This works perfectly for many types of data and applications, but it may cause problems for others.
Meeting 
N
eeds with SaaS, 
DaaS
 and 
O
ther 
C
loud 
M
anaged 
S
ervices
Practices like telecommuting that allow employees to work anywhere increase productivity and improve satisfaction. But they also introduce new challenges. Businesses who adopt these practices are forced to deal with the complexities of managing and securing endpoint devices, including the applications and data installed/stored on them.  
Traditional methods, which involve installing applications locally on endpoint devices, are just too risky and entail a lot of administrative overhead. Unfortunately, most businesses don't have the technical know-how and resources for that. 
This is where MSPs come in. MSPs can offer applications, desktops and other services through Software as a Service (SaaS), Desktop as a Service (DaaS) and other cloud managed service offerings. Applications, desktops and data will no longer be stored on the endpoint devices, but in the MSP's datacenter or in the cloud. 
By offering these things as a service from a cloud infrastructure, MSPs can take the burden of managing and securing endpoint devices, applications and data away from businesses—even while sparing them from upfront costs. But in doing so, wouldn't that mean MSPs would now end up absorbing all those risks and responsibilities? 
They would. But it's not so bad if they employ a solution like Parallels® Remote Application Server (RAS). 
How Parallels RAS 
H
elps MSPs 
with
C
loud 
M
anaged 
S
ervices
Parallels RAS is a virtual application and delivery solution that simplifies the processes involved in setting up, securing and delivering SaaS and DaaS. Unlike other solutions that involve a lot of components and entail a higher level of expertise, Parallels RAS is way less complicated. In fact, if you deploy it in Amazon Web Services™ (AWS) or Microsoft Azure, you'll need as little as 15 minutes.  
Parallels RAS has many helpful features, including: 
A powerful administrative console for full control and visibility over the entire infrastructure

 

Flexible branding and white

–

labeling capabilities

Detailed reporting for obtaining key metrics regarding the health of the infrastructure

REST API for integrating with other web services and automating business processes

 
Parallels RAS has a lot in store for MSPs. Learn more about the Parallels MSP Program.  
Give Parallels RAS a try now, with a 30-day free trial!