Healthcare Software and How to Use it on Any Device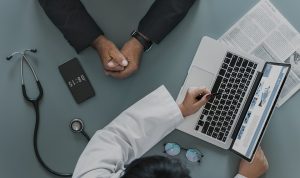 Healthcare Software – The healthcare industry faces several challenges when it comes to managing I.T. infrastructure, including managing legacy applications and hardware, complying with government data regulations, and adopting bring-your-own-device (BYOD) and choose-your-own-device (CYOD) policies. Healthcare I.T. departments and Chief Medical Officers (CMOs) have to provide nurses, doctors, and staff with more flexible access to line-of-business (LOB) applications while keeping the data safe and respecting budgetary constraints.
Application and desktop virtualization solutions allow healthcare organizations to overcome many of these challenges. With the support of the right broker connection software, I.T. administrators are empowered to securely deliver users' electronic health records (EHR), communication services, pharmacy applications, and back-office applications. Furthermore, all these I.T. assets can be centrally hosted in the private or public cloud. Thanks to these virtualization-based benefits, medical staff can perform their functions while roaming between devices within the medical facility and have managed access while at home or working remotely.
Healthcare Software Trends
While the rest of the world was rapidly experiencing a digital transformation, the healthcare segment took more time to implement I.T. innovations, primarily due to concerns regarding data regulation constraints. With the advent of new tailored solutions that respect data privacy,  medical institutions have finally started catching up. Recent trends reveal that the healthcare industry is aggressively embracing the cloud and mobile technology. According to global market research and consulting firm MarketsandMarkets, the healthcare cloud market was worth $3.73 billion in 2015. This value is expected to reach $9.48 billion by 2020, growing at a CAGR of 20.5%.  Analyst firm Statista reports that the healthcare industry will invest $14.57 billion in Healthcare Software systems by 2022,  with a substantial part of the investment-related to cloud computing.
Challenges Faced by the Healthcare Software Segment
Even in the U.S., several healthcare organizations still use manual patient records, which can reduce collaboration between various departments and make it inefficient. Furthermore, doctors and nurses cannot access the data from outside the institution, even in emergencies.
On the other hand, organizations that have gone the digital route have their share of problems.
Specialized LOB Software: Medical institutions run specialized LOB software that makes it more complex to update operating systems and hardware. With the upcoming end of life (EOL) of Windows 7, for example, many organizations will be required to update their workstations' O.S. without reducing the functionality of customized applications.
Data Privacy: Government regulations in the healthcare industry have become very stringent. Medical facilities in the U.S. have to manage patient electronic health records (EHR) while complying with the Health Insurance Portability and Accountability Act (HIPAA). Other regulations include the American Recovery and Reinvestment Act (ARRA), which provides incentives for the adoption of EHR technology, Computerized Physician Order Entry (CPOE), and health information exchanges (HIE). Finally, most recently, healthcare organizations must address the Health Information Technology for Economic and Clinical Health (HITECH) Act, a new extension of HIPAA that covers privacy breaches.
Always-On/On Call – Doctors, nurses, and staff should be able to access patient records from any device and at any time, from any location. Collaboration and information sharing between medical staff can make the difference when it comes to delivering high-quality patient care.
Why Is Virtual Application Delivery and VDI the Right Choice for Healthcare Organizations?
With the evolution of the VDI healthcare software industry, most patient data is now available in a digital format.  EHR, CPOE, RIS, and EMR are just a few of the systems that clinicians should be able to access around the clock to review and document every aspect of patient care.
With a traditional workstation-based infrastructure, doctors and nurses who continuously move between wards and departments might not have immediate access to medical records when they are needed. For instance, doctors can view a radiology image on the RIS from their office or the nurses' station, but they cannot access the data when outside the hospital network or when next to a patient's bed. Allowing some transportability of patients' electronic data, such as sharing information by email or locally downloading a copy, can facilitate the more efficient performance of staff duties. However, electronic access can also present a substantial risk for data security and data integrity.
Application and desktop virtualization addresses many of the limitations discussed above. By making medical applications securely available on any device, even mobile devices such as smartphones and tablets, virtualization solutions allow clinicians to have all necessary information at their fingertips to provide the best patient care possible.
Benefits of Healthcare Software virtualization for the healthcare industry:
Enables access to EHR from any device, anywhere, anytime: Virtualization provides clinicians mobile access to medical applications and patient data while helping to meet HIPAA and compliance policies.
Extends the lifespan of legacy hardware and software: Because the device does not host any of the actual computing tasks, organizations can continue using legacy hardware while running virtual applications. They can also run legacy applications on new hardware.
Keeps patient data secure: Data is centrally stored and only available to authorized users, reducing the risk of data leakage, loss, and malicious activity.
Faster application updates: Updates and upgrades are performed in a single location instead of manually upgrading each workstation.
Expands hardware options: Using virtualized solutions, medical facilities can explore thin clients running either Windows® or Linux®.
As the needs of healthcare organizations continue to evolve, application and desktop virtualization increasingly play a central role in supporting clinical workflows. Virtualization provides significant efficiency gains and cost benefits by allowing healthcare I.T. to centrally publish, manage, and deliver complex clinical applications to the entire staff.
Parallels RAS is a Secure VDI Healthcare Software Solution
For the healthcare industry, Parallels® Remote Application Server (RAS) provides a safe VDI healthcare solution. It gives medical professionals immediate, ongoing access to programs and files that are kept on-site, in the cloud, or in a combination of the two. Healthcare enterprises may maintain a HIPAA-compliant infrastructure supported by single sign-on, multifactor authentication, and end-to-end security with Parallels RAS.
By utilizing artificial intelligence (AI), Parallels RAS makes sure that apps are available when required, freeing up physicians' time to concentrate on patient care. With a centralized, safe method of managing software and data, it also makes medical IT simpler. It enables mobile working for healthcare workers, offers simple connection to outside providers, and guarantees continuous application and desktop access throughout healthcare facilities.
Download your 30-day trial of Parallels RAS to provide effortless remote access to your clinicians, from anywhere and any device.