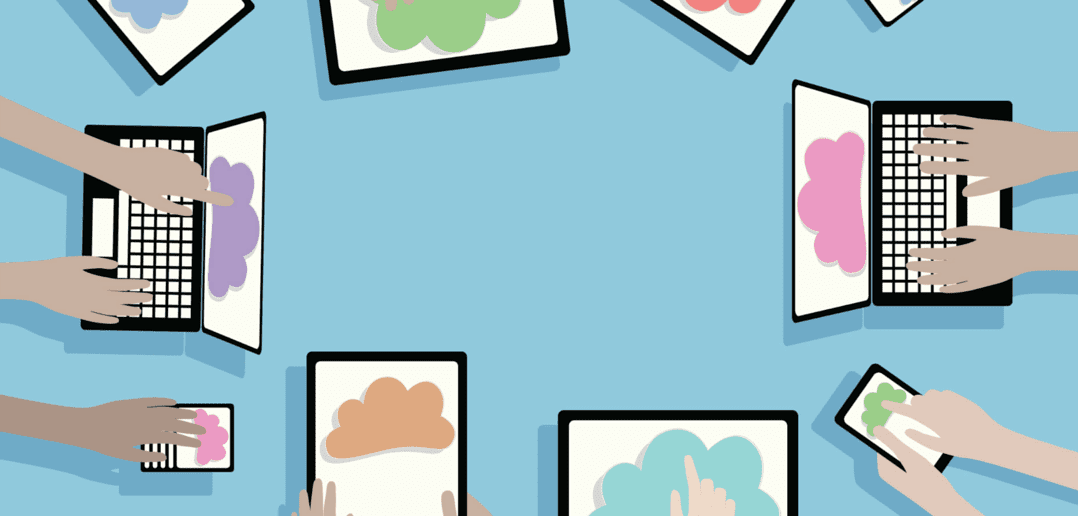 What is BYOD (Bring Your Own Device)?
Bring your own device or BYOD enables the employees of an organization to use their own devices, such as computers, laptops, tablets and smartphones for work purposes. It is a revolutionary innovation in networking and seems here to stay as it provides end-users with device independence.
Due to the increased use of smartphones and mobile devices, organizations have inevitably implemented the BYOD concept in their networking strategies. According to Forbes, the BYOD market is set to reach nearly $367 billion by 2022, up from a mere $30 billion in 2014. It will continue to be adopted by employers compelled by the potential benefits, as well as employees keen to enjoy greater flexibility.
Implementing a BYOD Policy
A BYOD policy is basically a clearly defined set of rules that cover what are and aren't allowed in your BYOD program. By weighing drawbacks and benefits along with compliance issues, organizations can prepare a written BYOD policy that addresses BYOD security issues comprehensively.
At the minimum, your BYOD policy should specify:
What devices can be brought in? Your employees will likely have more than one device. You can't just allow them to bring whichever they want on any given day.
Strict device authentication methods. Authentication methods like long alphanumeric passwords or, better yet, 2-factor authentication, can reduce the risk of data leakage in the event a device gets misplaced or stolen.
What apps are allowed? While not all apps are malicious, poorly designed apps can have easily exploitable vulnerabilities.
An employee exit strategy. Whenever an employee resigns, retires, or gets fired, you should already know how to secure corporate data that may be stored in that employee's device.
Business data and personal data should be differentiated, and access to corporate data must be privilege-based.
How and when corporate data should be deleted from a device.

What type of data can be accessed through a personal device.

How data is transferred between personal devices and business servers.

What type of encryption should be in force.
What a BYOD Policy Should Do
Most importantly, employees need to be educated about their responsibilities and instructed on safe practices for smartphone use within corporate networks. Without proper co-operation from employees, it is not easy to manage a BYOD environment. By performing an audit on access to personal data and the types of devices used, organizations can add an extra layer of security.
The BYOD policy should provide precise password specifications for employees. The password should have a minimum length and should be locked after a time-lapse. Based on the number of specified failed password attempts, the device should be reset to factory settings. It should be possible to lock the device remotely, change the password or wipe off its entire content with ease.
Businesses need a comprehensive mobile device management suite. With an array of versatile mobile devices, hybrid networks, and multiple business procedures, it is not easy for businesses to manually manage and monitor every device within the network. A powerful mobile device management (MDM) solution provides a centralized dashboard to manage and monitor the entire range of devices effectively.
Why is a BYOD Policy Important?
Whether or not IT has authorized it, employees are likely to bring their own devices to work, thus organizational leaders should pay special attention to BYOD security. BYOD alternatives typically increase productivity and team morale. However, if IT overlooks the problem, personal device access to a company's network might pose serious security issues.
What is BYOD – Mobile Device Management (MDM)
Remotely Control Devices
With a comprehensive MDM solution, you can remotely monitor and manage files on your device from any browser. It is effortless to drag and drop files between a device and your browser. From a centralized location, you can remotely edit contacts and take control of the device's camera. When a device is stolen, you can use the device camera to take a picture of the thief, and submit it to the relevant authorities before remotely wiping the data from the device.
Mobile Security
In a BYOD environment, it is vital to have a strong password policy. However, it is a tedious task to enforce this policy on multiple devices manually. With an MDM application, you can automatically apply password policies on multiple devices, saving time. You can enforce password specifications such as the length of the password, as well as the number of failed attempts and time-lapse before auto-lock. When a device is lost or stolen, the password can be changed remotely, data and settings can be remotely wiped off, and the device can be reset to factory settings. The device can be controlled even through an SMS.
MDM solutions allow you to remotely monitor apps installed on any device, and easily remove malicious apps. With an app whitelist, you can allow specific apps to be installed on a device. You can create a blacklist of apps for the entire organization or a specific group of employees. When a blacklisted app is installed, IT administrators and the user are immediately notified; an instant alert is generated along with the details of the devices involved.
Find and Track Devices
With a comprehensive MDM solution, the location of each device can be tracked, and a complete location history created. While this feature facilitates staff routing and improves customer service, it also allows businesses to keep track of device location and be in compliance with government regulations. Location history can be enabled for a group, department, or role, and the periods during which records should be logged can be specified as well.
Easy Management
The mix of BYOD and cloud networks creates a high level of complexity for IT staff. However, utilizing a centralized dashboard, an MDM solution makes it easy to manage thousands of mobile devices. By grouping devices, according to a department, role or job function, security settings can be customized according to group policies. WiFi network settings can be easily deployed to multiple devices. Device and SIM card details can be stored. Utilizing the MDM application, email settings can be remotely configured.
Benefits of BYOD
The transition to BYOD has several benefits.
Increases productivity among employees
Tech-savvy employees usually feel frustrated with outdated laptops and desktops because of lengthy loading times and common malfunctions. Allowing such employees to use their own up-to-date, cutting-edge devices can boost innovation and productivity.
Improves employee satisfaction
Some employees would prefer to use their own devices as opposed to what the IT department provides. BYOD gives employees more autonomy and flexibility, thereby increasing satisfaction.
Organizations save costs
Leveraging BYOD can help you eliminate expenses in three aspects: hardware, telecommunications, and support and training.
Enhances workforce mobility
BYOD allows employees to flexibly use a variety of devices that satisfies their work and personal needs. With employees accessing corporate data anywhere, anytime, they can normally work from any location, just as they would while in an office.
Challenges of BYOD
Along with the benefits come the risks. The versatility of BYOD models and operating systems makes it more difficult for IT staff to manage each device with a comprehensive policy. Most of the time, the employee owns and maintains the device, and the company has less control over it than if it were company-owned.
Data management
Besides the vast volumes of data that BYODs store, it is not easy to distinguish between corporate and personal data. This increases the chances of cyber-attacks since IT admins have little or no control over this data.
Data compliance
Strict enforcement of laws regarding how data gets accessed, used, or disseminated is mandatory in some industries like banks and healthcare. With BYOD, there are high chances that employees might share data on their devices with other people outside the organization. This makes compliance difficult to enforce.
Malicious apps
When employees download malicious apps on their mobile devices, they present outsiders' unauthorized access to critical corporate data. It is a headache to impose security software and add updates and patches on these devices since IT admins have no control over the devices.
Lost or stolen devices
Owing to their small form and also because users always carry them around, mobile devices can easily get lost. When devices registered in a BYOD network are lost or stolen, sensitive corporate data can fall into the hands of an outsider.
How Parallels RAS Streamlines and Secures BYOD Policies
Drafting a strict BYOD policy is just part of the solution. It's equally important to make sure your IT admins and end users can easily implement and adhere to them. Parallels® Remote Application Server (RAS) can be a big help in that regard.
Parallels RAS is an all-in-one virtual desktop infrastructure (VDI) solution that delivers applications and virtual desktops to any device, including iPhones, Androids, Chromebooks and just about any mobile device out there. As it eliminates the complexity of delivering apps to disparate device platforms, Parallels RAS is perfect for BYOD initiatives.
In addition to its versatility in application and desktop delivery, Parallels RAS is also equipped with numerous security features that make it easy for IT admins and employees to implement and follow strict BYOD policies.
Some of these security features include:
Multi-factor authentication options
Centralized, admin-controlled delivery of published applications
SSL/TLS-secured connections
Advanced filtering
Data segregation
Client policies
Download your 30-day evaluation period of Parallels RAS today and implement or strengthen the BYOD scheme of your organization!
---