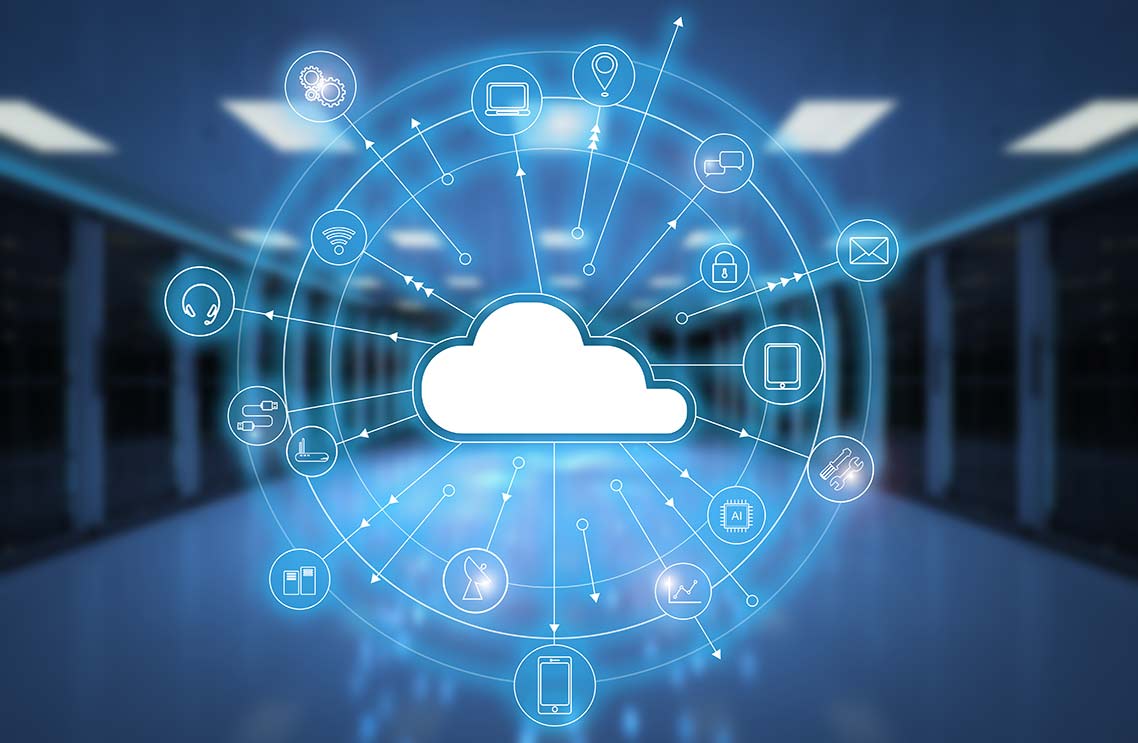 An overview of VMware vSAN
VMWare vSAN is a software-defined storage product that is used in collaboration with VMware ESXi hypervisor. A software-defined storage provisions and manages storage based on policies, regardless of the underlying hardware.
Users can define policies and rules that define characteristics like availability and performance. These policies can be assigned to individual virtual machines effortlessly. Whenever there are requirement changes, these policies and rules can be modified and implemented in a few clicks using the vSphere Web Client.
VMWare vSAN reduces the cost and complexity that exists in traditional storage solutions by offering the capability of using policies and rules to manage storage.
vSAN Main Components
VMware vSAN uses object-based storage architecture where each object represents a block of data within the underlying Virtual Machine (VM). Objects that constitute the vSAN datastore include VM Home (which contains the VM configuration files), VM swaps, Virtual disks (VMDKs), and Delta disk (snapshot), among others.
A vSphere cluster is the primary management unit for the VMware vSAN. You can create a vSphere cluster as either an all-flash cluster or hybrid vSAN. An all-flash vSAN uses flash storage technology to manage both cache and capacity tiers while a hybrid vSAN combines the flash and traditional spindles.
Within a cluster, there is one designated Master that is elected by all the nodes participating in that group. The role of a master is to extract Cluster Monitoring, Membership, and Directory Service (CMMDS) updates from all the nodes and distribute them to agents. During cluster discovery, each node is assigned a role as follows:
1. Master role
A host designated as a Master gets all the CMMDS updates from all nodes within the cluster. A cluster can have only one master host.
2. Backup role
A host designated as a Backup assumes the role of a Master when the current Master fails. A cluster can only have one designated Backup host.
3. Agent role
Members of the same cluster assume an agent role. Agents can take the role of a Master or Backup when both the Master and Backup hosts fail. More than one host can assume the role of an agent if the cluster has four or more nodes.
vSAN architecture has the following components:
CLOM (Cluster-Level Object Manager)
DOM (Distributed Object Manager)
LSOM (Log-Structured Object Manager)
CMMDS (Cluster Monitoring, Membership, and Directory Service)
RDT (Reliable Datagram Transport)
The best way to visualize a vSAN cluster is to think of it as house construction where CLOM is the Architect; DOM is the Contractor, LSOM is the worker, CMMDS is the Project Manager, while RDT is the supplies delivery truck.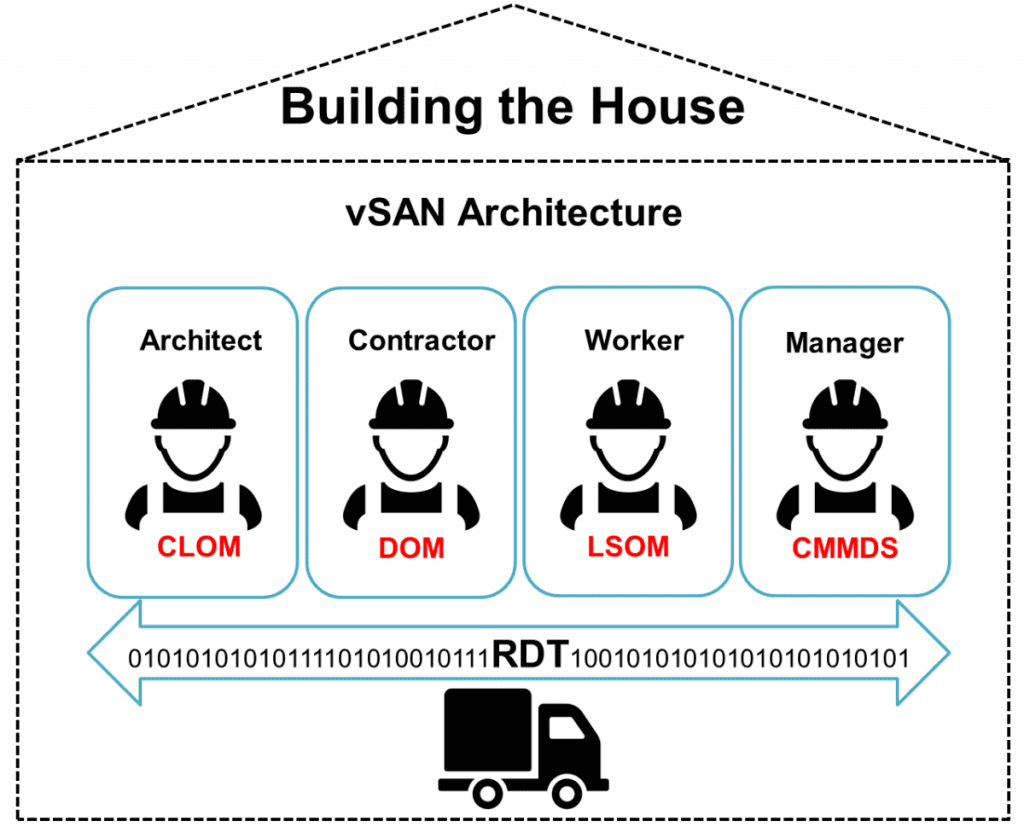 Source: https://vinception.fr/vmware-vsan-architecture-components/
The table below summarizes the roles of each vSAN component:
Creating and migrating objects within the cluster.
Validating the objects based on available resources and storage policies within the cluster.
Ensuring that objects comply with the specified storage policies.
Distributing workloads evenly between the vSAN hosts.

Resynchronizing objects during recovery within the vSAN cluster.
Determining which processes get transmitted to the I/O to the object.
Performing I/O on behalf of VM to an object.
Directing the LSOM to generate local components of the object.

Providing a read/write buffer.
Encrypting the vSAN datastore.
Reporting an unhealthy network and storage devices.
Performing I/O retries for devices that fail within the cluster.
Performing solid-state drive recoveries when a host boots up.

Discovering, establishing, and maintaining nodes within a vSAN
cluster.
Defining the vSAN cluster roles.
Providing inventories for all the items in the vSAN cluster, such as network devices and hosts.
Storing the metadata information about objects.

Responsible for communication within the vSAN cluster.
Important Features of VMWare vSAN
The features of VMWare vSAN depends greatly on the kind of license, but includes the following:
Supports storage policy-based management (SPBM) for automated management of storage profiles.
Supports software-defined data-at-rest-encryption, preventing unauthorized access of data at rest.
A cluster can include 2 to 64 nodes
Offers stretched clusters wherein more than one virtualization host server can be used in the same setup for higher security and availability.
A cluster supports deduplication (eliminating duplicating copies of the same data), compression of data, and erasure coding (protecting data by breaking it down to sectors) ensuring efficient storage management and security.
Offers support for storage Quality of Service (QoS) which enables administrators to limit the number of input-output operations per second (IOPS) that can be consumed by specific VMs.
Benefits of using VMware vSAN
Simplicity
The provisioning and management of VMWare vSAN are simple as it is embedded in the vSphere hypervisor. You can install and configure it using vSphere Web Client with just a few clicks
Agility
VMWare vSAN is a storage solution that does not follow the one size fits all strategy and instead allows administrators to scale storage on demand, quickly and efficiently using policies and rules.
Manageability
VMWare vSAN is easy to set up, manage and provision. Its easy management and provisioning do not sacrifice performance, reduces costs considerably, brings assets online faster, and improves inventory management.
Lower Total Cost of Ownership (TCO)
VMWare vSAN can be deployed on inexpensive x86 servers with ease, reducing upfront cost for businesses. In the long run, its highly scalable infrastructure and quick deployment of requirement changes make it a cheaper yet efficient storage solution.
How Parallels RAS leverages VMware vSAN
Parallels Remote Application Server (RAS) is a VDI solution that allows you to deliver applications to end devices regardless of the underlying infrastructure used. Parallels RAS deploys VDI desktops on-demand, allowing you to instantly deploy several VMs to meet your business demands.
Parallels RAS supports multiple hypervisors, including VMware ESXi, allowing you to leverage the benefits of VMware vSAN storage too. With Parallels RAS, you can easily manage different Virtual Machines from different hypervisors under the same infrastructure. Combine this flexibility with the benefits of utilizing VMWare vSAN as a software-defined storage solution, and you can allocate and provision software-defined policies to different VMs with ease, increasing scalability, simplicity, agility, and total cost of ownership in the long run.
Download the free trial of Parallels RAS to leverage VMWare vSAN today!
References:
VMware Virtual SAN: Basics of VSAN – http://www.vmwarearena.com/vmware-virtual-san-basics-of-vsan/
VMware vSAN (formerly Virtual SAN) – https://searchvmware.techtarget.com/definition/VMware-VSAN-VMware-Virtual-SAN