The increased use of smartphones and BYOD networks has revolutionized the way businesses perform day-to-day activities. Gone are the days when the work-from-home option was only for women with small children. Mobile and remote workforces are the latest trend. According to Global Workplace Analytics, telecommuting has risen by almost 80% between 2005 and 2012. Today, 2.6% of American employees work primarily from home. It is interest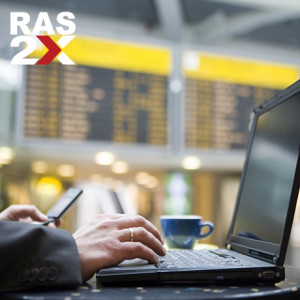 ing to note that employees working from home put in longer hours and are more productive as well. While employees spend more quality time with their families, businesses capitalize on agile business procedures that result in increased productivity. However, the key to the success of telecommuting lies in managing the remote workforce effectively.
The Challenges of a Remote Workforce
It is challenging to manage a workforce remotely. Employees have to be provided with remote access to corporate data and applications. Moreover, employees use different devices such as desktops, laptops, smartphones and tablets to access corporate networks remotely. Businesses need to provide the same end-user experience regardless of the accessing device.
When employees connect to corporate networks remotely, data security can be a concern – a remote workforce implies that critical data leave your office perimeter. When a device is lost or stolen, critical corporate data are at risk. Businesses must implement a powerful mobile device management system to monitor and manage mobile devices securely across the organization.
Another important concern is monitoring of the remote workforce. While the progress of work needs to be proactively monitored, it is also important to provide technical support, engagement and motivation. To extract maximum benefit from a mobile workforce, businesses need a comprehensive remote networking solution.
Remote Workforce with 2X RAS
2X Remote Application Server (2X RAS) is a powerful remote application tool that enables businesses to manage and monitor a remote workforce effectively. With this integrated solution, data, applications and desktops can be virtualized to be delivered remotely from any server to any device.
2X RAS is easy to deploy and use. The application can be installed easily, within five minutes, using the step-by-step wizard. Extra add-ons are not required. Using the intuitive dashboard, you can monitor the work progress of your entire remote workforce efficiently. 2X RAS monitoring and control tools provide a detailed work history of your workforce such as the applications used, session time and data usage. Using the 2X Shadowing feature, you can provide remote assistance efficiently to your remote staff.
With 2X RAS, your data never leave your office perimeter. Devices receive a projection of server data through a secure RDP network, and these data are removed as soon as the remote connection is closed. By retrieving user privilege rights from the Active Directory, 2X RAS provides privilege-based access to remote users, for a secure and reliable network system.
2X RAS is a comprehensive solution to the workforce mobility needs of businesses of all sizes.
Remote workforce: References
Remote workforce: It's Unclearly Defined, but Telecommuting Is Fast on the Rise | nytimes.com
http://www.nytimes.com/2014/03/08/your-money/when-working-in-your-pajamas-is-more-productive.html?_r=0
Remote workforce: Latest Telecommuting Statistics| globalworkplaceanalytics.com
http://globalworkplaceanalytics.com/telecommuting-statistics
Remote workforce: Is a Remote Workforce the Right Solution for Your Business? | microsoft.com
http://www.microsoft.com/business/en-us/resources/technology/broadband-mobility/Is-a-Remote-Workforce-the-Right-Solution-for-Your-Business.aspx
Remote workforce: The Challenges of Virtual Desktops and Remote/Branch Offices (ROBO) | blog.unidesk.com
http://blog.unidesk.com/challenges-virtual-desktops-and-remote-branch-offices-robo
Remote workforce: Remote office, branch office (ROBO) storage presents stiff challenges | searchstorage.techtarget.com
http://searchstorage.techtarget.com/podcast/Remote-office-branch-office-ROBO-storage-presents-stiff-challenges