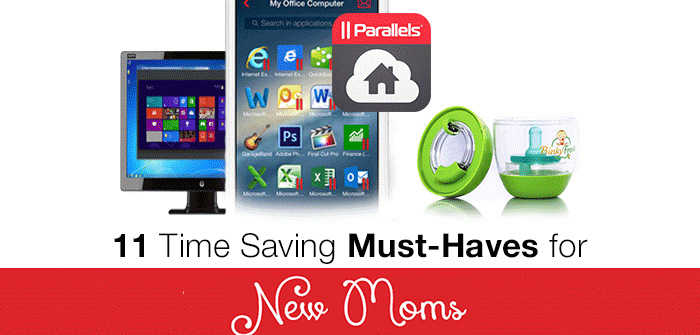 11 Time-Saving Must-Haves for New Moms
---
Bringing home a new member of the family is a magical time. The "new baby" smell fills your home; Facebook becomes your new best friend for sharing constant photos and updates; and you can get lost spending hours gazing at your little bundle of joy.
But over time, the air begins to smell less like new baby and more like "Number 2"; hours get spent staring at the ceiling wishing for an extra bit of time to sleep; and if you have a chance to check your Facebook, it's a miracle!
Don't stress—we've all been there. In fact, we've compiled a list approved by our own go-go-gadget moms here at Parallels of some time-saving essentials that will make your new mommy days easy-breezy.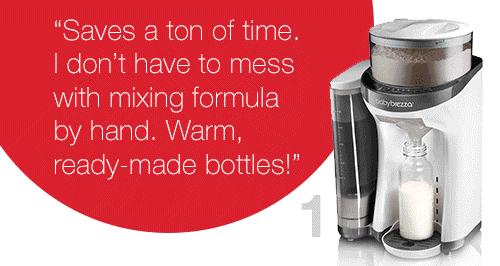 This little invention is from the baby gods. It measures, mixes, warms, and dispenses a perfect bottle of formula for your baby at your convenience. No more powdery messes, temperature tests, or waiting around to get the bottle just right for your baby. It's a revolution for feeding time. Added bonus: it also works when baby is ready for their first bites of solid food.
A Parallels Mommy says: "It saves a ton of time. I don't have to worry about mixing formula by hand and I get warm, ready-made bottles instantly."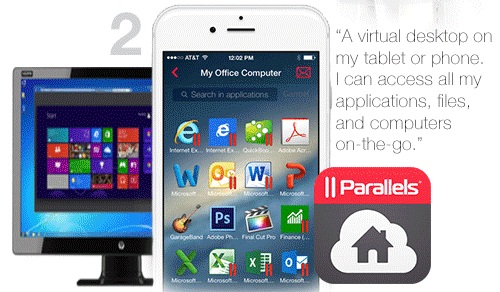 Forgetting the diaper bag at home is like forgetting your work presentation—it's a nightmare you don't want to ever happen. Parallels Access allows you to bring your computer with you, but without the weight. You can access your desktop from anywhere,anytime using your phone or tablet—letting you focus on grabbing those extra diapers. Genius!
A Parallels Mommy says: "It's basically a virtual desktop on my tablet or phone. I can access applications, files, and computers when I'm on the go!"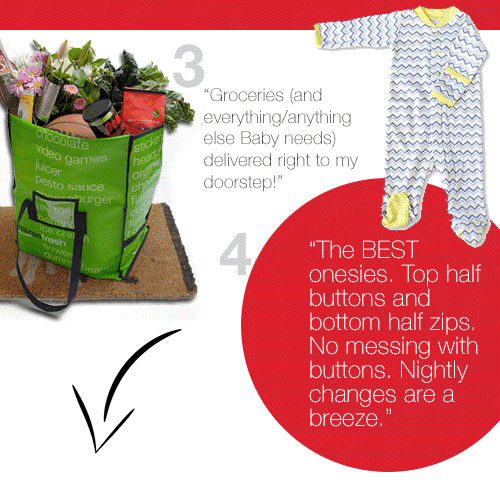 When baby just won't stop fussing or you're just not ready to expose them to the big bad world quite yet, Amazon Fresh has you covered. With early morning and same-day deliveries, you can order groceries, baby essentials, or other Amazon products all-in-one. An extra pacifier for baby and a nice bottle of wine for you, it's win-win!
A Parallels Mommy says: "Groceries (and everything/anything else baby needs) delivered right to my doorstep!"
These little guys are transforming the baby-changing game. No more mismatching and rematching snaps and buttons or fiddling with zippers that leave your baby in discomfort. Enter Zippyz: these onesies have a foot-to-belly zipper and snaps on the chest that allow for an easy-breezy changing experience for you and baby. Added bonus: They come in tons of different cute styles.
A Parallels Mommy says: "The best onesies. The top half buttons and the bottom half zips, so no more messing with buttons. It's made nightly changes a breeze."
Just because you're a new mommy, doesn't mean you have to sacrifice fashion for convenience! With these clutches, you get the best of both worlds. Diaper bags can be so bulky, especially when you just want to get around town for a bit. These clutches are an efficient way to bring along diapers and wipes without having to be weighed down by a diaper bag. They come in so many different choices, your hardest decision will be to choose just one!
A Parallels Mommy says: "This makes diaper-changing when out and about super easy. Grab this one-and-done clutch so you don't have to balance your diaper bag while also maneuvering a wiggly toddler."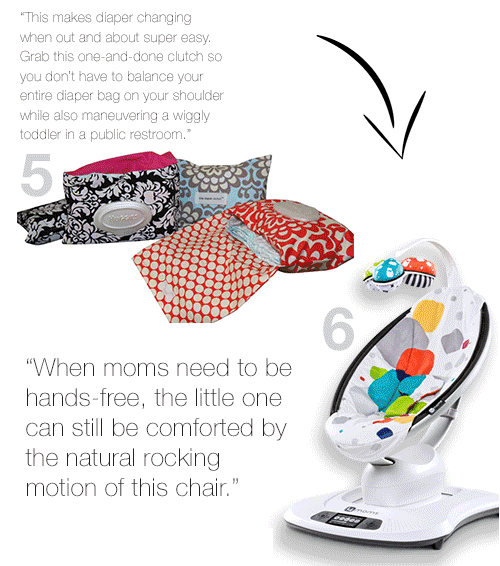 Although we might want to hold onto our little ones forever, sometimes we just have to let go. But with the mamaRoo Electric Rocker, your baby can still feel the comfort of your arms with several different rocking options to choose from, a reclining seat, and an MP3 plug-in for their favorite sounds. Baby gets comfort, and you get a chance to rest your arms. Added bonus: you can control the rocker right from your smartphone.
A Parallels mommy says: "When I need to be hands-free, my little guy can still be comforted with natural rocking motions. It's great!"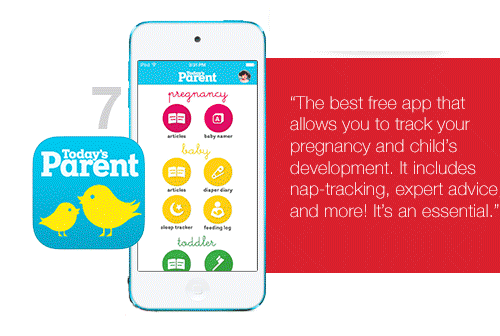 This app is a true gem when it comes to documenting important milestones. You can keep track of your pregnancy and your child's development post-birth with tools such as Brush Buddy, a diaper diary, and a nap tracker. The app includes expert advice that you can easily get your hands on, and best of all, it's all free.
A Parallels Mommy says: "It's the best free app that allows you to track all kinds of development. It's essential!"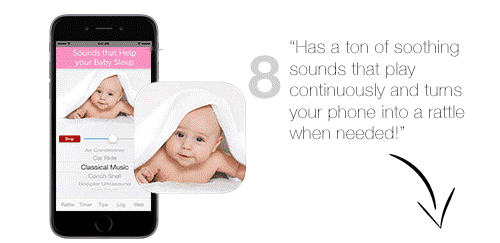 This next app is great for moms who are always on-the-go. For only $1, this app transforms your phone into a sound machine with plenty of different lulling sounds, like white noise or classical music, that will continuously loop to keep your baby happy. When it's nap time and you're not quite home yet, turn on Baby Mode and your phone will play uninterrupted during nap time. Added bonus: it's a favorite of Katie Couric's.
A Parallels Mommy says: "It has tons of soothing sounds to choose from and it's perfect when Baby needs to be distracted with rattle mode or put down for a nap."
A new mom's worst nightmare: a binky falling in slow motion to a terrible death full of dirt and bacteria. And, of course, there's no extra binky in sight. Did you cringe? Never fear—with Binky Fresh, this nightmare won't become a reality. The Binky Fresh UV Sterilizer uses UV rays to sterilize the dirtiest of pacifiers. It's a mom's sweetest dream!
A Parallels Mommy says: "It's the perfect solution to drops and 'oopsies' when there's no other conventional sterilizing around."
When taking care of a newborn or chasing a toddler around, cleaning the house can quickly become your last priority. Good news: it's time to leave cleaning to the 'bots. Coming from the same iRobot family as Roomba, Braava is a floor-mopping robot that cleans your floors efficiently in one quick sweep.
A Parallels Mommy says: "A robot that cleans the floor. Do I have to say anything more? I love this thing!"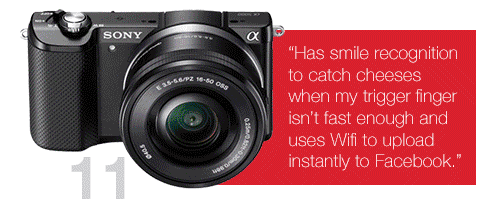 With a new baby comes the endless need to document their every move in photos. The Sony NEX Camera is perfect for any skill level of photographer, whether it be just starting out with the basics or interchanging the lenses when you become an expert. It has the quality and function of a DSLR camera, but is smaller and more convenient so you can take it anywhere.
A Parallels Mommy says: "Has smile recognition to catch cheeses when my trigger finger isn't fast enough, and it uses Wi-Fi to upload instantly to Facebook!"
Hover your mouse over the infographic in order to pin it to your parent-friendly Pinterest board:

With these gadgets and gizmos in hand, you are on your way to being a bonafide supermom! Before you know it, the neighbors will be begging to know how you do it all. Don't worry—we won't tell.