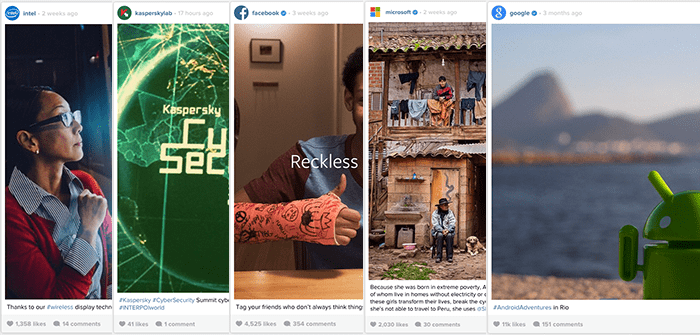 7 Awesome Instagram Accounts Tech Geeks Should Follow
---
No selfies or food photos to be found on these awesome accounts.
Instagram is undeniably a fun and quirky social network that allows you to share your life with friends through pictures (and more recently, video). But your friends and family aren't the only ones worth following on Instagram—believe it or not, a lot of brands out there have 'gram game so strong, your thumb gets tired from all of the double taps! Here are some of our favorite tech-focused Instagram accounts (and why you should follow them):
1. Microsoft
Microsoft's #DoMore campaign highlighting their customers' lives isn't just a cool way to give a little back to their loyal customers—it's also a great way to show people how their products can work for anyone.
2. Kaspersky Lab
A quick scroll through Kaspersky Lab's Instagram will give you a glimpse into their corporate culture, witty jokes, and inspiring quotes. It's no question why Parallels loves Kaspersky!
3. Facebook
Facebook has taken the 'quirky' style Instagram is known for as a way to "connect the world" through technology. Many of their Instagram photos simply compel their followers to tag their friends and engage with one another online, something we love about social, too. 
4. Instagram!
Instagram's feed is great in that it's fun and unique. Many of their photos highlight inspiring user content and the users themselves! If there was any doubt, Instagram's owned channel proves that there are definitely some creatives in tech out there.
5. Google
Want insight into the mystery that's Google? Follow them on Instagram, where they post everything from #AndroidAdventures (where they take pictures of Android devices anywhere and everywhere you can imagine) to sneak peeks into their creative process and their dream-worthy office.
6. General Electric
The energy conglomerate isn't necessarily a brand you would think as paving a style and a name for themselves on Instagram, but they sure are! Check out their feed and see for yourself.
7. Intel
Intel's Instagram is a colorful representation of their company, marrying art with technology in the best way in all of their photos. If you're looking to be inspired, definitely give them a second glance.
Whether you're looking for inspiration, to get creative, or immerse yourself in more glorious tech, Instagram (and all of the above) is a great place to start.