How to Make a GIF from a YouTube Video
---
We know almost everything about YouTube when it comes to watching our favourite channels. I mean, if YouTube was a major, we would probably have a PhD in it.
But what about sending a video or GIFs over to your friends or co-workers when you just need those five epic seconds, not a whole 10-minute show? When it comes to social sharing, messaging, and incorporating videos into presentations and blog posts, it may be not that handy. We're here to explore how you can easily download a YouTube video and turn it into a GIF.
Step 1. Download a YouTube video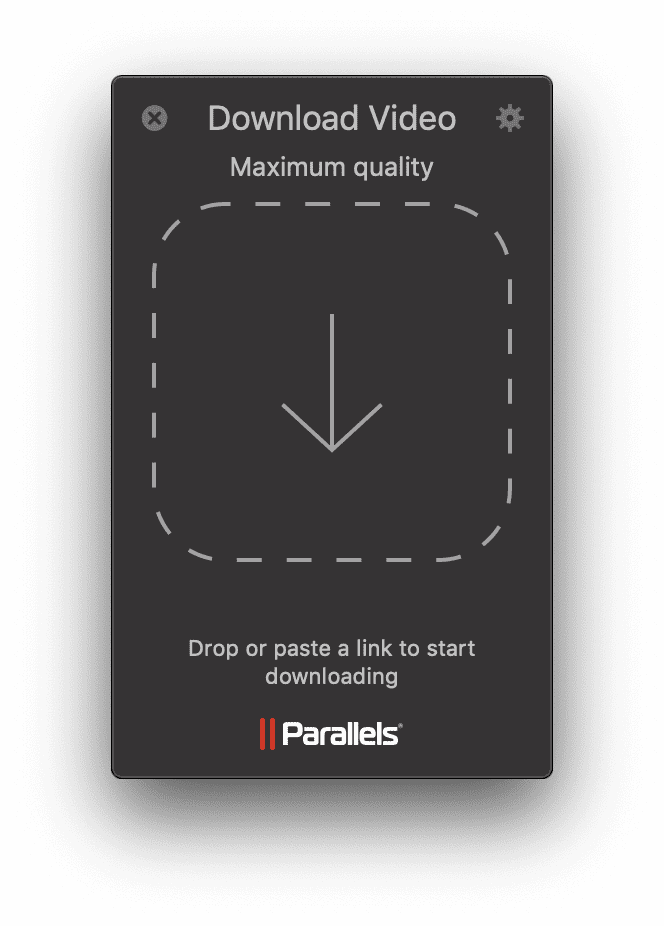 To make a GIF out of a YouTube video, you first need to have the video. Luckily, this process is super easy.
Head over to the Parallels® Toolbox page and download the Parallels Toolbox Screen and Video Pack. It's completely free to try for up to seven days. If you like it, it's just $9.99 per year for a whole bunch of useful utilities for both Mac® and Windows.
Next, in the Parallels Toolbox app window, click Download Video. Drop a link, and it will start downloading automatically.
Third…no, you're good. By the time you're reading this, your epic video is probably in the Downloads folder already.
Youtube Playlist Downloader: Did you know that in Parallels Toolbox 3.0 you can download the whole Youtube playlist. Simply copy the link of playlist to Download Video application and wait until all is done to watch them offline anytime you want. Additionally, specify the preferred quality and exact folder where you want all files to locate in the settings.
Step 2. Make a GIF from a Video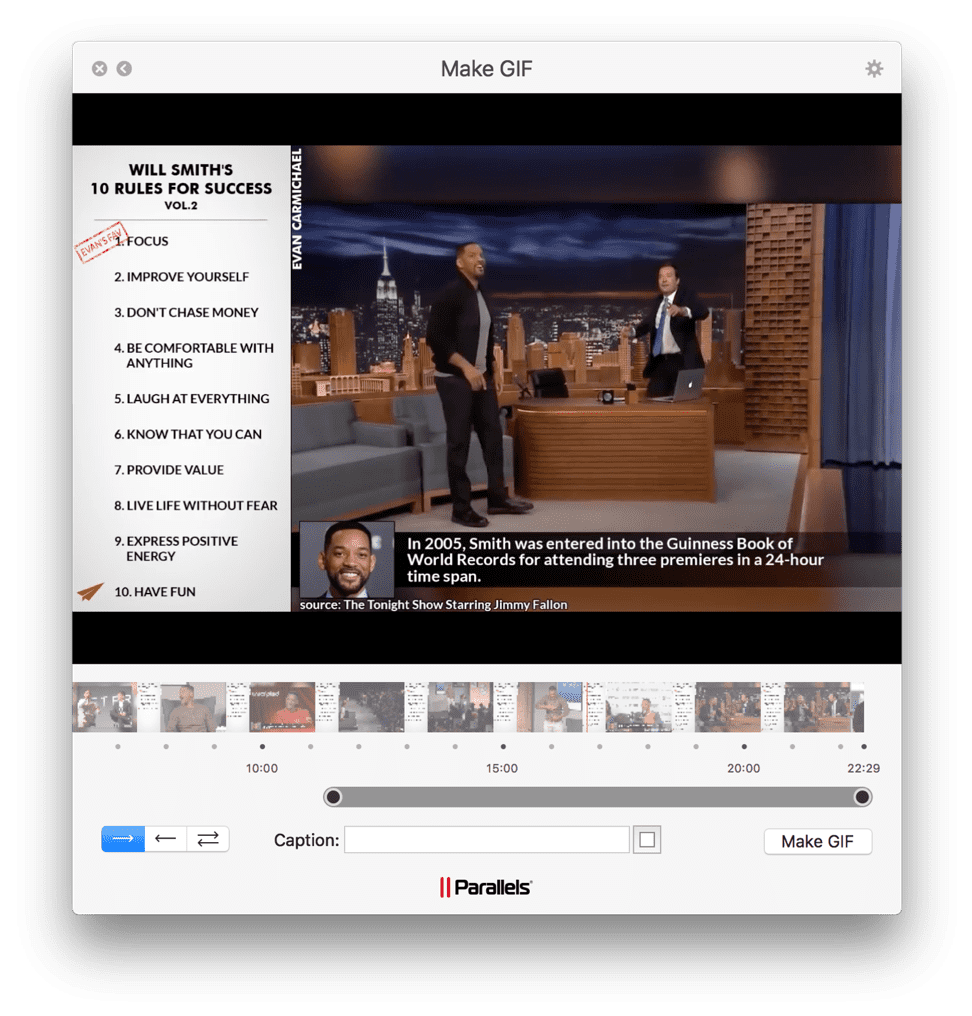 Once you have the video, all you have to do is convert it to an animated GIF using Parallels Toolbox. It has a GIF maker and it literally just takes you one click.
To convert a YouTube video to a GIF, do the following:
Open the Parallels Toolbox Screen and Video Pack (or download it if you haven't yet).
From the menu, choose "Make GIF".
Drop the downloaded video to make a GIF.
Chose any frame you like from the video (up to 15 seconds long) and add a caption as needed.
Click the "Make GIF" button and find your GIF in the Downloads folder.
What's cool about the "Make GIF" tool is you can add colorful text right on top of your video without any special video editing software. That helps a lot!
Step 3. Start Sharing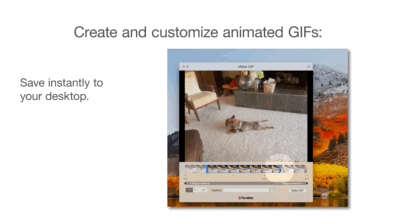 Since you have your file already, you're good to go and can start sending the GIF to friends and colleagues and upload it to social networks (Facebook, WhatsApp, Telegram—your choice). The GIF video is always optimized, so if necessary, the resolution will drop from the original, making it easy to send or embed on the page.
One of the best ways to use the format is to show step-by-steps processes or tutorial videos to visually accompany your posts, presentations, or any other documents.
Now It's Your Turn
I hope this post showed you the easiest way to create your own GIF out of any YouTube video.
Now I'd like to hear from you:
Do you find Parallels Toolbox useful to create GIFs, or do you have your own way?
Do you have any problems or concerns using it?
Or maybe you want to share your awesome GIF in the post?
Either way, let me know in the comments section below.