How to Prepare Software Inventories of Mac Computers in SCCM | Managing Mac Computers with SCCM
---
It can be quite helpful for IT teams to have an accurate overview of all the Macs in their organization. And this should include the software installed on those devices for this can be crucial for the organization's software inventory management, for instance. How many copies of which productive software products are being used? Or in reverse: On how many Macs is a given software product installed?
Software inventory management of this kind can be a great help for co-workers in the purchase department in their effort to put together license packages and so save the company money. Detailed reports not only covering device inventory but also software products installed on many systems will help IT teams handle their resource planning as well. IT teams can only plan the software outfit and potential training needs for any given organisational unit if they have this information available. Here are some hints to help admins prepare custom reports in SCCM containing this important information.
How to setup a query for Mac software inventory
Parallels Mac Management for SCCM lets IT teams not only manage hardware and software inventories and roll them out to employees within the organization but also analyse and monitor these assets. This clarifies the software needs of individual business units and the licensing requirements to be planned for the future.
The first step is to open the SCCM console and to navigate to "Monitoring -> Overview -> Reporting -> Reports -> Create Report". Now a wizard will appear to help configure a customized SCCM report. The first choice to make here is "SQL based report". The admin should then proceed to choose a preferably meaningful name for this report. A storage location for the report also needs to be selected at this point.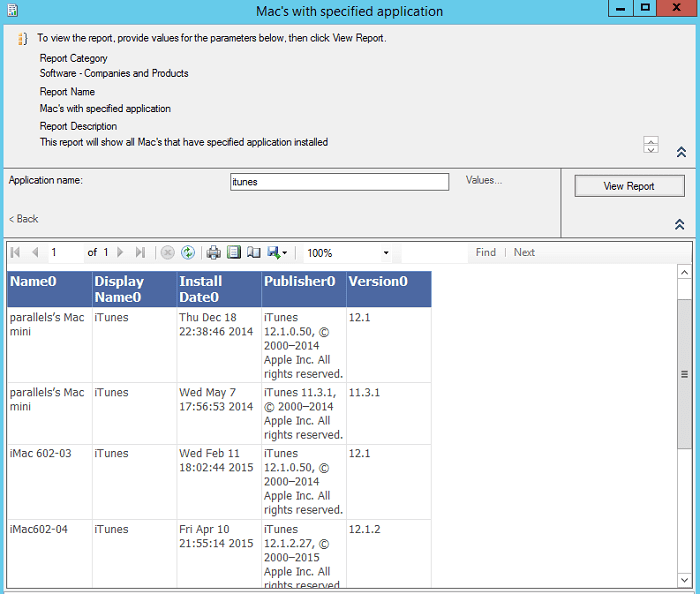 After these easy steps, the admin can continue with defining the SQL query. The "SQL Server Report Builder" serves this purpose. Clicking on "Table or Matrix" is the next thing to do. Now a data set needs to be created. Things to look out for here include selecting the right data base entries and activating "Autodetect". Admins can find the right search categories and parameters to use in this help article. Once this custom report has been defined, IT teams can search it for software products by entering free text into a search field, after which they are shown on how many and which devices the program is installed.
Learn more
Knowledge Base | How to create a custom report
Parallels Blog | Keeping Tabs on Asset Management
Youtube | Basic Management using Parallels Mac Management
Parallels Mac Management | Administrator's Guide (PDF)