The Evolution of Private Cloud Computing
Private Cloud Computing: Implementing a cloud solution for a business is a very complex process, one that requires a lot of thought and consideration. This is mainly due to the fact that there are different kinds of cloud services, which generally can be divided into two: public cloud and private cloud.
The public cloud is based on the standard cloud computing model, where a service provider makes resources, such as applications and storage, available to the general public over the Internet. It is important to note that, broadly speaking, the public cloud is not an inward-looking solution; it is not designed with privacy as its main concern, and as such, is less suited for businesses. This has led to the evolution and development of private cloud computing.
Private Cloud Computing
Private cloud computing is all about nuance. It is a very different kind of cloud computing, one which delivers similar advantages to the public cloud, including scalability and self-service, but through a different proprietary architecture. Unlike public clouds, which deliver services to multiple organizations, a private cloud is dedicated to a single organization.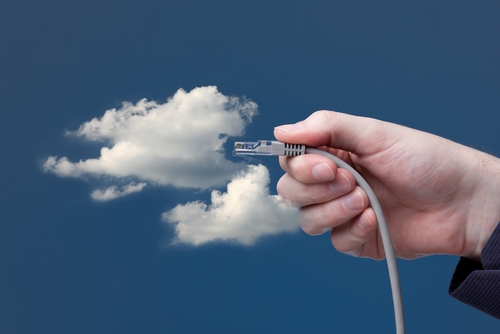 Private cloud computing is secure. It allows businesses to share their data in a secure manner, no matter where or from which devices their employees might be working. In other words, it is an excellent solution for businesses looking to maximize and increase their return on investment by providing employees with line of business applications and data in a secure, constantly accessible way. It does this by creating a scalable, configurable environment that does not compromise or risk exposing mission-critical applications and data to the ever-present risk of hacking or other threats created by third-party exposure. As a result, the private cloud is a great fit for businesses that require direct control over environments that have dynamic or unpredictable computing configuration requirements.
German businesses are keenly aware of the possibilities and potential security concerns of using the cloud. In fact, in August 2015, Germany passed a new law for the use of public cloud computing for government and federal entities. Under this law, data can only be processed in Germany. This law was an effort to help the German government safeguard its own data assets from the risk of foreign threat, and speaks volumes on how closely Germany is monitoring the cloud revolution.
This interest in cloud security has infiltrated German culture, as a 2015 poll found that 57% of German companies preferred their data to be processed only in Germany; in other words, they preferred a private cloud option over a public one. This has resulted in a number of industry and public pressures that have increased the demand for localized data to be stored within Germany.  (Source: 2016 Top Markets Report Cloud Computing – International Trade Administration )
The German market's confidence in private cloud computing is evident in the growth of this segment over the past few years. The chart below shows the results of a survey on the usage of private cloud computing solutions in German companies from 2011 to 2014, underlining the growth in this segment of the market. (Source: statista.com)
The growth continues to this day. In fact, the International Data Corporation posits that in 2016 alone, investment in the cloud environment deployment industry, i.e., products such as servers, storage and private cloud systems, stands to increase by 18.9% to $38.2 billion. One could put the growth of this industry down to its promise to increase peace of mind and productivity through high mobility, high security, high business agility, and low capital expenditure.
However, despite its growth and promise, not all private cloud solutions are the same, and it remains critical for businesses to select the best possible private cloud solution, which is a challenge. For a private cloud solution to truly excel at what it does, it needs to be available on a wide range of devices, and it needs to provide the cloud resources to all parties in a segregated, secure manner.
Parallels Remote Application Server is one such private cloud solution. It is an application and desktop delivery solution which can provide Windows applications to any and all of the major devices, allowing businesses to provide their employees  a way to remain productive from wherever they may be in a secure and nuanced manner that is both easy to use and effective. In a market that thrives on simplicity and flexibility, Parallels Remote Application Server can boast that it is the most flexible and easy-to-use application and desktop delivery solution, delivering applications and desktops to all major devices from all major hypervisors. It is a software solution that can revolutionize the way businesses operate by extending the possibilities of a regular private cloud implementation.
Many German organizations are considering moving their IT resources to managed service providers (MSPs) to access the advantages of the virtual private cloud and guarantee that their data remains within German Federal territories. MSPs can offer cloud services to groups of customers through the use of a virtual private cloud. A virtual private cloud provides secure data transfer between a private enterprise and a public cloud provider, ensuring that each customer's data remains isolated from every other customer's data, both in transit and inside the cloud provider's network. In other words, it segregates this data in a secure and effective manner.
This trend, combined with the fact that Parallels Remote Application Server is easily manageable from a centralized location, makes Parallels Remote Application Server an attractive and very useful option for those IT retailers looking to become MSPs. Parallels Remote Application Server makes it incredibly simple for MSPs to configure complex, disparate setups of all sizes and specifications from the comfort of their office environment, making it easy to both comply with the legislation as well as support their businesses.
All of this makes Parallels Remote Application Server the right choice to maximize the potential of the private cloud by providing a way for businesses to virtualize desktops, applications, folders and files to the widest range of devices, and with its low cost and simplicity, it is the ideal private cloud solution for businesses to prepare to enter the challenging but profitable world of MSPs.
The best way for businesses to acquire Parallels Remote Application Server is by collaborating with Vanquish, Germany's official reseller of Parallels Remote Application Server. In addition to boasting great expertise and experience in establishing private cloud solutions, Vanquish is also an expert on Parallels Remote Application Server. This makes Vanquish ideal for businesses to partner with to maximize the possibilities of  the private cloud.
Resources
Private Cloud Computing: 2016 Top Markets Report Cloud Computing | trade.gov
Private Cloud Computing: Private Cloud Computing Solutions | VMware
Private Cloud Computing: What private Cloud is not | Network World
Private Cloud Computing: Usage of private cloud computing in companies in Germany from 2011 to 2014 | statista.com