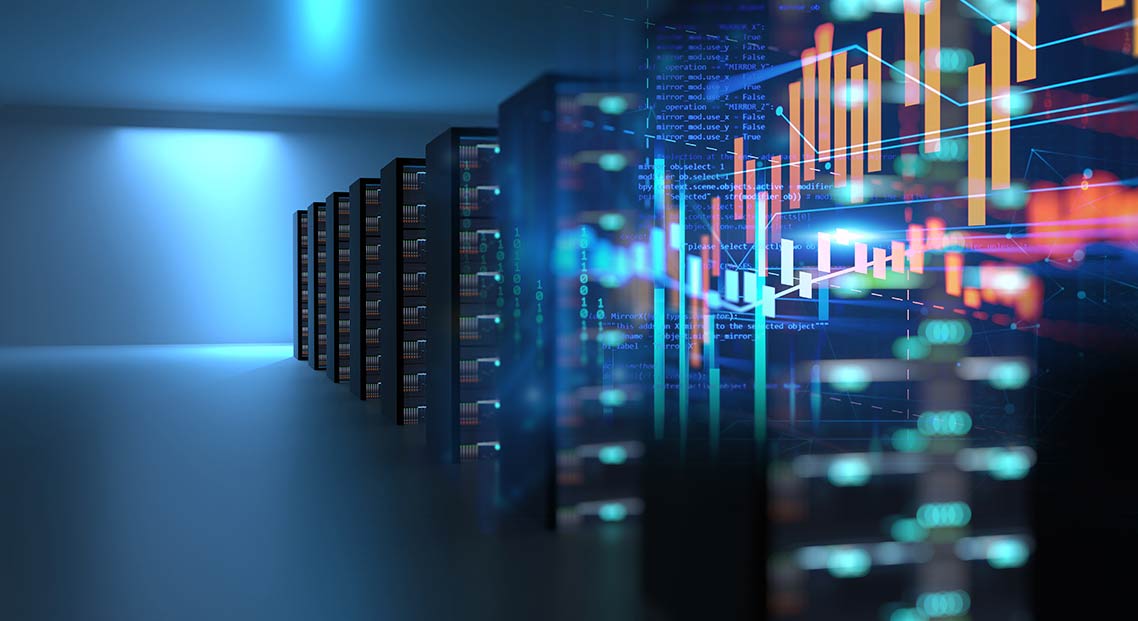 Step-by-Step Guide to Deploying Parallels RAS from Azure Marketplace
By moving services and resources to the cloud, organizations are freed from acquiring and managing server hardware and other equipment needed in a typical on-premises datacenter. According to ZDNet, Microsoft Azure is one of the world's leading Cloud Service Providers (CSPs) and ranks in second place as an Infrastructure as a Service (IaaS) provider, outranked only by Amazon Web Services (AWS).
Azure compute is the part of Azure Cloud responsible for facilitating application management over your servers via virtualization and similar services. Also, multiple Azure compute services can be combined to handle more complex requirements.
Microsoft Commercial Marketplace
Microsoft Commercial Marketplace is the marketplace for the solutions provided by Independent Software Vendor (ISV) partners of Microsoft. An ISV member of the Microsoft Partner Network can create, manage, and publish commercial marketplace offers, list their solutions in online stores alongside their own Microsoft solutions, and connect to different government agencies and organizations.
There are two online stores of the commercial marketplace, Microsoft AppSource and Azure Marketplace. When partners create a commercial marketplace offer, it can be listed in either of the marketplace's online stores.
Microsoft AppSource
Suitable for business solutions such as software as a service (SaaS) applications and apps that extend directly into Microsoft 365, Dynamics 365, and the Microsoft Power Platform. Offerings in Microsoft AppSource helps customers get started with Power BI and Dynamics 365.
Azure Marketplace
Suitable for built-in solutions or for solutions that are built-in for Azure, it is intended for developers and IT professionals. Azure Marketplace lists professional service offerings and listings for consulting and managed services. Offerings in Azure Marketplace help customers get started with Azure.
An Overview of Azure Marketplace
Azure Marketplace is an online catalog containing thousands of applications and services designed and optimized to run on Microsoft's Azure public cloud.
Microsoft and its technology partners are responsible for developing the products and services you find on Azure Marketplace.
Microsoft Azure Certified program must certify any product or service before it becomes available on the platform.
You can install Parallels® Remote Application Server (RAS) from Azure Marketplace, which offers third-party applications and services that have been preconfigured and certified for use with Azure.
Everything offered on Azure Marketplace has been optimized to run on Azure. There is nothing more reliable than Azure Marketplace when sourcing applications and software for your Azure instance.
How to Install Parallels RAS from Azure Marketplace
Parallels RAS streamlines application and desktop delivery within your Azure instance. Parallels RAS is a Microsoft Azure preferred solution, meaning that Microsoft attests to its quality and performance.
A fully functional Parallels RAS deployment in Azure can be tested for 30 days using the Azure free trial account, which includes access to certain Azure products for 12 months and $200 credit to spend within the first 30 days after subscribing. To deploy a virtual machine using the Parallels Remote Application Server image, follow the steps described below:
Step 1: Azure Subscription and Marketplace
Log on to your Azure account. If you do not have an Azure subscription, you will need to create one before proceeding to the next step. Enter Parallels Remote Application Server into the search bar, and click on the Azure Marketplace link when it appears.
Azure Marketplace provides additional information about Parallels RAS, including an overview, available plans, and pricing. Complementarily, you can also view Quick Start documentation or watch an introductory video on your Azure Dashboard before creating the virtual machine.
Step 2: Machine Settings Configuration
On the Parallels RAS product page, click on the Create button.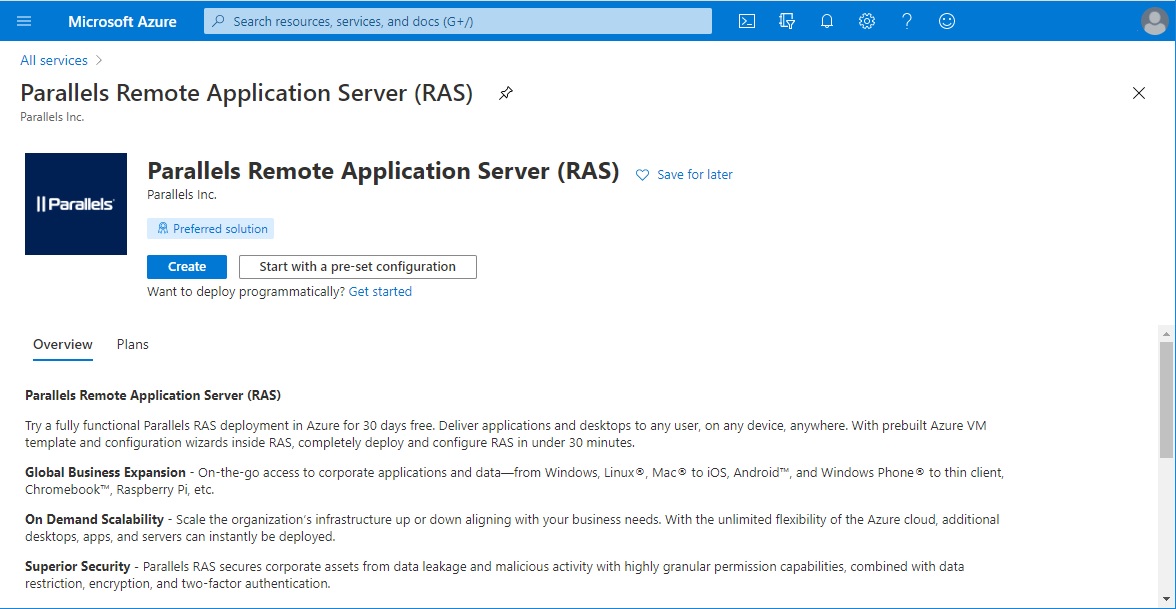 Other deployment options for Parallels RAS are pre-set configuration and programmatic deployment, which can be accessed by clicking the Start with a pre-set configuration or Get started links on this page. All these options will also guide you through the virtual machine creation page.
On the Create a virtual machine page, you will find different tabs to configure your virtual machine settings:
Basics. Select the subscription and resource group. Enter a name for the virtual machine, and enter the username and password for the virtual machine's administrator account. Azure provides default values for the region and size fields, but you can change them according to your needs.
Networking. Select the virtual network and subnet, and configure the network security group to allow required inbound and outbound traffic. Make sure RDP (Any/3389), HTTP (Any/80), and HTTPS (Any/443) inbound rules are added.
Disks, Management, Advanced, and Tags. All fields have default values. Check them, and change as necessary.
When all the tabs and fields are configured, click the Review + create button. If you miss a required field, the virtual machine creation process fails to validate. You then need to go back through each tab to see which required fields you missed.
Mandatory fields are marked with a red asterisk. Additionally, you can click on the icon to the right of each field name on the page to get more information about each field. Different fields require resources that you may not have created yet, but you can create them from this same page by clicking Create new at the bottom of the field.
Step 3: Machine Creation
If the validation stage is successful, a summary page appears displaying the product details (subscription credits required), terms, and a machine configuration summary. Check that all the information is correct, and click on the Create button.
Once the deployment procedure is complete, click on the Go to resource button to check the machine's public IP address.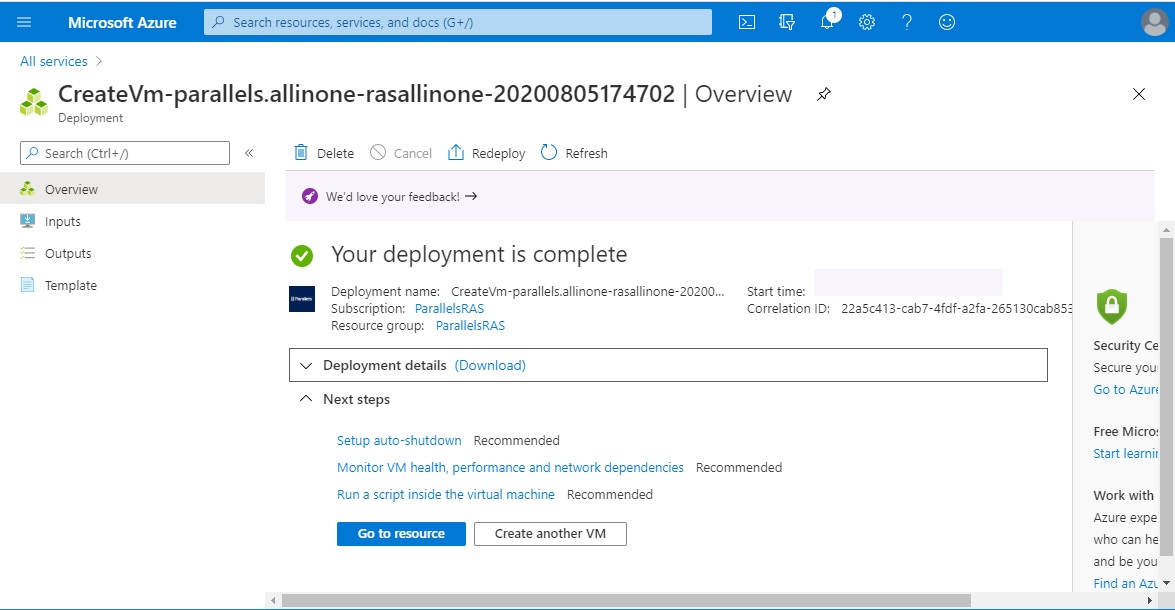 Step 4: Finish Parallels RAS Installation and Test Applications
Establish a Remote Desktop Protocol (RDP) session to the server using its public IP address and the administration credentials set up when the virtual machine's basic settings were configured. A Windows Installer pop-up appears showing the progress of the Parallels RAS installation: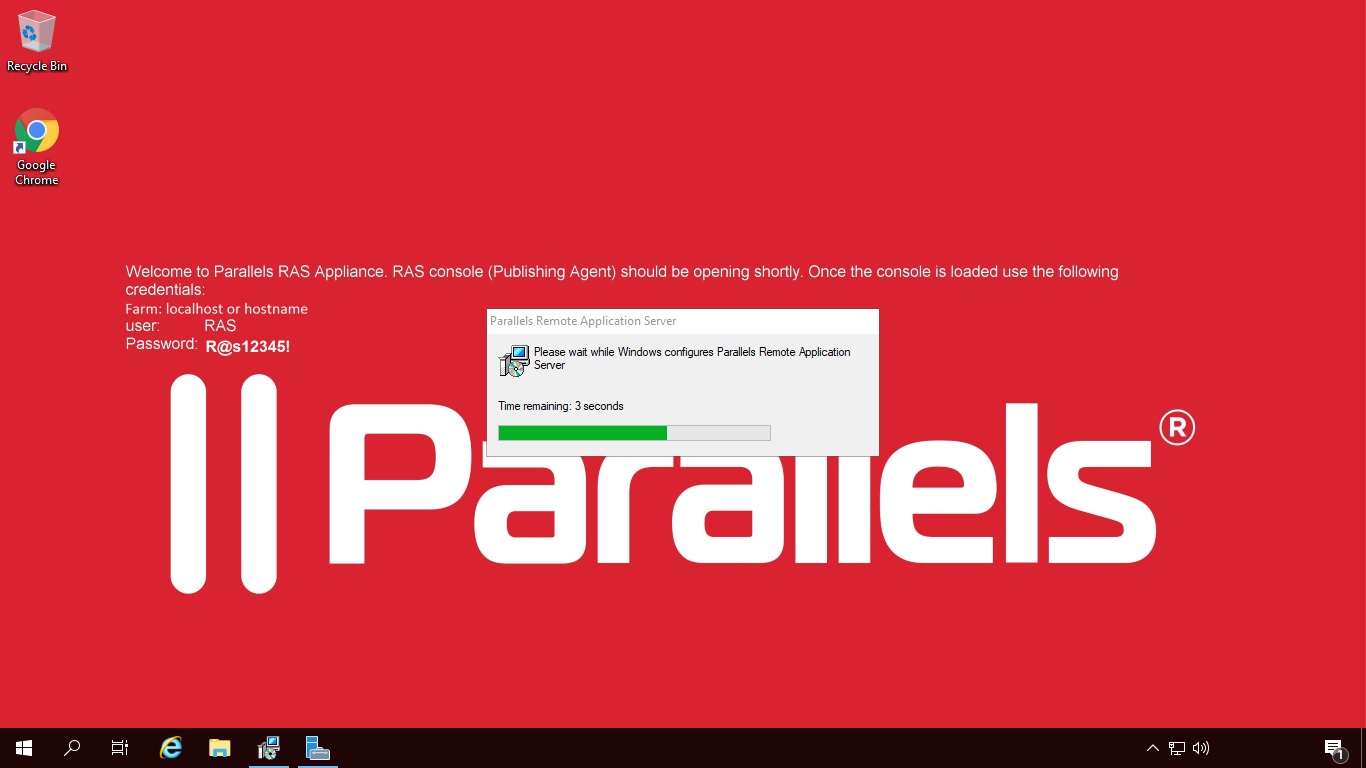 Once the installation is complete, the Parallels RAS console opens. The Windows Desktop image provides all login information. Enter your credentials, and click on the Connect button.
A Parallels RAS deployment with the following topology has been installed, and certain built-in features, such as HTML5 access or universal printing, have been configured and enabled:

You can test any of the published resources by entering the below in the address bar of any HTML5-compatible browser:
https://**PublicIP**/RASHTML5Gateway
Log in with your user credentials, and double-click on the application or desktop icon you want to open.
Parallels RAS on Azure Cloud
Parallels RAS on Azure Cloud provides organizations with secure access to their resources across the internet from any location and any device. Parallels RAS is fully compatible with hybrid deployments, increasing its flexibility to distribute workloads between on-site and cloud setups under certain scenarios.
Parallels RAS supports Microsoft Azure Hypervisor as a Virtual Desktop Infrastructure (VDI) provider. By combining Azure's flexibility and scalability with the auto-scaling and auto-provisioning features of Parallels RAS, companies can provision and scale VDI, Remote Desktop Session Host (RDSH), and Azure Virtual Desktop workloads directly on Microsoft Azure. Some of the benefits include:
Faster deployments.
Simplified management.
Optimized costs.
Enhanced security.
Security features of Parallels RAS include multifactor authentication, advanced granular filtering, and client policies. Security Today awarded Parallels RAS a gold award for Application Security in the 2021 Government Security Awards or The Govies.
What's more, IT departments can cut costs and repurpose a significant portion of their resources to other vital projects by combining Parallels RAS with Azure. Parallels RAS on Azure provides worldwide access to corporate applications that is quicker, scalable, and more reliable—all while staying within budget constraints.
You can try out Parallels RAS by downloading your 30-day Parallels RAS trial.