Cloud Migration. What are the benefits for businesses? | Parallels Insights
Cloud Migration | How can Parallels Remote Application Server help?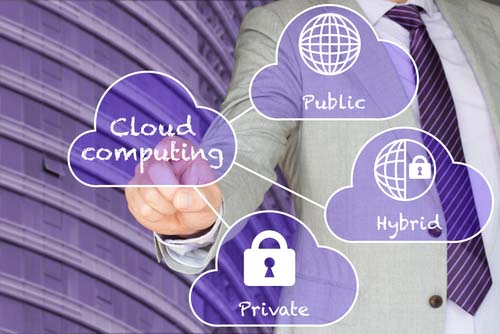 The world is experiencing a significant shift to cloud migration. Over the years, the cloud has evolved as the epitome of agility, flexibility, and scalability. About 90% of companies are on the cloud today, and experts state that 60% of workloads are running on a hosted cloud service. As more organizations reap the benefits of shifting their applications and data to the cloud, others might find it to be a challenging deal.
What is Cloud Migration?
The cloud refers to servers located in data centers all over the world and accessed over the internet. These servers store data and run applications such as databases and CRM software, so end-users and other companies do not have to manage their own database and software applications.
The Cloud Migration Deployment Models
Cloud migration refers to the process of moving applications, data, and other components to a cloud-based structure. There are multiple cloud migration models which might include:
Public cloud: Transferring data and applications from on-premises data centers to the public cloud.
Private cloud: Transferring data and applications from on-premises data centers to the private cloud.
Hybrid cloud: Transferring data and applications to a combination of public and private cloud or transferring just a portion of data and applications to the cloud.
Cloud-to-cloud: Transferring data and applications from one cloud platform or provider to another.
Reverse cloud: Transferring data and applications off the cloud and back to a local data center.
The public cloud is the most common model.
Benefits of Cloud Migration
If done right, cloud migration can benefit organizations tremendously by ensuring lower upfront costs, scalability, and expansion to new geographical locations. The benefits of migration are:
Improved operational efficiency
Cloud migration removes region-specific dependencies, thus improving team collaboration, productivity, and efficiency. It also opens a pathway for organizations to utilize the talent pool located in different geolocations.
Improved agility
The time required for procuring new storage space in on-premises solutions is large but can be reduced to a matter of hours because of cloud migration. This improves system agility in this rapidly evolving technological world.
Extra functionalities
Cloud packages offer additional features like continuous deployment, monitoring, automatic logging, and disaster recovery over traditional, existing organizational services.
Robust security
Cloud solutions usually have security programs with security features like analytics and visibility of the cloud environment. A migration can improve security in comparison to on-premises solutions.
Decreased costs
Deploying data and applications in the cloud is comparatively cheaper to bare-metal deployments. Pay-as-you-go models additionally offer flexibility to counter seasonal demands. With a migration, you can also scale up or down your storage easily, without procuring new servers and keeping them idle for long periods, hence keeping costs under control.
Availability
Cloud solutions offer promises of close to zero downtime, and the support provided by these solutions ensure improved resource availability. This eventually leads to customer satisfaction and better asset utilization.
Automatic Updates
Cloud services roll out server updates regularly, thus making it easier to deploy server updates and feature updates with ease at the customer end. Eventually, customers get faster deployment facilities after cloud migration.
Reduced footprint
Cloud migration ensures a reduction in the number of data centers required by the company, eventually leading to a reduced organizational footprint.
The Challenges of Cloud Migration
Cloud migrations may be tricky. The following are some of the main obstacles that many businesses are confronting when they move their resources to the cloud.
Insufficient Planning
Many businesses begin their cloud migration without giving it the time and consideration it needs. Thorough end-to-end cloud computing strategy is necessary for successful cloud migration and execution. Each software and dataset might just have unique needs and constraints, necessitating the use of a particular cloud migration strategy. For each task that is moved to the cloud by the company, a solid business case needs to be made.
Security of Data and Compliance
Data security and compliance are two main barriers to cloud migration. A shared responsibility approach is used by cloud services; they are in charge of protecting the infrastructure, while the client is in charge of protecting data and applications. Therefore, even if the cloud provider could offer strong security measures, it should be the duty of your firm to set them up properly and make sure that all operations and apps have the proper security controls.
Vendor Lock-In
Vendor lock-in is indeed a problem that cloud technology users frequently encounter. Although cloud service providers provide a wide range of services, many of them are not compatible with other cloud platforms. It takes time and money to move operations from one cloud towards another. When they first begin using cloud services, many firms find it challenging to transfer providers if the present one doesn't meet their needs.
Cost Management
Many businesses that migrate to the cloud do not have clear KPIs in place to determine how much money they will spend or save following the move. This makes it challenging to determine whether migration was beneficial economically. As new services are accepted and application demand increases, cloud environments are also dynamic and pricing can vary quickly.
How can you efficiently migrate to the cloud?
Develop a Cloud Migration Strategy
A cloud migration strategy should be based on Gartner's 5R strategy. The 5R strategy is a starting point that helps decide the best migration strategy suited for your purpose. The 5R strategies are:
Rehost
Also known as 'lift and shift'.
Suitable for deploying Infrastructure as a Service (IaaS) model.
Taking existing data and applications and re-deploying them to the cloud servers.
Suited for beginners who are new to cloud migration.
Also suited for large systems where code modifications are not possible in a short time.
Refactor
Also known as 'lift, tinker, and shift'.
Suitable for deploying Platform as a Service (PaaS) model.
The core architecture of the application remains unchanged, but cloud-based frameworks and tools are used to reap the benefits of cloud migration.
Revise
Additional layer over the previous two levels.
Suitable for making architectural and code changes to existing systems before starting cloud migration.
Optimization of the system is done so that the benefits of the cloud potential can be utilized fully.
Requires advanced knowledge of the cloud.
Rebuild
Discards the existing code base to rebuild a new one.
For example, ditching .NET and moving to Java
Extremely time-consuming cloud migration strategy.
Decision to rebuild is made if the existing model no longer suits the business needs.
Replace
Replacing existing native applications with third-party or vendor-based applications.
Suitable for deploying Software as a Service (SaaS) model.
Existing application data is entirely replaced by third-party application data in this cloud migration strategy.
Decide which applications to migrate and which to keep native
Some applications of a system make sense in-house while some are suited for cloud migration. Some applications have special needs inside an organization and may contain features required for internal processes. On the other hand, some applications need to be shifted to the cloud for easier administrative advantages, disaster recovery, faster deployment, and reduction of geographic dependencies.
Hence, it makes sense to analyze the entirety of the system and only start the migration after taking the proper decision about native and cloud-suited applications.
Create a cloud migration checklist
Before you get started with the migration, it makes sense to create a migration checklist that includes:
Choosing the appropriate platform
The first step in the cloud migration process is to decide the amount of exact storage and overhead storage needed. This helps organizations choose the best hosting option and pricing.
Choosing the licensing model
Cloud licensing models are based on virtual processor counts and the ability to scale application services and servers. Hence, another checklist in the cloud migration process is to choose the correct licensing model that adds business value to the organization.
Checking network traffic needs
When deploying applications and data on-premises, the existing network devices can employ hardware acceleration to take care of heavy traffic. However, virtual routers and switches on the cloud might not be able to meet traffic needs. Hence, it is important to check current traffic needs before starting cloud migration.
Reviewing Access Control List (ACL) Dependencies
ACLs regulate user and service activities, and cloud migration can affect ACL dependencies. When shifting to the cloud, organizations must ensure that the new model meets the current ACL dependencies.
Auditing IP Addresses
Old DHCP static addresses and scope will likely change after cloud migration. Auditing existing IP addresses ensures that dependent sockets are not broken down after the migration.
Auditing SSLs and Certificates
Changing the existing host location to the cloud's host location can throw SSLs off track. Hence, it is also important to audit SSLs and certificates so that they can be replaced or reviewed after cloud migration.
Prepare for audit
Before starting a migration, organizations must plan and prep in advance, to make complying with audits simpler. Once the migration is complete, all traffic interactions must be analyzed and logged as any string of data can have great business implications.
Analyzing the raw data can be intimidating and tiresome at first. It is therefore important to prepare for an audit by using the best log analysis solutions that can assist with compliance in the long term.
Keep compliance in mind
It is also necessary to keep compliance in mind after a migration. When in the cloud environment, it is important to run root cause analysis and trace logs to stop malicious activities from affecting the cloud environment. To ensure compliance, organizations must choose a service that has:
Logging services
The interaction between virtual and physical machines must be compiled, recorded, and saved in highly secure locations.
Immutability
The data saved in the secure location must be immutable with heavy encryption.
Data retention policies
The period for retaining data in the cloud ranges from 3 to 12 months. It is hence important to define and implement proper data retention policies for compliance.
How can Parallels RAS simplify Cloud Migration?
Parallels Remote Application Server (RAS) simplifies cloud migration by providing support for delivering virtual apps and desktops in cloud computing services such as Microsoft Azure.  Parallels RAS supports public, private, hybrid, or multi-cloud deployment models and allows service providers to offer DaaS, VDI, and SaaS services to their clients.
Parallels RAS offers seamless support by integrating with App-V and Turbo.net application containerization technologies to deliver legacy applications to endpoint devices. In other words, Parallels RAS can deliver applications of all shapes and sizes from the cloud to any device, thus making your cloud migration process smooth.
The built-in auto-scaling and load balancing capabilities of Parallels RAS can combine with public cloud's own scaling and load balancing solutions to ensure high availability and business continuity.
Parallels RAS also offers security controls like SSL/TLS, multi-factor authentication, monitoring, granular filtering, data segregation, Role-Based Access Control (RBAC), and more.
Download your 30-day evaluation period of Parallels RAS to experience how it helps with migration to the cloud!
Growth Opportunities for MSPs, ISVs, VARs and SIs in the Post-Pandemic Era
The Road from VAR to MSP: How to Successfully Transition from One-Off to Recurring Revenue