Healthcare Single Sign-On. UK Government Spends £40 Million! | Parallels
The UK Government's £40 Million Healthcare Single Sign-On Project Is About More Than Just Saving Time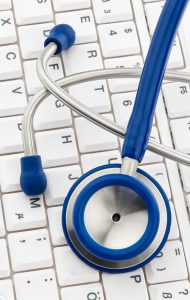 Healthcare single sign-on: The United Kingdom (UK) government has finally realized the urgency of cutting down one of the most deceptively harmless procedures in the National Health Service (NHS): system logins. A single login might not seem to matter much. But if you're an NHS staff, you have to log in to multiple systems (sometimes up to 15 different systems per day) even when attending to just one patient. All these logins can cause a substantial delay in patient care delivery.
And we're just talking about normal logins. Sometimes, the underlying infrastructure can act up and cause each login to take forever. Sometimes, users can enter the wrong password, get locked out of their accounts, call the Helpdesk and wait until they're given a password reset. If patient care can be delayed during regular multiple-login days, how much more is it delayed when something goes wrong?
What is a single sign-on?
Single sign-on is the technology that allows users to sign on to different applications with a single set of credentials. In other words, a single sign-on allows users to access multiple applications from different providers using the same set of credentials.  
Built on the idea of trust, a single sign-on works when an application provider trusts an identity provider (IdP) to authenticate a user. It works as follows:  
A user reque

sts to sign in to an application.

 

The application sends a request to the 

IdP

 

to see if the user is logged in

.

 

If the user is already logged in, the IdP sends 

the information about the same 

to the application. 

 

If the user is not lo

gged in already, they are sent to the login page.

 

Depending on the protocol, the provider and requester 

exchange the signatures and keys to verify the identity of the 

user. Once verified, the user will be able to use the application. 

 
A £40 million healthcare single sign-on solution
To address this problem, the UK government is allocating £40 million to a project that would drastically cut login times. The plan is to build the infrastructure that would provide single sign-on (SSO) capabilities to all NHS staff. SSO has already decreased multisystem login time at Alder Hey Hospital in Liverpool from 1 minute 45 seconds to just 10 seconds.
Logins at Alder Hey Hospital would run up to 5,000 per day. Their SSO infrastructure saved them 130 hours of staff login time. That's an enormous benefit since they can now reallocate those hours to patient care.
Advantages of healthcare single sign-on
Aside from reducing login times, SSO has several other benefits:
Reduces password fatigue – In an SSO-equipped environment, users need to remember one password. After logging in once, a user has access to all other systems. This would certainly make NHS staff happier and less stressed.
Encourages user receptiveness to security practices – One of the primary reasons (if not THE #1 reason) why users hate security is that it usually complicates their day-to-day tasks. But because SSO makes daily routines much more comfortable and faster, users are more receptive to adopting additional security practices like using strong passwords.
Relieves IT from identity management – SSO doesn't only benefit end users—IT administrators benefit as well. With SSO, IT admins no longer have to worry about identity management. This responsibility now lies in the hands of the Identify Provider or (IdP), which can be a third party like Microsoft Azure AD, Ping, and Okta.
Reduces Helpdesk workloads – Because users no longer have to recall or maintain multiple passwords, password reset incidents drop. This can free Helpdesk staff from the mundane, time-consuming task of resetting passwords.
Paves the way for stronger security – Resources (time, money, and talent) saved with the arrival of SSO can be reallocated to pursuing new security initiatives like two-factor authentication (2FA) and multifactor authentication (MFA).
Streamlines patient care delivery – In life-threatening situations, prompt delivery of the right care can spell the difference between life and death. SSO can help ensure prompt patient care delivery because it gives doctors and nurses quick access to vital information, even if they need to be retrieved from different applications.
Regulatory compliance – Regulations such as HIPAA require authentication of users accessing electronic records or audit controls tracking activity and access.
In cases like this, it would be in a healthcare organization's best interest to deploy Parallels® Remote Application Server (RAS).
Why Parallels RAS is perfect for implementing healthcare single sign-on for organizations who are looking to save time
Parallels RAS is an application delivery and virtual desktop infrastructure (VDI) solution. You typically host it in a central location (like a datacenter or cloud infrastructure) and then have it deliver virtualized applications and desktops remotely to endpoint devices like PCs, laptops, thin clients, tablets, and smartphones.
The virtualized applications and desktops can be accessed from Parallels Client, a small piece of software that you can install on Windows, Mac, Linux, iOS, Android, and Chrome OS. It also supports any HTML5 web browser. So if you're a doctor or nurse, Parallels RAS enables you to access all the healthcare software tools and applications you need from anywhere—within or away from the hospital—from any device.
The Parallels RAS Clients provide a high-performance, intuitive, and productive user experience that makes applications look and respond as if they were installed locally on the endpoint device. Clinicians on the move can take advantage of native touch gestures like swipe, drag, tap to click, and zoom in when using Windows applications on their mobile devices. Applications naturally adapt to fit the entire screen, so clinicians don't have to struggle when navigating various vdi healthcare software.
Parallels RAS also supports Security Assertion Markup Language (SAML) SSO. By combining SSO and, say, Touch ID, Parallels RAS enables doctors and nurses to seamlessly switch from one device to another and pick up sessions where they left off. In addition, it enables them to switch effortlessly from one application and task to another from one endpoint device. Through SSO, healthcare staff can experience quick logons without manually entering login credentials—regardless of whether they're accessing a Software as a Service (SaaS) application, a traditional application or desktop.
With recent versions of Parallels RAS, logons are even faster thanks to artificial intelligence (AI). Parallels RAS AI-based session pre-launch technology analyzes end-user logins and prepares resources accordingly. For example, if a doctor begins seeing patients at 9 a.m. every day, the virtual app and desktop sessions that a doctor uses regularly can be set to spin up at 8:55 a.m. The doctor won't have to wait for them to launch the next time around.
The quicker a clinician can access needed information, the more productive and efficient they'll be. More importantly, clinicians who save time have greater capability to provide better, more personalized patient care. Parallels RAS with SSO is the productivity and efficiency booster every healthcare organization needs.
Download your 30-day trial of Parallels RAS to test-drive a healthcare single sign-on!
---
References: