Parallels RAS 19 Launches to Enhance Remote Workspaces and Application Streaming
Parallels® is on a path of innovation to provide a virtual desktop infrastructure (VDI) solution that will help customers with seamless application and desktop delivery, enabling remote access for any user using any device. Yesterday, the Parallels team launched the public technical preview of Parallels RAS 19 which is focused on supporting additional cloud vendors and application separation with MSIX app attach integration. This, along with other new capabilities and enhancements, will enable mid-market customers to deploy an enterprise-ready, easy-to-use solution for their VDI needs.
Parallels Focus on Multi-Cloud
Customers prefer Parallels for its deployment flexibility. With our customer-first principle, we are expanding Parallels RAS 19 to be compatible with Amazon Web Services (AWS) and natively deploy and manage remote access workloads from a single pane. We are working in tandem with our AWS partnership to make this a reality. This expands our cloud deployment and management beyond Microsoft Azure to provide flexibility for on-premises customers migrating to AWS cloud or existing AWS customers who want to optimize the delivery of their applications and desktops.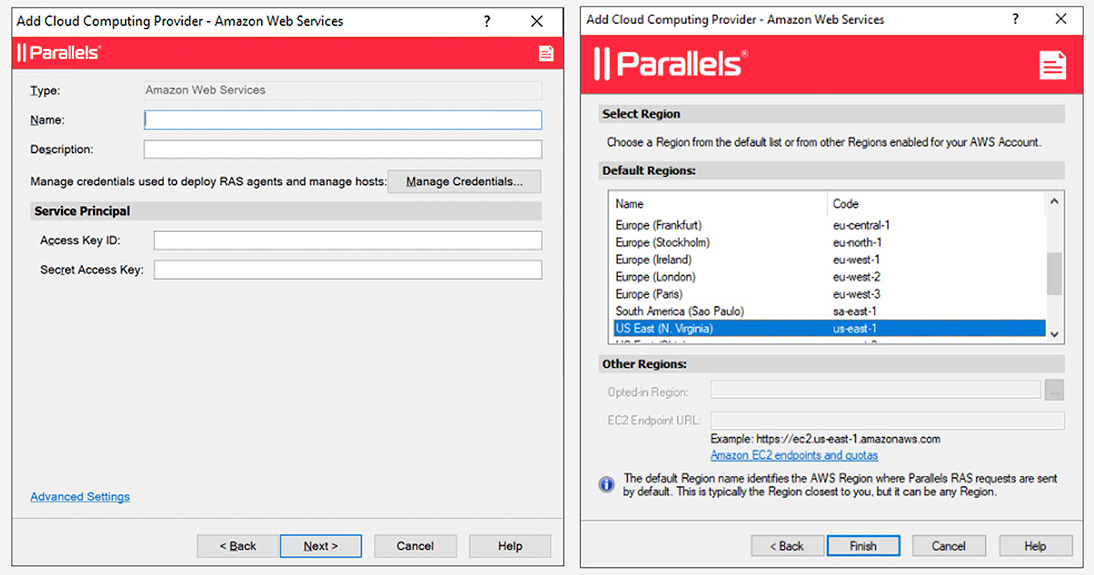 Parallels RAS 19 will give IT administrators the ability to integrate, configure, maintain, support, and access Amazon Elastic Compute Cloud (EC2) workloads. This is in addition to the existing capabilities of Parallels RAS, which include built-in automated image optimization and Microsoft FSLogix Profile Container management. Support also includes delivery of applications and desktops from multi-session and single-session hosts. Administrators can deploy resources running on Amazon EC2 easily from a single pane of glass—the Parallels RAS Console. With this capability, administrators have a simplified EC2 deployment and management of legacy workloads along with cloud-native workloads and advanced user-session management. For end users, we have optimized the user experience with ML to provide ultra-fast logons with a seamless experience similar to a physical device.
Application Lifecycle Management
Parallels RAS19 provides a new and modern application delivery method. Application packages are separated from the desktop OS using MSIX app attach technology. With this technology, administrators can:
Discover and import packages from existing MSIX images (based on CIM, VHD(X)).
Utilize package version management and version tags support.
Manage package certificates—retrieve from package and import to the session host.
Use package management on Remote Desktop Session Hosts (RDSHs).
Publish applications from packages or desktops using the new wizard.
As a result of the MSIX app attach integration, administrators can dynamically deliver and update the applications without manually installing and updating applications directly on the session hosts. This provides further benefits such as a lower hardware footprint, which requires a lower number of RAS templates. Maintaining and running multiple applications with different versions is now easier and more cost-effective.
We recognize that our customers care about the application first and the desktop second. As a result, our first step toward application streaming is focused on MSIX app attach integration.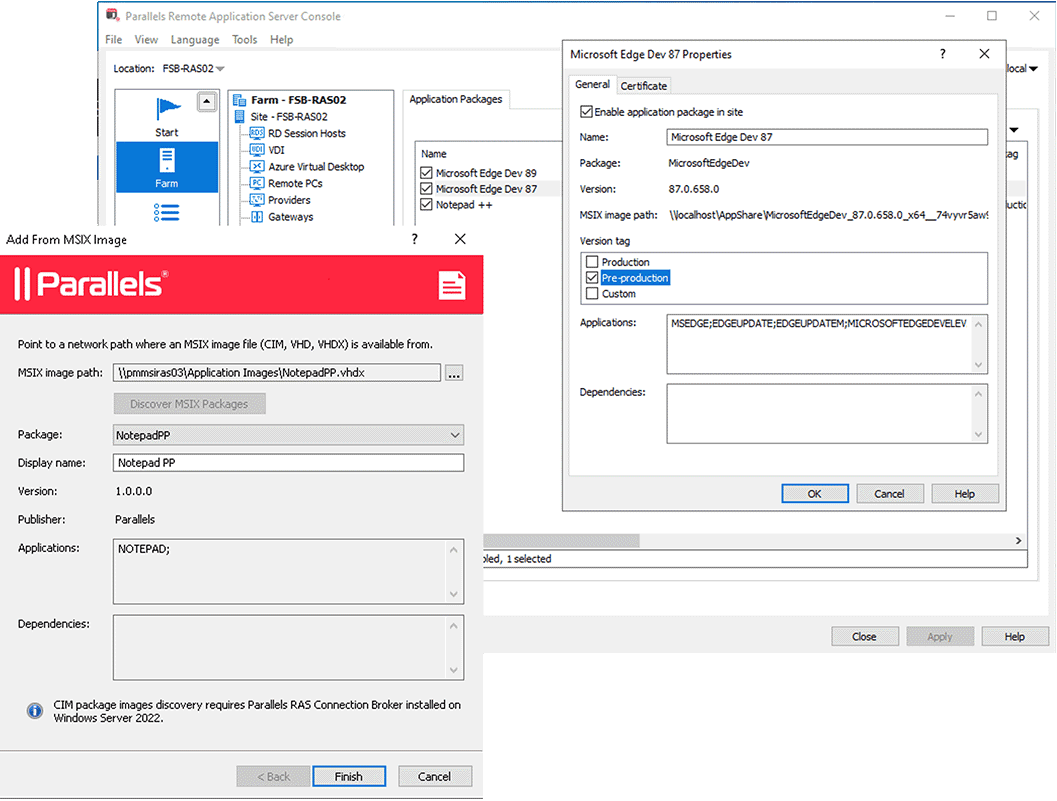 Security Enhancements
Security is a key aspect of any remote workspace. As we worked with our customers, a pain point became apparent. Customers want to simplify the experience of deploying and managing a secure remote workspace. There are two key capabilities we are introducing with Parallels RAS 19.
Included in the existing certificate management, Parallels RAS 19 brings integration with Let's Encrypt to issue, renew, auto-renew, and revoke Secure Sockets Layer (SSL) certificates, which are delivered automatically to Parallels Secure Gateways and High Availability Load Balancers (HALBs) to secure the user connection to their remote resources. This allows for improved security out of the box while reducing the level of IT management required to maintain certificates. Organizations can use this automated approach or use other private or public certificate authorities, all managed with Parallels certificate management.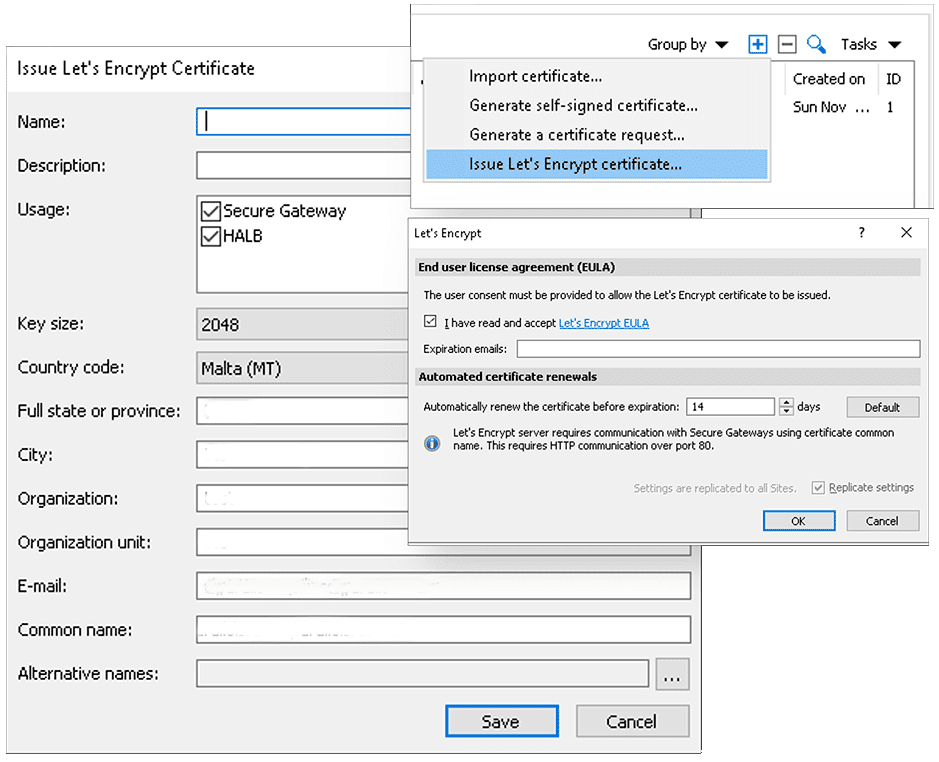 In addition, we have increased the flexibility for administrators looking at employing multiple Multi-factor Authentication (MFA) providers. They won't need to deploy different Parallels RAS environments, thus adapting better to different security requirements while reusing the same resources and streamlining IT management.
Other features include:
Power management for better cost control, especially when running workloads in the cloud.
Expression-based filtering and policies for improved administration when assigning resources to users and managing the user experience through Parallels RAS policies.
Email-based account discovery for faster access for end users using unmanaged devices to connect to their applications and desktops.
Specific URL redirection to redirect content from server to client, addressing the use case of delivering Microsoft Teams or other unified communication tools directly from the end-user device amongst other use cases.
A new Parallels Client for Windows on ARM64, built natively to provide efficient access for end users using lightweight and power-efficient ARM-based devices.
Ready to Try Parallels RAS 19 for Yourself?
Existing Parallels RAS users can log in to their Parallels account to download and install Parallels RAS 19.
New users or existing customers can register for an account at my.parallels.com/register.
Don't have Parallels RAS yet? Get a 30-day free trial today!