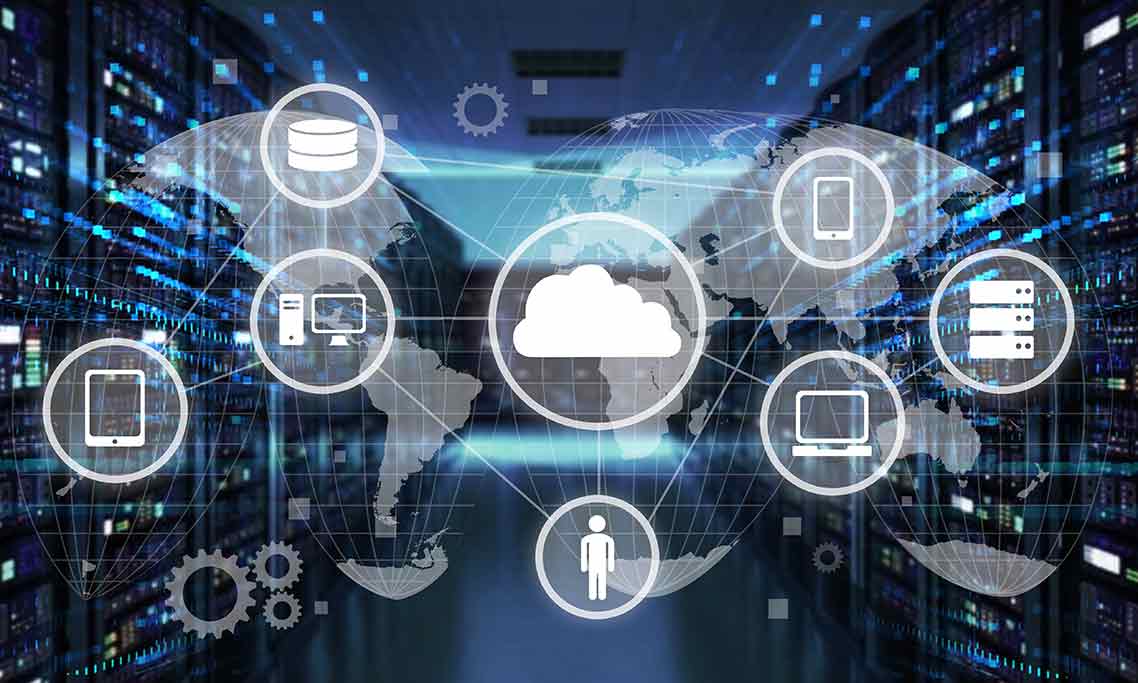 Is VMware vCenter Server a Must-Have?
Consistently meeting mission-critical applications in today's fast-paced business environment requires proactive, automated IT management. VMware vSphere leverages vCenter Server (vCS) to configure mission-critical features.
As a centralized management platform, vCS provides features such as virtual machine (VM) cloning, among many others. Learn the role vCenter Server has in managing the VMware virtualization and an alternative, cost-effective solution to vCS.
What Is vCenter Server?
vCenter Server is a centralized management software for provisioning, configuring, and monitoring VMware vSphere infrastructure. Installing vCS allows vSphere administrators to manage multiple ESXi hosts and virtual machines (VMs) from a single pane of glass. From a single console, you gain deeper visibility into vSphere's configuration of your critical components.
vCS performs many tasks, including resource provisioning, workflow automation, performance monitoring, and user management. For example, you can manage hundreds of workloads, enhancing productivity that you would have otherwise not achieved with physical infrastructure.
The vCS architecture has three primary components:
User interface (UI),
vCS database
vCenter single sign-on (SSO)
VCenter Server Enterprise Features
vCS also enables enterprise-grade features such as:
High Availability (HA)
Distributed Resource Scheduling (DRS)
vSphere Fault Tolerance (FT)
vSphere Distributed Switch (vDS)
VMware vMotion
vSphere's User Interface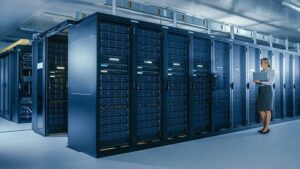 vSphere's UI is a cross-platform, web-based application that acts as vCenter Server's primary interface through which you can install and handle inventory objects in vSphere deployments. There are two forms of vSphere's UI: vSphere Web Client and vSphere Client. While vSphere Web Client is a Flash/Flex-based web client, vSphere Client is HTML5-based.
VMware announced that vSphere Client would be the de facto UI for accessing vCS starting with vSphere 7.0. The vCS database stores and manages vSphere deployment data, including resource pools, security roles, inventory items, and other data. On the other hand, SSO is an authentication broker that allows administrators to use a single login credential to access the entire vSphere infrastructure.
vCenter Server Features
Some of the features of vCenter Server include:
Centralized control and visibility: vSphere administrators can simplify the day-to-day tasks via a single console, allowing them to gain deeper visibility into complex vSphere deployments.
Multi-hypervisor management:  vCS integrates VMware, vSphere and other third-party hypervisors such as Hyper-V.
Patch management:  The vSphere Update Manager (VUM) provides non-disruptive patching in ESXi hosts and certain Linux and Windows VMs.
Automatic VM restart:  The vSphere HA tool pools virtual machines and their associated hosts in a cluster. In server failure instances, the vSphere HA tool automatically restarts the VMs on other hosts within the same cluster.
VMware host profiles: vSphere administrators can use this feature to automate ESXi host configurations. Once you capture known and validated configuration templates, you can apply them to multiple hosts, simplifying setups.
Application programming interfaces (APIs): vSphere Client Plug-in software development kit (SDK) allows vSphere administrators to integrate vCS with third-party software.
vCenter Server linked mode:  You can use this feature to connect multiple shared vCS platforms. Linked mode then replicates all the new resources on the shared vCenter Servers, including roles, policies, and permissions across the linked servers.
Dynamic resource allocation:  vCS monitors the utilization of resources by VMs within clusters continually. It then intelligently allocates the resources among VMs based on pre-defined rules that reflect changing priorities and business needs.
Audit trails. vCenter Server maintains records regarding significant configuration changes within VMs and ESXi hosts and exports the reports for event tracking.
What Are the VMware vCenter Server Licensing Options?
vCenter Server comes in three flavors: Standard, Foundation, and Essentials. VMware licenses Standard and Foundation editions separately from vSphere, with the Essentials edition included as part of the vSphere Essentials Kit. When it comes to features, these editions differ significantly from one another.
Essentials Edition
You can buy vCS as part of the vSphere Essentials Kit. When bundled with vSphere, the Essentials Edition supports up to three ESXi hosts with a maximum of two processors per host. It, however, does not support vMotion, vRealize Orchestrator or vSphere HA. This package is great for small –to medium-sized businesses that might never want to scale beyond three hosts.
Foundation Edition
Unlike Essentials, the Foundation Edition supports up to four ESXi hosts on vSphere 6.5 and later versions. It allows you to create a maximum of 25,000 VMs. Earlier vSphere versions support only three ESXi hosts. It also supports the following capabilities:
Management service
Inventory service
Database server
VMware vCenter APIs and .NET
VMware vSphere Clients
vCenter SSO
Like the Essentials Edition, the Foundation package does not support vCS High Availability (VCHA), vCenter Backup and Recovery, vRealize Orchestrator, and vCenter Server linked mode. You can buy this edition for virtualization environments with limited business continuity plans and those environments that don't require more than four ESXi hosts.
Standard Edition
The Standard Edition contains all the available vCS features. Unlike the Essentials and Foundation editions, you can manage up to 2,000 ESXi hosts with the Standard edition. It also incorporates all the Foundation edition features, plus advanced tools such as:
vCenter Server Backup and Restore
vCS High Availability (VCHA)
vRealize Orchestrator
vCenter Server Linked Mode
vCenter Server Migration
Organizations with many ESXi hosts or those who want to scale out their virtualization infrastructures can take advantage of the Standard edition's rich features.
Who Needs To Use vCenter?
Technically speaking, you don't need vCenter Server to run VMs on top of ESXi hosts. However, for production environments, vCS is mandatory. This is because vCS unlocks all the great features that production environments need, including vSphere HA, vMotion, and DRS.
Such environments, in most cases, need centralized management. With vCS, vSphere administrators can provision, configure and manage the entire virtualization environment rapidly via a single pane of glass. vCS also improves agility through automation. When it comes to responding to business requirements and prioritizing actions, vCS can come in handy with its task scheduling and alert features.
Additionally, vCS can optimize resource allocation and availability. By providing a single console to configure and manage live VM migrations, load balancing, and fault tolerance, vCS ensures optimal resource allocation and availability. Most importantly, vCS is appropriate for organizations that want to streamline patching and updates. When bundled with VUM, vCS can enforce configurations and compliance standards automatically.
Parallels RAS Versus vCenter Server
Virtualization, hybrid data centers, and scalability are primary concerns for many organizations that consistently want to meet demands for their business-critical applications. Organizations must ensure they have enough resources to cater to high seasons in the wake of the increased consumerization of IT.
vCenter Server streamlines virtualization and hybrid data center scenarios, allowing vSphere administrators to have greater visibility over virtualization infrastructure. However, it falls short of supporting bring your own device (BYOD), a key consideration for a mobile workforce.
Parallels® Remote Application Server (RAS) is an alternative to vCenter Server for organizations that want to streamline their virtualization and hybrid cloud data centers.
Cloud-Ready, One-Stop Solution
As a cloud-ready, one-stop virtual desktop infrastructure (VDI) solution, Parallels RAS enables organizations to deliver business-critical desktops and applications to employees anytime, anywhere. However, unlike the vCenter Server which supports only Windows, macOS, and HTML5-ready platforms, Parallels RAS supports multiple platforms.
As such, you can leverage Parallels RAS to provision resources on Windows, Linux, Android, iOS, and macOS—including any HTML5-compliant browser. Parallels RAS also incorporates many features such as High Availability Load Balancing (HALB), VM cloning, and backup and restore services, among others, that organizations can leverage to provision business-critical applications.
And unlike the vCenter Server which supports only VMware ESXi and Hyper-V, Parallels RAS is a complete multi-hypervisor management platform. It allows VMs from different hypervisors such as VMware ESXi and Hyper-V to operate under the same infrastructure. This provides the required flexibility when implementing VDI.
Single Licensing Model
Most importantly, Parallels RAS licensing is transparent. Unlike vCS, where you have to choose from Essentials, Foundation, or Standard editions, Parallels RAS licensing is an all-in-one licensing solution that includes all the virtualization components you need to get started. Plus, Parallels RAS is economical. With a yearly subscription fee that is all-inclusive, Parallels RAS is more affordable than the one-time payment price for the vCS Standard edition.
Experience the real power of streamlined virtualization by downloading your 30-day Parallels RAS trial today!