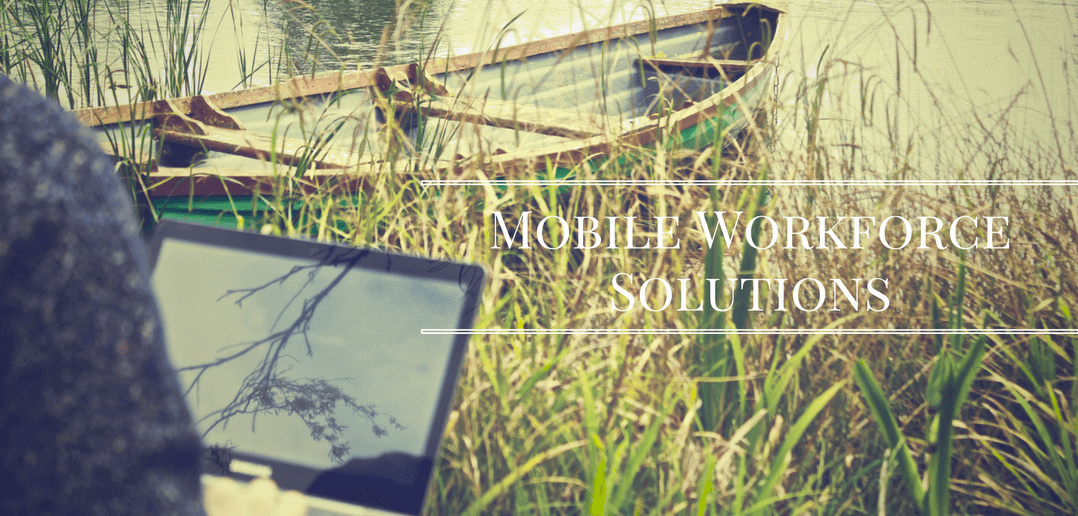 A Mobile Workforce Solution Causes Productivity Gains
The mobile revolution along with cloud technology has changed the definition of an office, transforming it from a location-based entity into a virtual office with mobile workforce solution. According to IDC, the US mobile workforce population amounted to 96.2 million in 2015. It is expected to touch 105.4 million by 2020. Strategy Analytics firm reports that the global mobile workforce which was 1.32 billion in 2014 is expected to grow to 1.75 billion in 2020. Looking at these numbers, it is obvious that mobile a workforce is going to have an impact on any company.
Why is the Mobile Workforce solution trend growing in popularity?
A mobile workforce provides employees with the luxury of working from their home or any other location. Secondly, they can use any device to access company resources. Satisfied employees deliver increased productivity and improved performance while reducing the attrition rate. Moreover, mobility solutions optimize resources while providing the flexibility for the employees to freely move between departments. As resources are optimized, costs are reduced.
Challenges with mobile workforce solution

While a mobile workforce provides amazing benefits to businesses and employees, as with any new concepts, it comes with certain challenges. The inclusion of a range of different mobile devices into the network is the primary challenge. Businesses need to manage a diversified range of devices and their corresponding platforms. Another challenge is delivering the Windows-based productivity applications employees use on devices such as Macs, iPads, iPhones, Android devices and more. In addition, a mobile workforce means that company data leaves the office premises. Lost or stolen devices can comprise company critical data.
Citrix, VMware and Parallels are the leading providers of virtualization solutions that help businesses to securely deploy and manage a mobile workforce from a centralized dashboard. However, the cost and complexity of VMware and Citrix solutions make them unaffordable by many businesses. Parallels Remote Application Server (RAS) is a comprehensive virtualization tool that is easy to deploy and use. It is significantly cost-effective and provides all virtualization features in a single package.
Parallels RAS enables you to centrally host resources and securely publish them to any device or platform including iOS, Android, MAC and, Chromebooks. It allows companies to publish any Windows application to a non-Windows device. Using the Parallels RAS portal or the Parallels HMTL5 client, you can transform any Windows applications into a web app. It allows you to work with legacy infrastructure, not having to worry about Windows EOL dates, therefore you can migrate at your own pace. Using an intuitive interface, you can monitor the activities of your mobile workforce from a central location. Features such as load balancing and device redirection come auto-configured. Parallels RAS uses SSL and two-factor authentication which means the data leaving your office perimeter is highly secure. Moreover, when the session is closed, no data is stored on the end-user device. Temporary files don't contain any critical data.
Parallels RAS offers enhanced features which makes this tool an ultimate choice for mobility solutions. The Parallels client software is available for most of the OSes and devices used in the market. Keeping simplicity and ease of use as the primal aspect, the interface and appearance provide a rich end-user experience on iOS or Android devices.
Configuring the Parallels Client on a mobile device is simple and easy. Simply open the client software, select the 'add a new connection' option and enter a few details and you are done. You can amend the settings using the 'Connection Settings' tab, if required. The interface is simple and easy to navigate. To open any application, simply tap on the corresponding icon. With Parallels RAS, you can add or manage mobile devices on the move.
So what are you waiting for? Empower your employees to become a mobile capable workforce with the Parallels Remote Application Server free trial today!
---
References
Mobile workforce solution – https://www.idc.com/getdoc.jsp?containerId=prUS25705415
Mobile workforce solution mobile workforce solution – https://www.strategyanalytics.com/access-services/enterprise/mobile-workforce/market-data/
Mobile workforce solution – report-detail/global-mobile-workforce-forecast-2015-2020#.WA9C3-N97IU
Mobile workforce solution –  http://www.statetechmagazine.com/article/2015/01/how-virtual-desktops-enable-mobility