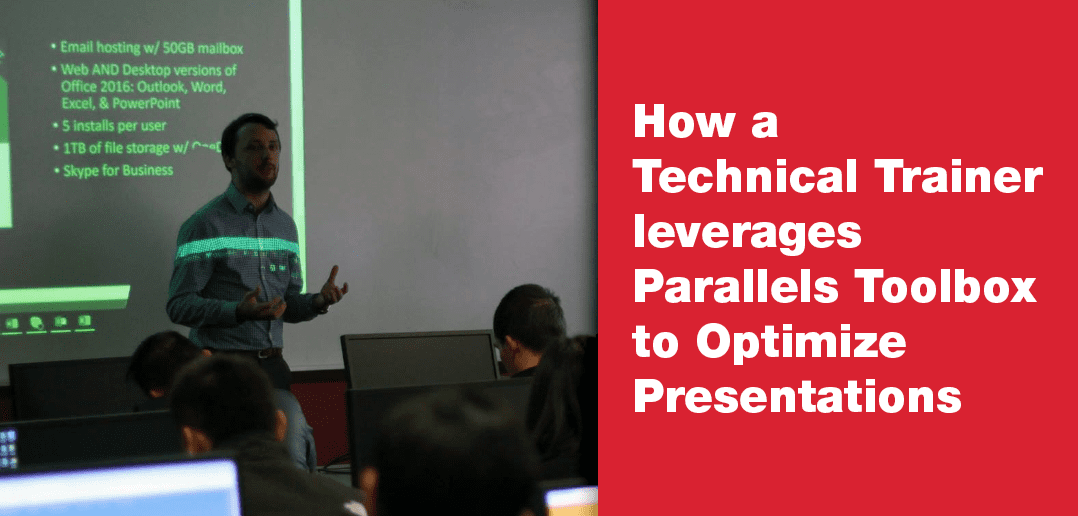 Technical Trainer Leverages Parallels Toolbox to Optimize Presentations
Parallels® Toolbox is helping users find new ways to increase productivity – especially if you need to optimize presentations! Recently released, Parallels Toolbox empowers users with more than 30 easy-to-use, one-click tools, all packaged within a simple interface for both Mac® and PC. This must-have, all-in-one application has helped Sean Bugler, a technical trainer, simplify his the daily workload.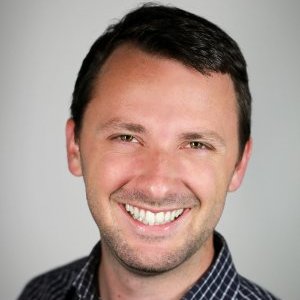 Sean's professional career skills include project management, leadership, and public speaking, which have gainfully employed him with a Microsoft Gold Partner, LearnIT. LearnIT is a global training partner and offers qualified certification programs in SharePoint, Windows Server 2012, Windows 7, Windows 8, .NET, SQL Server, Cisco, Citrix, Security, and CompTIA. (Get 50% off your first in person or virtual class with LearnIT here)
Sean currently works with individuals, teams, and organizations all over the world, helping them do their best work with the tools at their disposal. His resourcefulness doesn't stop with his audience. During eight hours of screen sharing, he also utilizes Parallels Toolbox tools such as Do Not Disturb, Hide Desktop, and—his favorite—Presentation mode.
"I absolutely love Presentation Mode. I'm a technical trainer and it makes a world of difference when I'm demoing for a class and Parallels Toolbox jumps in to make my life that much easier. Now I don't have to worry about anything slipping through during a presentation."
Whether you're presenting in a business or educational environment, you can unlock a better presentation experience with Presentation Mode. This one-click tool will help you avoid embarrassing or NSFW notifications, disable macOS® Dock animations, keep your display from going to sleep, and even hide files on a messy desktop. Tip: this tool can detect external displays or projectors and enable itself automatically, or be set for a specific length of time. Parallels Toolbox can solve endless problems for users! Sean explains what combination of tools create an unparalleled experience:
"Frankly, I don't know of any application that does a fraction of what Parallels Toolbox is capable of. It's the depth of usefulness that made this a no-brainer. I'm constantly figuring out new ways to put the tools to work."
"Do Not Disturb, Hide Desktop, and Presentation Mode make my work life so much easier. I'm sharing my screen nearly eight hours every day in my line of work as a Technical Trainer. Parallels Toolbox makes sure that there's no irksome dock animations, that the screen doesn't turn off on me if I'm less active, that sensitive work files I was too lazy to actually file away aren't visible. I'm sure I'm missing something, but those tools alone made Parallels Toolbox worth it."
As a reader, you may sit on either end of the technical spectrum when it comes to your personal experience. Whether you're a new-to-Mac user or an experienced tech junkie, you'll find Parallels Toolbox unmatched in its usefulness when compared to other tools on the market.
The Parallels team is happy to provide such a useful piece of software like Parallels Toolbox. We look forward to hearing more about how our users are getting their work done in a smarter way. Feel free to reach out on Facebook or Twitter to share your story!
Interested in boosting your productivity with one-click tools? Try Parallels Toolbox for Mac OR Parallels Toolbox for Windows.
Download and install Parallels Toolbox here. Your copy of Parallels Toolbox will be activated for seven days!