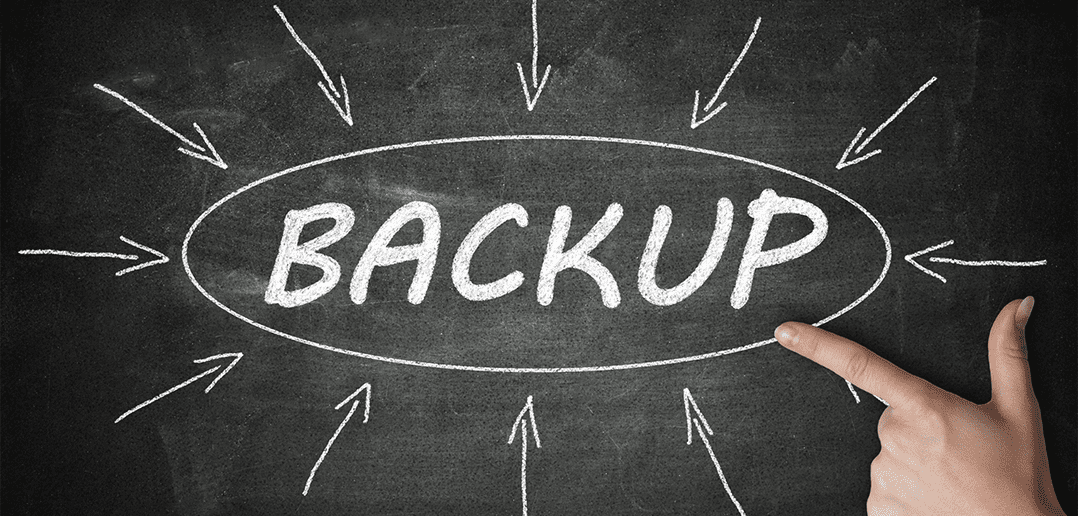 Guest Blog: Is Your VM Celebrating World Backup Day?
---
Guest blog article from Peter Hale, Content Manager (Consumer), Acronis!
---
Is Your VM Celebrating World Backup Day?
Despite what you may have heard, you need to back up your virtual machines
Everyone knows that April 1 is April Fools' Day. But did you know that the day before that (March 31) is World Backup Day? It was established to remind people that they need to protect their data to avoid "looking like a fool" if something were to happen to their computers and mobile devices.
As a Virtual Machine (VM) user, you may think you are immune from the need to back up. It is a common misconception that VMs do not need to be backed up. But that is not true. The steps many VM users take to prevent data loss don't really provide the true data protection they think they are getting.
For example, most VM users rely on snapshots. Yet snapshots are stored on the same hardware as the original. If your hard drive fails, those snapshots cannot be retrieved. For the same reason, data protection native to virtual machines doesn't address the growing threats from things like ransomware. Think of it this way: Your VM is just a data program running on a machine. But ransomware attacks data of all types, so if your machine is infected, the malicious code won't distinguish between your VM, your applications, or your wedding photos.
Creating a full image backup is the only way to secure all the data from your virtual machine – from the OS and system settings down to individual files. Storing your backup on a separate drive or in the cloud creates an air gap between the original VM and the copy, so nothing that could corrupt or destroy the original can touch your backup. Your data is secure, ensuring that your virtual machine can be restored quickly and easily.
Establishing that air gap is critical for true data protection. Unfortunately, Mac users tend to rely on Time Machine, which may be free and convenient, but it only supports local backup. If you truly want to isolate your backup in the cloud, you have to upgrade to Time Capsule, which will set you back US$299 just to get started.
For those using Parallels Desktop 12 for Mac, there is a better option. Parallels offers a complimentary one-year subscription to Acronis True Image, the fastest, most secure backup software available. (You can learn how to activate the subscription here.)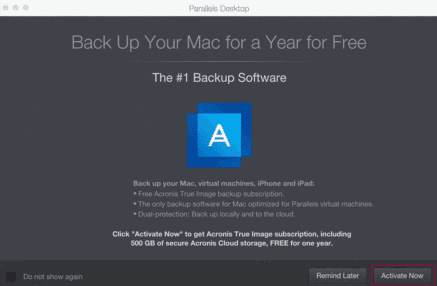 Why does Parallels offer this complementary subscription? Acronis True Image offers capabilities that other backup solutions don't.
Let's look at three of these capabilities.
First, Acronis True Image offers dual protection of your data since you can back up locally while also backing up to the secure Acronis Cloud. That gives you greater flexibility and ensures that you always have a backup protected by an air gap, so you can restore your virtual machine, even if your local backup fails, gets damaged or is lost.
Second, Acronis True Image offers a set of premium New Generation features (an upgrade) that includes active protection against ransomware. It is the only solution available on the market today that not only protects your entire system from this growing malware threat, but also the backup files that it creates. If your computer gets infected and ransomware starts encrypting your files, Acronis Active Protection will detect the damaging process, stop it, and restore the affected files.
Third, Acronis True Image is the only software available that can back up Parallels Desktop virtual machines automatically and more importantly, incrementally. What's the benefit of incremental backups for VMs? Once you create the initial full-image backup of your virtual machine, Acronis True Image will back up the data blocks that have changed instead of copying the entire system again. That incremental approach saves a tremendous amount of time and optimizes your use of backup storage. Your ongoing need for space for VM backups using Acronis True Image is dramatically less than other solutions. As a result, you're assured of having an up-to-the-minute and thorough backup of your virtual machine … and you're less likely to run out of space.
Finally, people currently rely on a variety of devices that run on different operating systems. (No one knows this better than someone running a Windows VM on a Mac system.) Unlike a native backup program like Time Machine, which only runs on Mac, Acronis True Image supports Windows, Mac, iOS, and Android, making it ideal for today's multi-platform households. It can even backup your Facebook account to protect your profile from being hacked, or from losing your posts, photos and more.
We encourage Parallels Desktop 12 for Mac users to take advantage of the complimentary 12-month subscription to Acronis True Image, and make this year the first time your virtual machine celebrates World Backup Day.
---
Thanks, Peter, for this interesting blog article!
How do you backup your virtual machines ? Share your opinion with us in a comment, or reach out to us on Facebook or Twitter.
Try Parallels Desktop for free for 14 days!