2X Client for Chrome Upgrade and Permissions By Sean Bianco on |

0
With the release of the 2X Client for Chrome V11.1, older versions need to be updated to this build to take full advantage of improvements and new functionality:
Complete integration with 2X Remote Application Server

Standard RDP connections can be launched in embedded or windowed modes

Connection passwords are now also being saved, previous version only saved username

Added Seamless Application and Desktop Publishing

Saved data can be completely erased from the new 'Settings' menu
2X Client for Chrome Upgrade
The upgrade is automatically pushed by Google from the Chrome Market. Users who saved connections in the previous version will have their settings imported during the first launch of the new console.
New Permissions
This 2X Chrome Client version uses the updated Chrome sockets API. Although 2X for Chrome Client is not requesting additional privileges, the app will need to be re-enabled manually. Re-enable the 2X Client for Chrome according to the next steps:
1. Chrome's "Options" menu will now display as ORANGE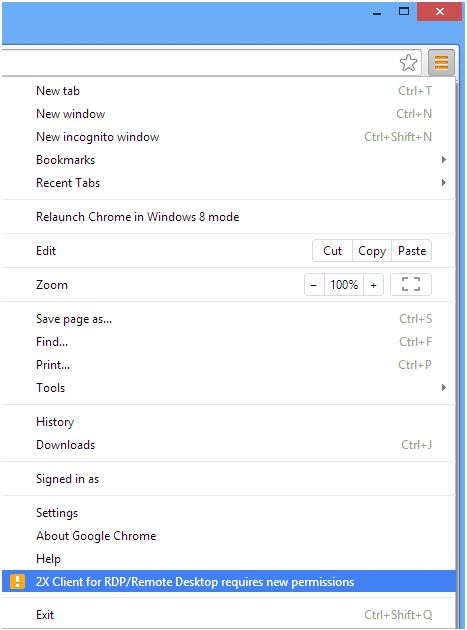 2. Click the "Options" and navigate to "2X Client for RDP..." option
3. You are then prompted to re-enable the 2X Client
4. Click "Re-enable"