How to Manage Email Accounts on your android devices By Sean Bianco on |

0
With constant improvements in the way we consume media and interact with technology, mobile devices are at the forefront of social, personal and work related advancements. This means that the line which separates work and personal devices is getting harder and harder to draw.
As a result, an issue which many companies are facing is adding and removing corporate data from user's personal devices when used for work related activity. Parallels MDM addresses this issue by providing administrators with the ability to add, update and remove email accounts including all related attachments and data directly from the Parallels MDM administration portal.
Let us walk through a 'how to' guide for adding and managing corporate email accounts.
Configure Android email account
Adding an email account requires the installation of the Aquamail client. This client enables Parallels MDM to push out email accounts and further control all related data once added to a device.
Install the Aquamail client and configure an email account according to the instructions below.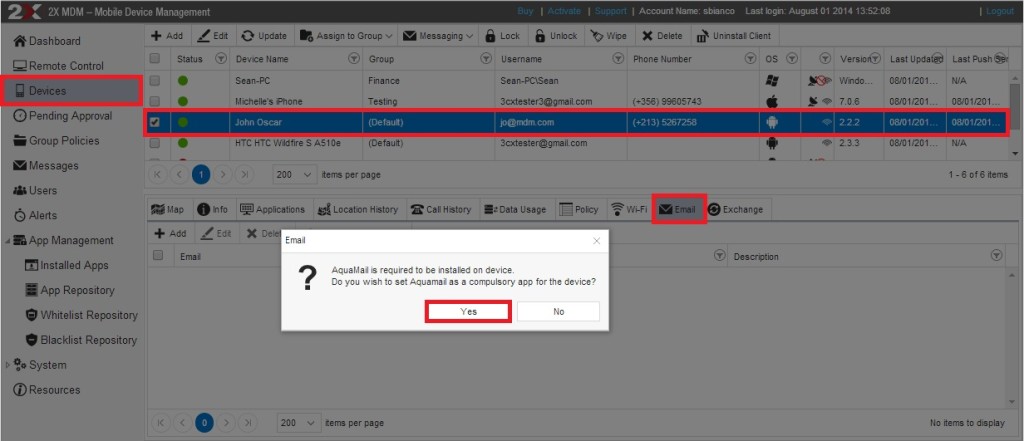 Login to the

Parallels

MDM Portal.
Navigate to the 'Devices' node and select a device.
Click the 'Email' tab.
Click 'Yes' to add Aquamail to the device application list.
Once completed, the 'Push' notification dialogue window shall appear to confirm the Aquamail install request was successfully pushed and added to the selected device.
5. Click 'Add Account'
6. Fill the email account settings into their respective text fields. These settings are dependent on your email provider. In the above example a Gmail account was used.
7. Once completed, click 'Add'.
The email profile will now be pushed out to the AquaMail client on your device and email account automatically configured.
Adding Email account through Group Policies
Alternatively, this process may be automated using the 'Default' group policy. Newly connected devices are automatically added to this group policy and Email accounts pushed out to these devices.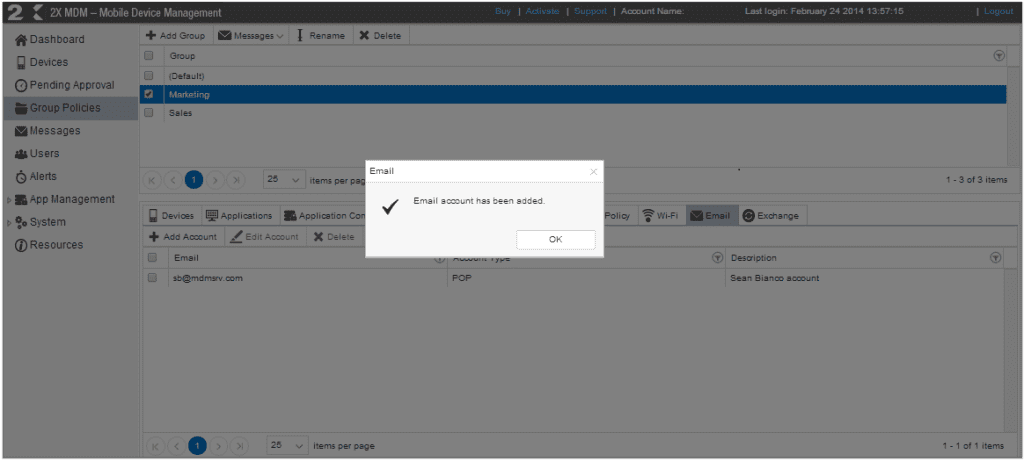 To add an Email account to the default Group Policy, follow the next steps:
Navigate to the 'Group Policies' node
Select a group policy
Click the 'Email' tab
Click 'Add Account'
Moreover, once a device is assigned to a different group policy, the 'Default' group Email accounts shall automatically be removed from that device and new Email accounts instantly applied.
Further review how to remove an email account here.
Check out our step by step guide to add Exchange accounts here.