CIOReview Magazine Praises Parallels: One of the "20 Most Promising Server Technology Solution Providers 2016"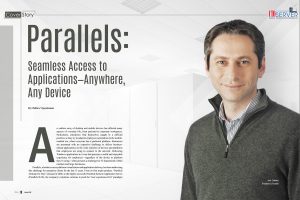 Parallels has been recognized as one of the top 20 Server Technology Solution Providers of 2016 by CIOReview magazine.
The magazine chronicled the story of Parallels from its first major product, Parallels Desktop for Mac released in 2006, to its highly successful VDI solution, Parallels Remote Application Server (RAS). Already a cross-platform leader, Parallels expanded into enterprise VDI and application delivery after acquiring 2X Software and converting the critically acclaimed VDI solution, 2X RAS, into Parallels RAS.
"We set out on a mission to provide the best technology and experience for businesses, employees, and individuals to access and use any application and file on any device, anywhere, anytime," said Parallels president Jack Zubarev.
More than just providing cross-platform technology, Parallels strives to create the best user experience possible for its clients and users. According to CIOReview editor Chithra Vijayakumar, the cross-platform leader's solutions have all been pushed by the "user experience-first" paradigm. Read More
Mobile experience at the forefront
The magazine's editors went on to acclaim Parallels for allowing businesses to avoid unnecessary costs and solve complexity. For example, Parallels helps businesses through the process of implementing bring-your-own-device (BYOD) policies in the workplace.
The magazine's editorial board also praised Parallels embrace of mobility's golden age "by putting mobile experience at the forefront." Parallels RAS provides businesses with the tools to deliver Windows applications on mobile devices as if they were native apps.
"With Parallels RAS, employees enjoy a native-like experience, which allows them to work remotely and effectively from any device," Zubarev told CIOReview. "Parallels unique 'applification' technology allows employees to use native touch gestures from mobile devices—swipe, drag, tap to click or zoom—to interact with any remote Windows application on both smartphones and tablets, making them productive while on the go."
Cloud-ready solution
CIOReview recognized that Parallels RAS is helping small and medium businesses make the transition to the cloud. Parallels RAS supports on-premises, hybrid, and cloud architecture on Amazon Web Services, Microsoft Azure, and private clouds, which means businesses can take advantage of faster deployments, simpler, usage-based pricing, and the reduced on-site support needs offered by cloud-based IT networks.
With automatically scalable infrastructure and administrative-friendly features, CIOReview lauded Parallels RAS as a top choice for a virtualization partner in the cloud.
Lowest TCO virtualization solution with all the features
Another exciting feature for CIOReview was the affordable 'total ownership cost' (TCO) of Parallels—which is only a fraction of the competition's. Vijayakumar praised Parallels RAS as "an all-in- one, complete solution with all capabilities included and integrated."
In contrast to well-known virtualization tools such as Citrix and VMware, Parallels RAS offers a one-time, straightforward license plan with all the necessary virtualization solution features available in the out-of-the-box installation.
"The solution does not require add-ons and is fully packed with the necessary features for operations and security," said Zubarev. "For instance, Parallels RAS offers server load balancing, printing redirection, high availability for gateways, and other all-inclusive features in an affordably priced plan."
About CIOReview magazine
The distinction of Parallels as a "Top 20 Server Technology Solution Provider of 2016" was finalized by the CIO Review editorial board to help simplify the complex solutions landscape for IT decision-makers.
CIOReview.com is a leading online resource bridging  the gap between enterprise IT vendors and buyers. CIOReview's editorial board features a distinguished panel comprising CEOs, CIOs, and IT VPs. Lead More