Computer Troubleshooting Trends
A company IT helpdesk does a lot of computer troubleshooting, in order to ensure that all users have constant access to corporate resources and tools. The purpose of a helpdesk is usually to troubleshoot problems and provide guidance about hardware and software.
In the last decade, the workforce's digital knowhow has definitely increased. Supported by the diffusion of the internet and social media, newer generations come into contact with technology earlier. However, this knowledge acquired by employees has not reduced the number of computer troubleshooting requests that reach helpdesks. Workers still rely on corporate help when systems crash, applications bewilder, and any number of other tech-related mishaps occur. In fact, reliance on the helpdesk is actually increasing. HDI, the IT service and technical support association, reported in its 2014 Desktop Support Practices & Salary Report that 54% of support centers saw an increase in computer troubleshooting in 2014.
According to the HDI Report, the cost of troubleshooting per computer is increasing year on year, when considering the time taken to solve issues as well as the loss in productivity. More than 86% of support teams interviewed confirmed that they are now supporting mobile devices as standard working tools. Support in BYOD environments increased again in 2014, after the jump in 2013 confirmed that mobile devices are one of the biggest concerns of many IT managers.
90% of the organizations interviewed by HDI are thinking of implementing a software solution to simplify and reduce the cost of computer troubleshooting. 82% are looking for a remote desktop assistance solution. In fact, since 2012 remote assistance is at the top of the priority list (see figure below, from the 2014 HDI Desktop Support Practices & Salary Report).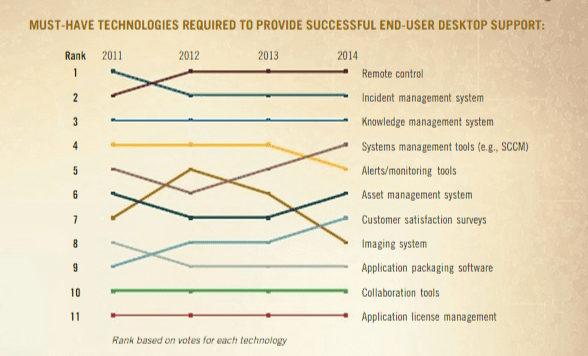 Computer Troubleshooting Remote Assistance With 2X RAS
2X Remote Application Server (2X RAS) delivers virtual applications and desktops to any device. It allows workers to connect to corporate data from anywhere, in this manner helping to mobilize the workforce. In addition to seamless connectivity, server load balancing, reporting, and desktop management, the product has other advantages.
2X desktop management enables IT managers to offer computer troubleshooting remotely, from anywhere. It allows technicians to offer assistance to any connected device: the helpdesk team can connect to the device and manipulate it with the same agility as though sitting in front of it. 2X RAS is a solution that allows you to assist the end user on virtual and physical desktops.
The CIO's possibilities are endless with the 2X RAS computer troubleshooting tool, yielding an enormous jump in support quality. Click here to download your free trial
References
Computer Troubleshooting: 2014 HDI Desktop Support Practices & Salary Report | HDI
http://www.scribd.com/doc/226983225/2014-HDI-Desktop-Support-Practices-Salary-Report
Computer Troubleshooting: Metrics for the New World of Support | thinkhdi.com
http://www.thinkhdi.com/~/media/HDICorp/Files/White-Papers/metrics-new-world.pdf
Computer Troubleshooting: The Best Tools to Easily Perform Remote Tech Support | howtogeek.com  
http://www.howtogeek.com/170740/the-best-tools-to-easily-perform-remote-tech-support/