2X ApplicationServer High Availability with Multiple Gateways and 2X Web Portal By Sean Bianco on | 0
This solution is used for high availability environments with more than 300 concurrent users connected in SSL Mode. Each client gateway should optimally handle 300-500 concurrent user connections,* and can be scaled accordingly. All Secure Client Gateways must be configured to connect with the same Publishing Agent and Backup Publishing Agent (using the Advanced Client Gateway Settings above).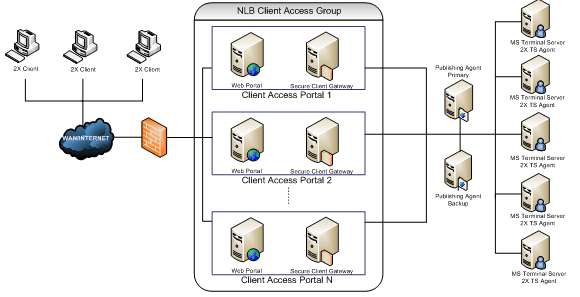 Please click diagram to enlarge
*300 users through SSL tunnelled gateway mode, 500 standard, 2X Gateway connections, assuming the gateway machine is only acting as such (i.e., no other demands upon these machines).
Version 14 has extended the load balancing feature to also contemplate high availability environments. Read more here.