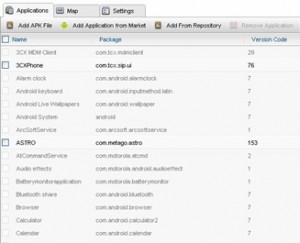 Installing apps on Android devices isn't always easy. Imagine having to install apps on several Android smartphones and tablets for your employees. How long would that take? Now imagine having to uninstall an app (or more) from all those Android devices. It will take a while. As time is money, companies need to be installing apps on Android devices quickly, therefore allowing their employees to take the device out with them on their customer call outs and truck rolls. Here's how you can save time when it comes to installing apps on Android devices.
Mobile Device Management makes installing apps on Android devices easy. As the demand for smartphones and tablets grows, companies need to better manage their Android devices.
You may need to install a custom made application on all Android devices used by service men and sales staff. There are also many other apps that you might need to install on your mobile devices. There are apps for calendars and schedules, email clients, video conferencing, spreadsheets, presentations, maps, currency conversion and many more. Companies are installing apps on Android devices to assist their employees to be as productive as possible when out in the field.
Mobile Device Manager takes away all the hassle and streamlines this process so that installing apps on Android devices, as well as removing them, is easy. Administrators can send apps to any number of devices simultaneously from the online Mobile Device Management portal. Mobile device users don't need to spend time visiting the Android Market, for example, to find and download the app you want them to use.
What about managing mobile device apps that are confidential? You may have a private beta or an app developed in-house that you don't want out there in the public domain. With Mobile Device Manager you can install apps on Android devices directly, without the need to upload the app to the Android Market.
Applications that have already been pushed to devices via APK file or Google Play are saved in that 2X MDM accounts 'App Repository', therefore easing the process of re-using these applications. You can even keep track of the devices that an application is installed using the 'Installed Apps' feature.
Installing apps on Android devices no longer has to be a challenge. Sign up for 2X MDM today and install apps on Android devices quickly and efficiently.