We recently made some improvements to the 2X Universal Printers security model in 2X Remote Application Server 10.5.  A consequence of the improved security is the administrator can no longer see printers of other users from other sessions and is unable to access printers or print queues.  At the same time user permissions to printers have also been reduced, so a user is not able to manage his own printers either, only the print queues.  Please note, this applies to Windows 2008 (R2) Servers and is not applicable for Windows 2003 servers.
The reality of the situation is that access to printers is often required by administrators to perform evaluated printer management (e.g the document stack in a queue, or where the printer somehow was not deleted on log off, etc).
So, in order to perform such tasks please follow the procedure outlined here:
Preparation:
I. Install the "Print Servers" role on the Terminal Server:
1) Go to Start -> Administrative Tools -> Server Manager
2) Select "Add Roles"
3) Choose "Print and Document Services" and install it with the default settings from the wizard.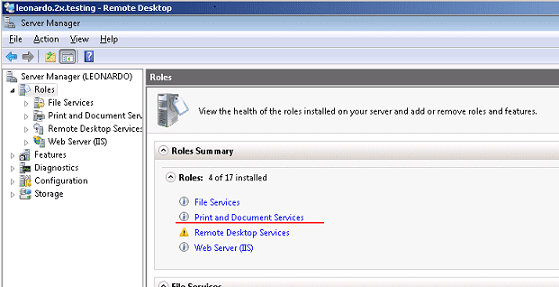 II. Create or use an existing user for managing printers (for example I choose tester88 as my local print manager). Add him to the local "Administrators" group and local "Print Operators" group.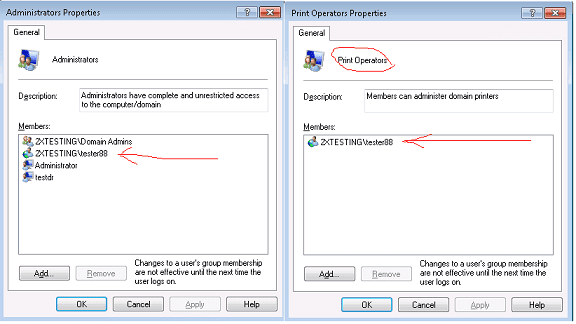 III. Now your Terminal Server is ready to manage printers.
Process:
When you want to manage any 2X Universal Printer you will need to carry out the following steps:
1) Logon with your created user
2) Go to Start -> Administrative Tools -> Server Manager
3) Navigate to Roles -> … Print Servers -> … Printers
4) You will see the list of all 2X Universal Printers from all users;
5) Select the printer that you want to manage and take ownership of it as shown in the picture below and apply settings.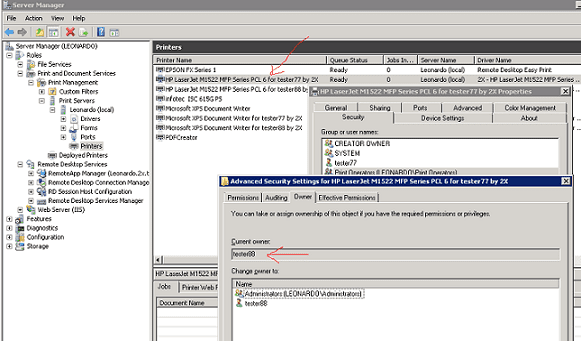 6) As you have ownership you are now able to set "Manage this printer" and "Manage documents" permissions.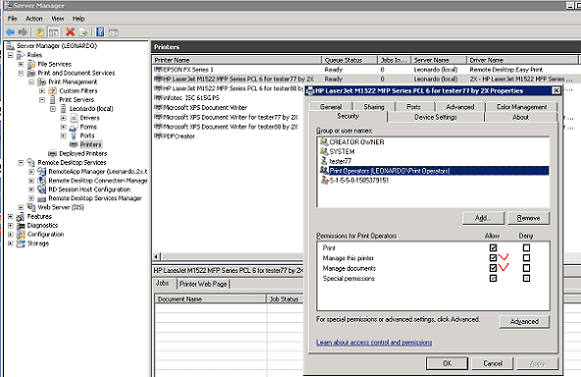 7) Once you have applied these permissions you will have complete control over that particular printer.