2X MDM Mobile Device Remote Control – Administer Devices From Anywhere By Sean Bianco on |

0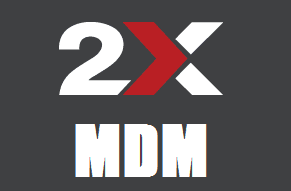 Now mobile devices are massively making their way into corporate environments, administrators need a means of remote control to administer these devices over the air from anywhere. Currently two methods are being adopted: remote control of the interface or of specific functions.
Remote OS Control displays the device OS on a desktop PC.This requires access to the inner workings of Android and often also requires that the device is rooted. This is cumbersome in terms of both the processing power involved and the bandwidth required to display and control the device OS.
Web Browser Control generates an interface – accessible from a web browser – to control certain aspects of the device. In comparison, this is relatively lightweight and provides users with instant and easy access to perform the tasks they need. 2X MDM delivers a mobile device remote control interface, accessible from anywhere through a web browser using a keyboard and mouse.
Mobile Device Remote Control with 2X MDM
Download the 2X MDM App for Android for free and take advantage of the remote control features below:
Remotely view your device's live Camera stream
Receive, view and send SMSs
Review, update, add or delete Contacts
Use the Call Handler to answer or decline incoming calls
Use the Wi-Fi Keyboard to remotely type text on your device using your PC keyboard
Manage Files on your device
Review real-time Device Sensor Information
See and set the Clipboard of your device in real-time
Host Web Pages directly from your device
Access Android Shell
View live Android logging
With the standalone app, mobile device remote control access is only available locally through a Wi-Fi connection. If you register and connect your device to a 2X Mobile Device Management account for free, however, you can control your device via internet from anywhere, and get the additional features below:
Bridge Mode – Take control of your device through an internet connection from anywhere
Device Tracking – Map-based simple, precise tracking of connected mobile devices
Deploy Applications – Manage apps to groups of Android phones
Security - Lock or wipe corporate data remotely from abused, lost or stolen devices
Administration Portal – Receive alerts, send messages to your mobile devices and audit your users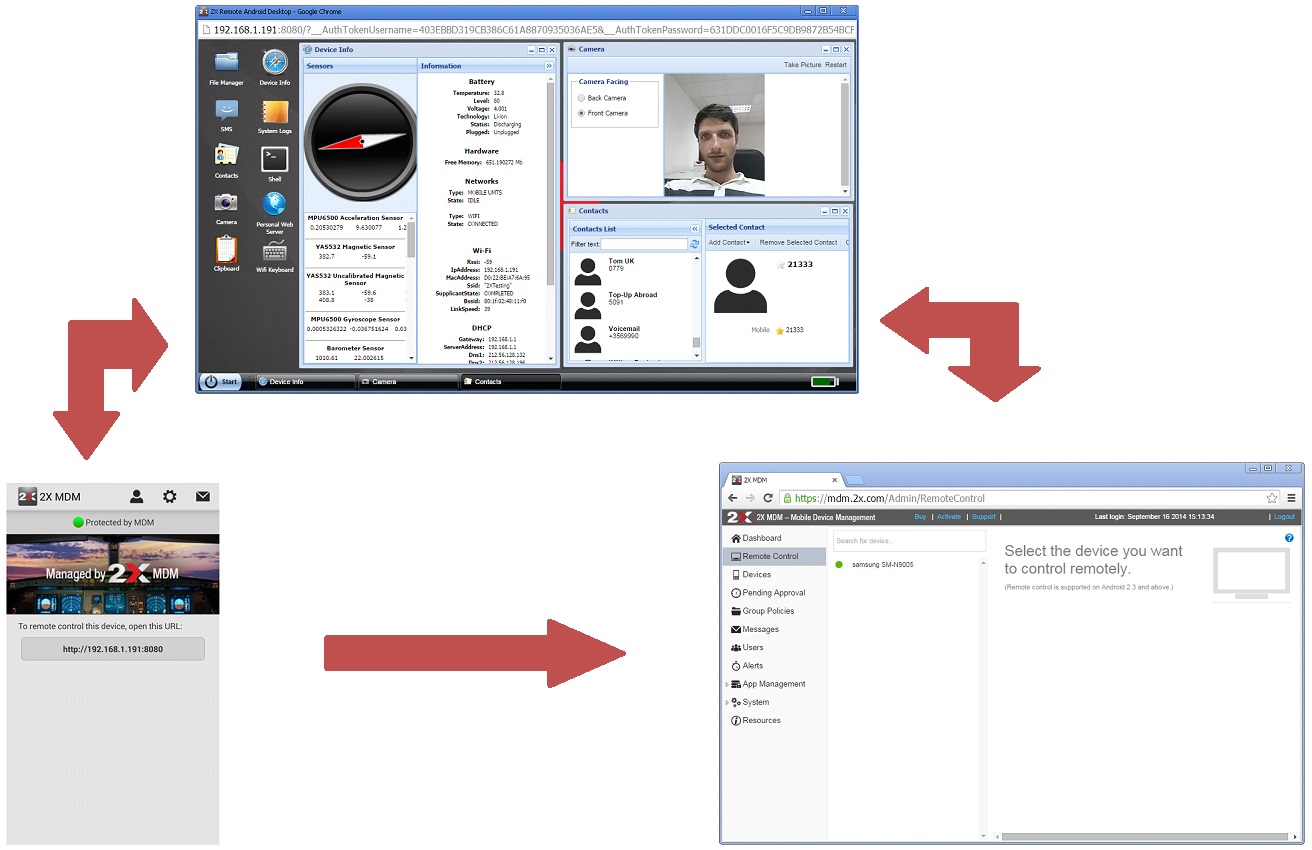 Camera: You can see a live stream of your mobile device's front and back cameras from your browser and even take pictures.
SMS: You can send your SMSs via a web interface as though from your phone, and receive a popup directly on your browser (Chrome or Firefox with desktop notifications extension) when a message is received. Benefit from autocomplete, mass-messaging, and other features.
Contacts: You can see the contacts present on your phone, and add or delete phone numbers and emails.
Call Handler: When your phone starts to ring you will be alerted on your Web Desktop, and you can decide to answer (with speakerphone or phone headset), or decline the call.
Wi-Fi Keyboard: Remotely type text on your device using your PC keyboard.
Manage Files: A complete file manager with preview functions, to navigate into your device storage. You can see text files and images quickly by double-clicking on the file icon, and even set an image as your device's wallpaper. Files can be uploaded with drag and drop too. (This does not work with Internet Explorer.)
Device Sensor Information: You can see the real-time readings of your phone sensors. You will find a compass that shows the orientation of your phone, and Maps showing phone's position based on Network or GPS.
Clipboard: You can see and set the clipboard of your phone absolutely in real-time.
Host Web Pages: Specify a folder containing HTML files to be hosted by your device.
Android Shell: A simple but complete way to access the phone shell directly from the web.
Android Logging: Now you can see the logs directly via web interface!
So what are you waiting for? Download the 2X MDM App and Sign up for your free 2X MDM account today!