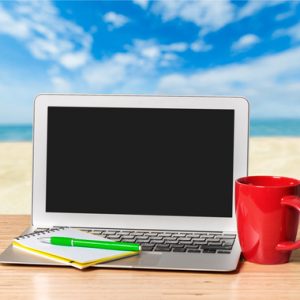 IT managers usually spend more than 80% of their time on desktop configuration and software setup. Although this is an essential task to get devices up and running, it is a tedious and repetitive job. In more than 70% of businesses, remote desktop client users are on Windows OS, with the remaining 30% being split up between Linux and Apple. Considering the increase in remote workers and the Bring Your Own Device (BYOD) approach, CIOs also have to face the challenge of configuring and providing assistance to end users located far away and often working on private devices. IT managers are eager for a solution to automate these processes and reduce the time allocated to remote desktop connection activities. It is estimated that more than 30 administrator hours per month can be saved if at least part of these processes were automated. This is where a remote desktop manager comes to the rescue.
In a remote network environment, resources are hosted on a central server called the terminal server. When a remote desktop client sends a request for a remote desktop connection, the server listens on port 3389, authenticates the client, and delivers the requested resources to the remote client device. This process is automated with a remote desktop manager or a remote desktop connection manager.
Remote Desktop Manager – Definition
A client manager automates the administration of workstations and support for end users. By removing time-consuming manual activities, IT managers can better control security and performance. A client manager system helps a company create a detailed inventory of its devices, allows deployment of mass configuration, creates data-secure standard configuration, and enables faster troubleshooting.
Remote Desktop Connection Manager is a special program developed internally by the Microsoft Windows Live Experience team to effectively handle multiple remote desktop client connections. This program provides the flexibility to consolidate multiple RDP connections into a single window for better management of the infrastructure. It allows you to organize connections based on groups. However, Microsoft doesn't provide any support for Remote Desktop Connection Manager. Parallels Remote Application Server (RAS) not only helps automate this task, but also provides out-of-the-box network inventory reports to obtain the required details in just a few clicks.
Remote Desktop Manager – BYOD and Mobile Devices
With the increasing importance of mobile devices and BYOD initiatives, unified endpoint management is becoming more critical. This includes not just managing the devices themselves, but also understanding and managing applications. The Parallels RAS solution provides real-time visibility and control over all Windows remote desktop client devices. It performs equally well in small environments with less than 100 users and in enterprise-scale environments involving thousands of clients requiring a remote desktop connection.
Remote Desktop Manager – Extends the Lifespan of Your Hardware
Parallels RAS allows you to transform any Windows client into a secure and fully managed workstation. It does not require specific hardware or software to be installed on the computer, and works with Windows XP, 7, 8, 8.1, and 10. Existing company computers can be used as is, immediately starting to deliver remote desktop and virtual applications. This is a major advantage because the cost of new hardware and installations prevents many companies—even those crushed by the heaviness of their PCs—from moving to a thin client structure.
The Parallels RAS solution also allows you to be very flexible: you can lock machine configuration on the user side, placing your corporate data in an extremely secure position, or you might decide to allow users to run some local and remote applications. Parallels RAS is able to reduce the operability of a local machine by disabling the most common local configuration options, while guaranteeing the same level of service and security afforded by thin clients directly from your existing PCs.
---
References
Remote Desktop Manager: Top 3 remote desktop connection manager
Remote Desktop Manager: http://searchenterprisedesktop.techtarget.com/definition/desktop-management
Remote Desktop Manager: https://en.wikipedia.org/wiki/Desktop_Management_Interface
Remote Desktop Manager: http://www.techopedia.com/definition/13792/desktop-management
Remote Desktop Manager: http://www.pcmag.com/encyclopedia/term/41164/desktop-management