Setting the 2xa File to Open Automatically from the 2X Cloud Portal By Giorgio Bonuccelli on | 0
At 2X, our main concern is making your experience with our product the smoothest, simplest, and enjoyable whenever possible. We constantly work hard to improve our products and make them even faster, reliable, and easy to use. In this article, we take a look at the way we made it easier for your users to save the 2xa File to Open Automatically from the 2X Cloud Portal.
As of version 10.1.1204, 2X Cloud Portal allows browsers to automatically open .2XA files without displaying the "Open With" dialog repeatedly.
We verified the following six commonly used browsers (on 2 separate test machine xpsp3x32 fully patched and w7sp1x64):
Internet Explorer 9
Internet Explorer 8 and previous versions
Firefox
Chrome
Safari  & Firefox on MAC OSX
Opera
Let me list you down some screenshots and a brief explanation showing the steps necessary to setup the 2xa file.
INTERNET EXPLORER 9
Upon connection, when you save the 2xa file, press CTRL-J to open the View Downloads window, and the underneath window will appear.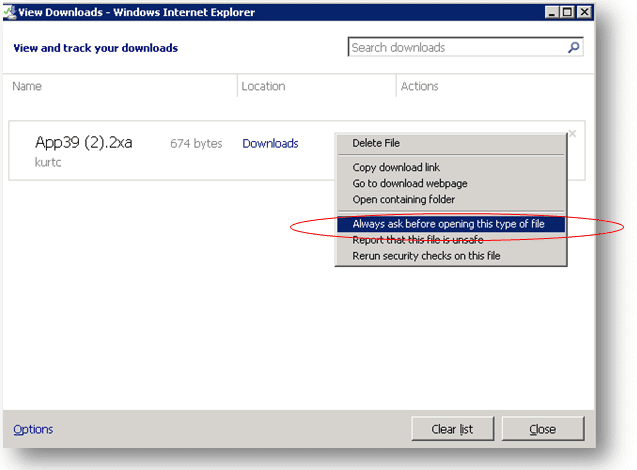 Ensure that you have unchecked the default option of "Always ask before opening this type of file".
IE8 and previous versions
When using Internet Explorer 8 you have also to save the 2xa file , then uncheck the "Always ask before opening this type of file" (if you are using previous versions of Internet Explorer the solution should be more or less similar):
rel="attachment wp-att-1933″>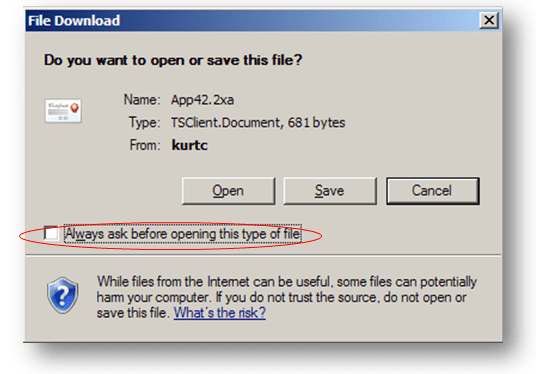 FIREFOX
When using Firefox, make sure the checkbox "Do this automatically for files like this from now on" is selected and its settings are set correctly (Open with>2X Client).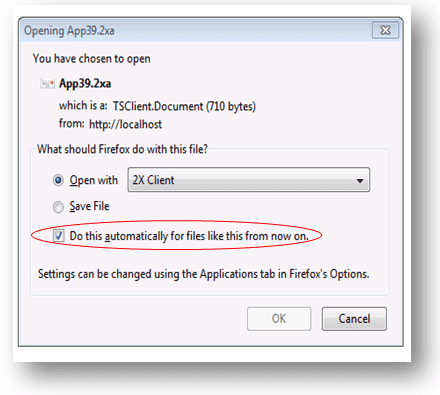 You could also go to Firefox>Options>Applications tab, and verify that you have "Use 2X Client2 as the specified action: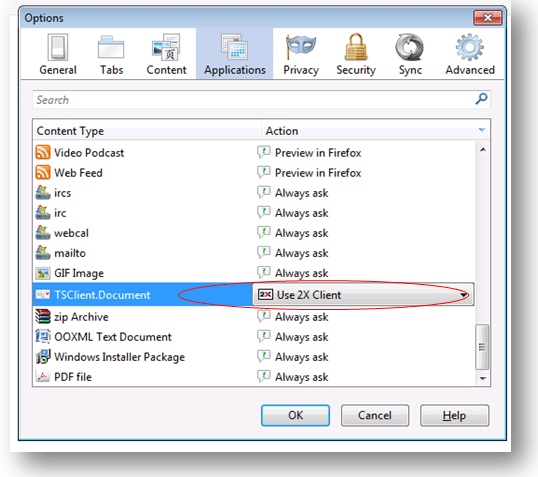 CHROME
On Chrome, after downloading the file for the first time, right click and check the option "Always open files of this type"

SAFARI & FIREFOX ON MAC OSX
When using Safari and Firefox on a MAC OSX, the apps will be launched automatically with the help of a plug-in that will be automatically installed. Therefore, no extra settings are required from the user.
OPERA
On Opera, make sure that for Open with the TSClient Application is selected, and that "Remember choice and do not show dialog again" is checked.
 Following those simple steps will definitely make your users' web experience more pleasant.
Thank you for reading!