Introduction
In this article, I review the Parallels Remote Application Server (Parallels RAS) Version 14. This software provides an application delivery and virtual desktop solution for Microsoft Terminal Services and Windows Remote Desktop Services. Parallels RAS supports all major hypervisors for virtual desktop publishing, and allows connections through a browser or Chromebook, as well as from a variety of client systems that includes Windows, Linux, Mac, Android, Chrome, and IOS using the free Parallels RDP client. In Version 14, Parallels Remote Application Server includes enhanced reporting, printer redirection, and high-availability load balancing features.
Parallels Remote Application Server Version 14 Review V

irtualizationadmin Highlights

If you are new to Parallels, this software company specializes in solutions for the virtual application and mobile device management space. The two main products in its portfolio are Parallels Remote Application Server (Parallels RAS) and Parallels Mobile Device Management (Parallels MDM), the latter of which was recently reviewed by Brien Posey for VirtualizationAdmin.com. With the Parallels RAS software, it is clear that Parallels is on a mission to unlock the full potential of the underlying Microsoft RDS technology by simplifying the sometimes daunting configuration tasks that are required to deploy virtual desktops and applications. What is exciting about this product is that it accomplishes its objectives while providing a centralized management dashboard with easy to use monitoring and reporting features, and with extensive client platform support right down to mobile phone devices. There are several areas of enhanced support in Parallels RAS Version 14 with updates to high availability load balancing (HALB), printer redirection services, reporting, as well as IPV6 support.

Overall, I found the Parallels RAS application extremely easy to install, navigate, and configure. The user interface is clean, consistent, and simple to use. From installation to deployment to using the Parallels RDP client, each step is smooth, making the testing of this software an experience by which I'll measure others in the future. Even installing and configuring advanced features like load balancing, printer redirection, and reporting was easy. I literally had these features up and running within minutes. Even though I was provided with a direct hook-up to the Parallels EMEA support manager to resolve any issues I might come across, I was able to resolve the few items that I did stumble across using the documentation provided with the software.

That isn't to say that there is no room for improvement, as clearly there always is. In my opinion, there are a few areas that I think Parallels needs to address to round out this offering. From consulting experience, areas where architects and administrators struggle are security and firewall integration, and application and service scaling. While limited deployments may not necessitate much analysis and planning in these two areas, they are of critical importance for larger, multi-site deployments. I found this information to be too high level in my review of the Parallels RAS documentation. In addition, while the Parallels RAS Reporting is easy to install and configure, the included reports provide basic information that may not be sufficient for some deployment scenarios.

Now that you have my overall impressions of the Parallels RAS software, let's take a look at actual Parallels RAS software installation and configuration. There are so many features in Parallels RAS server that this review is not comprehensive, but it should provide you with enough information on the major new features to give you a good handle on the capabilities of the product.
Parallels RAS Installation and Configuration
The Parallels Remote Application Server consists of multiple services that are deployed based on the desired functionality of the system. Table 1 shows the Parallels RAS services and the servers on which they get deployed.
| | | |
| --- | --- | --- |
| Parallels Service Name | Description | Deployment |
| Parallels Publishing Agent | Responsible for load balancing and publishing of applications and desktops | Parallels RAS Server |
| Parallels Redundancy Service | Responsible for redundancy for Parallels RAS server and load balancer | Parallels RAS Server |
| Parallels Secure Client Gateway | Responsible for tunneling of all traffic needed by Parallels applications on a single port, provides secure connections, and user connection point to Parallels RAS Server | Parallels RAS Server |
| Parallels Terminal Server Agent | Responsible for connection from a TS or RD session server to a Parallels RAS server | TS or RD Session Host |
| Parallels VDI Agent | Responsible for connection from a virtualization host server to a Parallels RAS server | Hyper-V, VMware, Citrix XenServer |
| Parallels RAS Reporting Engine | Responsible for processing and storing Parallels RAS information for reporting | Database Server |
virtualizationadmin Table 1. Parallels RAS and Reporting Components
Parallels RAS supports installation on either physical or virtual machines with the following minimum characteristics:
Physical Machines – Dual core processor and 4 GB of physical memory

Virtual Machines – Dual virtual processors and 4 GB of virtual memory
The Parallels RAS Publishing Agent, Secure Client Gateway, and Redundancy Service support operating systems that include Windows Server 2003, Windows Server 2008, Windows Server 2008 R2, Windows Server 2012, and Windows Server 2012 R2. Parallels recommends not to install Parallels RAS on a virtual or physical system that supports the Active Directory or DHCP roles.
The Parallels Terminal Server Agent supports operating systems that include Windows Server 2003 SP1, Windows Server 2008, Windows Server 2008 R2, Windows Server 2012, and Windows Server 2012 R2 with either Terminal Services or Remote Desktop Services roles.
Test Lab Configuration
In order to install and evaluate Parallels RAS, I deployed it in the test lab environment described in Figure 1.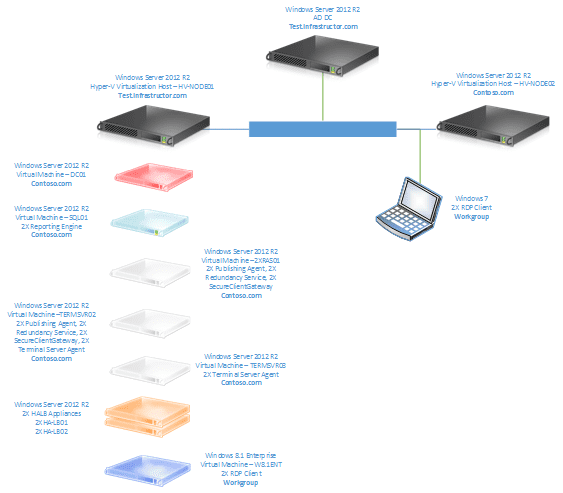 virtualizationadmin Figure 1. Parallels RAS Deployment in Test Lab
This test bed allowed me to review many features including Parallels RAS integration and management of RD Session hosts and VDI hosts, while publishing applications and desktops in multiple sites. I was able to deploy HALB and Parallels RAS reporting, and initiate user connections from virtual and physical devices including a Windows Phone.
Client Support
One of the features that makes the Parallels Remote Application Server so interesting is that it supports a wide range of client operating systems. In particular, the Parallels RDP Client software supports the following platforms:
Windows XP SP3

Windows Vista

Windows 2003 SP1

Windows 7

Windows 8. 8.1

Windows CE

Windows Embedded

Mac 10.5.x and above

iOS (iPhone and iPad)

Android 1.5 and above

Ubuntu 8.04, 8.10, 9.04, 9.10

OpenSuse 11.1

Fedora Core 9, 11

CentOs 5.2

VectorLinux 6.0

Chrome OS
This provides device coverage that greatly surpasses the native RDS client support and reduces dependence and maintenance of client software from multiple vendor sources.
Installing

Parallels

RAS
Parallels makes it very simple for you to get access to their software for evaluation. All that you need to do is navigate to the Parallels website and fill out a form that collects your name, company name, telephone, and email information. Once you click the submit button, you are forwarded to a page from which you can download a 30-day full feature trial version of Parallels RAS that supports 50 concurrent users. From this location, you can also download the Parallels RAS Portal, Parallels RAS Reporting Service, and Parallels HALB Appliance packages. There is also a link to the page from which you can download one or all of the Parallels RDP Client packages. After the initial 30 day trial, Parallels allows you to continue using Parallels RAS for three concurrent users with a free license key that is provided to you after registration.
In order to install Parallels RAS, I downloaded the 2xAppServer.msi package to my target server, and double-clicked it to kick off the setup. The Parallels RAS Setup Wizard provides a guide through the short installation process:
Click

Next

 in the Welcome screen as shown in Figure 2.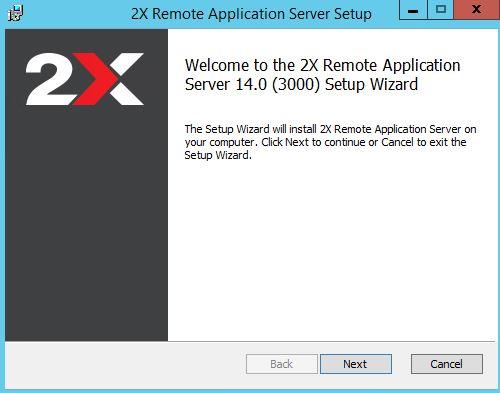 virtualizationadmin Figure 2. Parallels RAS Setup Wizard Screen
On the next screen, review the end-user license, and click

Next

if you agree to the license terms, as shown in Figure 3.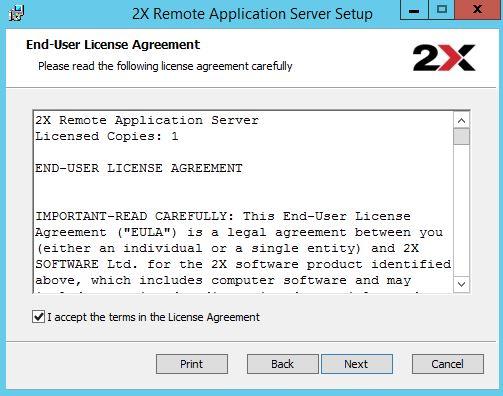 virtualizationadmin Figure 3. Parallels RAS End-User License Agreement Screen
On the next screen, use the default destination folder or click Browse to select a different destination folder. When done, click

Next

 as shown in Figure 4.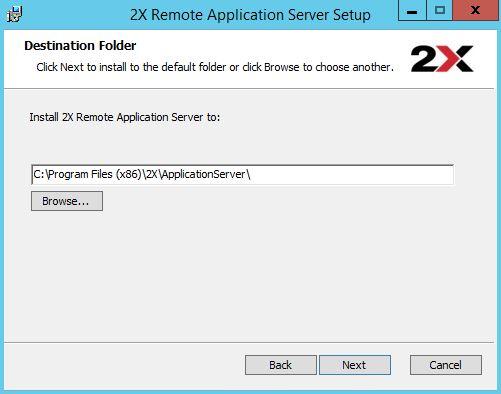 virtualizationadmin Figure 4. Parallels RAS Destination Folder Selection Screen
On the next screen, select the

Parallels

Remote Application Server option to install the complete

Parallels

RAS package. You can select

Custom

 to choose specific components to install. Once you select an option and components, click

Next

 as shown in Figure 5.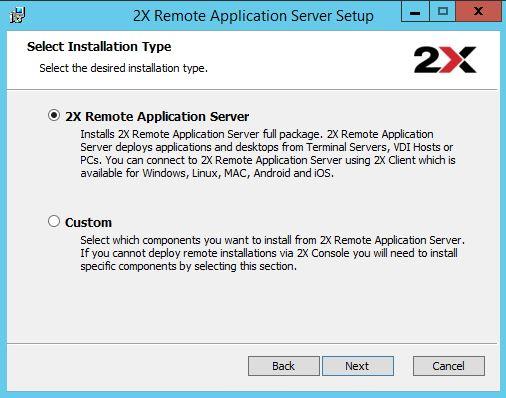 virtualizationadmin Figure 5. Parallels RAS Installation Selection Type Screen
On the next screen, click

Next

 to start the installation, as shown in Figure 6. The setup process copies all required application files, and installs and start the

Parallels

  application services.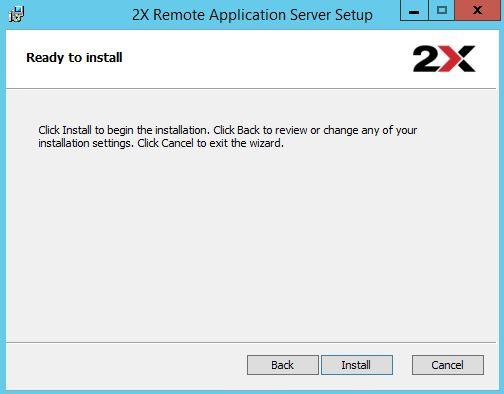 virtualizationadmin Figure 6. Parallels RAS Installation Start Screen
On the next screen, click

Finish

, as shown in Figure 7.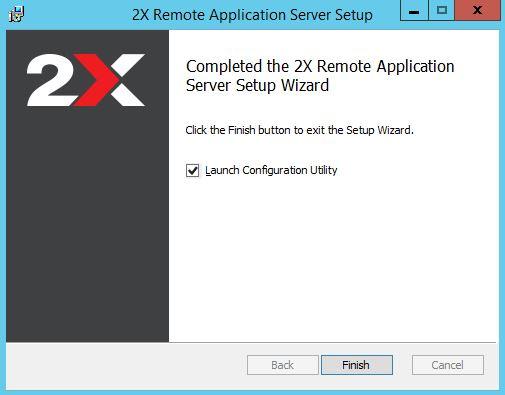 virtualizationadmin Figure 7. Parallels RAS Application Completion Screen
By default, the Parallels Publishing Agent, the Parallels Redundancy Service, and the Parallels SecureClient Gateway are installed on the Parallels RAS server. Depending on the size of your deployment, you can add additional gateways to support more users, properly load balance connections, and eliminate single points of failure.
After the Parallels RAS installation completed, I found four new icons in my Apps list including Parallels LogView, Parallels Monitor, Parallels Remote Application Server Console, and Parallels Remote Application Server Manual.  The Parallels RAS Server Console application provides the ability to configure and manage all of the Parallels features. When I launched the console application for the first time, I was prompted for an account with administrative rights, as shown in Figure 8. The user account was automatically configured as the Parallels RAS administrator.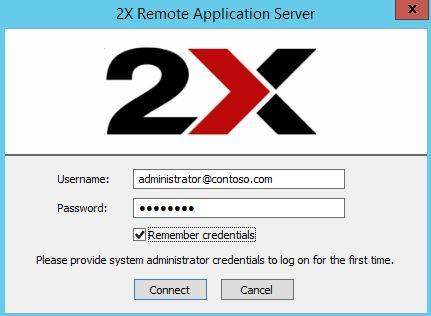 virtualizationadmin Figure 8. Parallels RAS Console Login Screen
As you can see in Figure 9, the Parallels RAS Console is neatly and clearly designed while packing a lot of information in its space. In the default view, you see the management categories (Farm, Load Balancing, and so on) in the left-hand pane, a navigation tree (Farm, Designer, Terminal Servers, and so on) in the center pane, and object properties in the right-hand pane.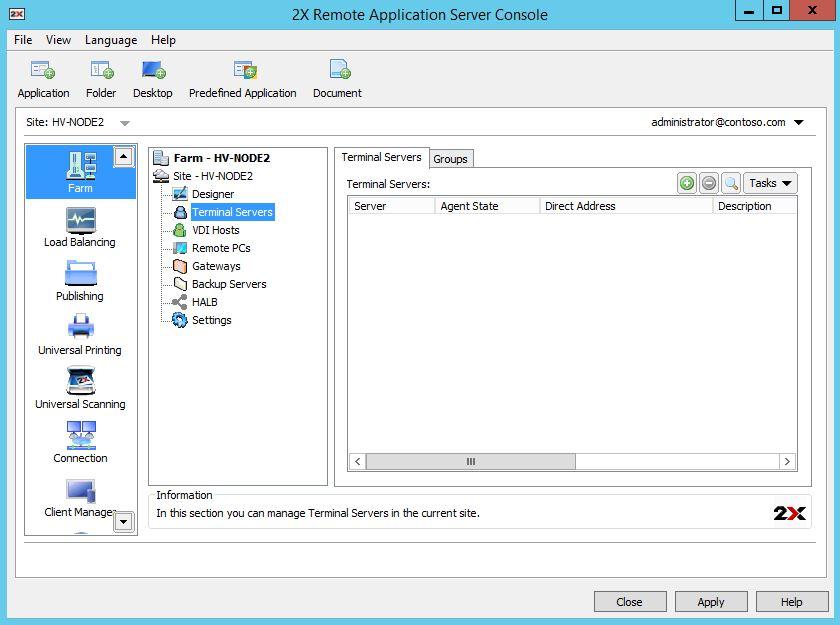 virtualizationadmin Figure 9. Parallels RAS Console Default View
Above these three panes is an information bar that displays the site logged into on the left, and the user that is logged in on the right. Above the information bar, there is a toolbar that provides one way to launch wizards that assist you to create new published applications, folders, desktops, and documents.
Parallels

Farm and Sites
A Parallels RAS farm can contain one or more sites that can be managed by administrators. A site contains a publishing agent, one or more gateways, and one or more terminal servers, virtualization (VDI) hosts, and computers. At least one server must be dedicated to a site for the installation of the Parallels publishing agent and gateway. The first site in the farm contains the Parallels RAS Licensing Server and configuration database. As you deploy additional sites, synched copies of the configuration database are added. You can switch the site focus in the Parallels RAS console, but can only view and manage one site at a time.
Adding a Terminal Server to a Site
Before adding a Terminal Server or RD Session Host to a Parallels RAS site, you have to install the Remote Desktop Services (RDS) role on the server. Once that is complete, you can use the following procedure:
In the

Parallels

RAS Console, from the default view, select Terminal Servers in the center pane navigation tree, as shown in Figure 10.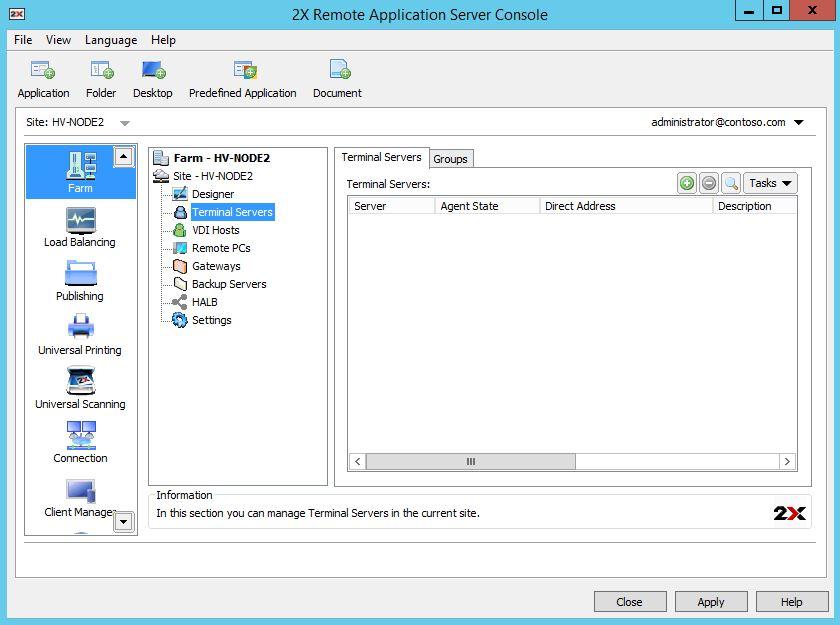 virtualizationadmin Figure 10. Parallels RAS Console Terminal Server Selection
In the right-hand pane, click on the green Plus button to launch the setup wizard, enter the target server (TERMSVR02), and click

Next

 as shown in Figure 11.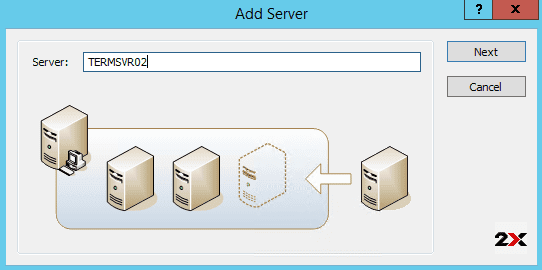 virtualizationadmin Figure 11. Adding a Terminal Server in Parallels RAS Site
Parallels RAS verifies if the Parallels Terminal Server Agent is installed on the server. If not, it installs the agent. Click

OK

 once the Agent status displays verified, as shown in Figure 12.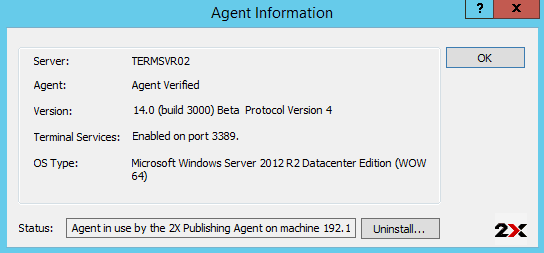 virtualizationadmin Figure 12. Terminal Server Agent Verification and Installation
In the Parallels RAS Console, you can verify that the new Terminal Server was added to the site, as shown in Figure 13.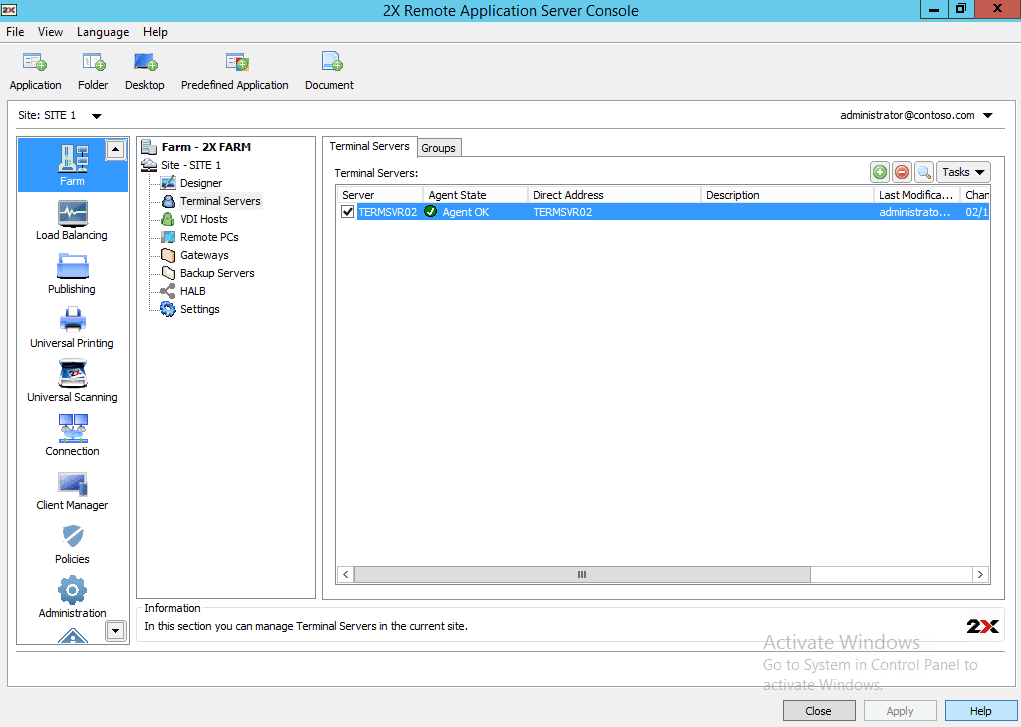 virtualizationadmin Figure 13. Parallels RAS Console after Adding a Terminal Server
There are many configuration options to optimize the deployment of terminal servers, and I invite you to review them in the Parallels RAS documentation. However, after the simple task of adding the server, you are ready to start the configuration of published applications and desktops.
VDI Hosting
In addition to terminal servers, you can also deploy and manage a virtual desktop infrastructure using Parallels RAS. These servers are added in the VDI Hosts category that you can see in Figure 13.
A VDI host is a physical system hosting a supported hypervisor (Hyper-V, VMware ESX, or Citrix XenServer) that is used to run one or more virtual machines. Each virtual machine is configured with a guest operating system, and users can connect to virtual machines that execute on the VDI host. With this feature, Parallels RAS allows you to consolidate the publication and management of applications and desktops from Terminal Server or RD Session Hosts with virtual desktops and applications running in virtual machines.
Similar to the configuration of a Terminal Server, Parallels RAS deploys a VDI agent on each VDI Host.
High Availability Load Balancing
With Parallels RAS Version 14, you get a High Availability Load Balancing (HALB) software solution that provides the ability to load balance user connections between Parallels RAS gateways. The Parallels HALB software solution is implemented through the deployment of HALB appliances that you can download from the Parallels website. When multiple HALB appliances are deployed, one holds a master role and all other HALB appliances are slaves. As with other solutions of this type, all HALB appliances share a common virtual IP address (VIP). If a Master HALB fails, a slave is promoted to take its place and become the new master without user connections being affected.
In order to deploy the Parallels HALB solution, you simply download the appliance from the Parallels website in the appropriate format (VHD, OVA and VMDK are available), import it to a supported virtualization host (Hyper-V, VMware ESX, or Citrix XenServer), boot the appliance, and modify the network settings. The HALB appliance is then ready to add to your Parallels RAS farm. When you add the first HALB to the farm, you specify a Virtual IP that clients use for connections. There are a few additional configuration steps if you enable SSL user connections, but literally, I was able to get this solution up and running in less than 20 minutes including download time (the HALB VHD is about 1 GB in size) over my high-speed connection.
Printer Redirection
Another area of enhancement in Parallels RAS is Universal Printing. This feature provides users connected to published desktops and applications with the ability to print to local printers without the server requiring printer drivers for the variety of deployed printers. Universal Printing is installed by default when the Terminal Server Agent is deployed to a new server.
In addition to allowing configuration of printer names for each deployed server, Parallels RAS provides fonts management to ensure that fonts are available when documents are spooled to the client for printing.  
User Invitations
One the cool features that I found in Parallels RAS was the Invitation Emails feature that gives you a really simple way to send out Parallels RDP Client installation instructions and automated configuration to users across a wide variety of devices. Using the Parallels RAS console, you simply select your recipients (from AD or manual input), the target device platform, the gateway IP address that the users will connect to, and the gateway connection mode that the Parallels RDP Client will use, and you just click to send the invitation. Your users will get an email that looks like the one in Figure 14.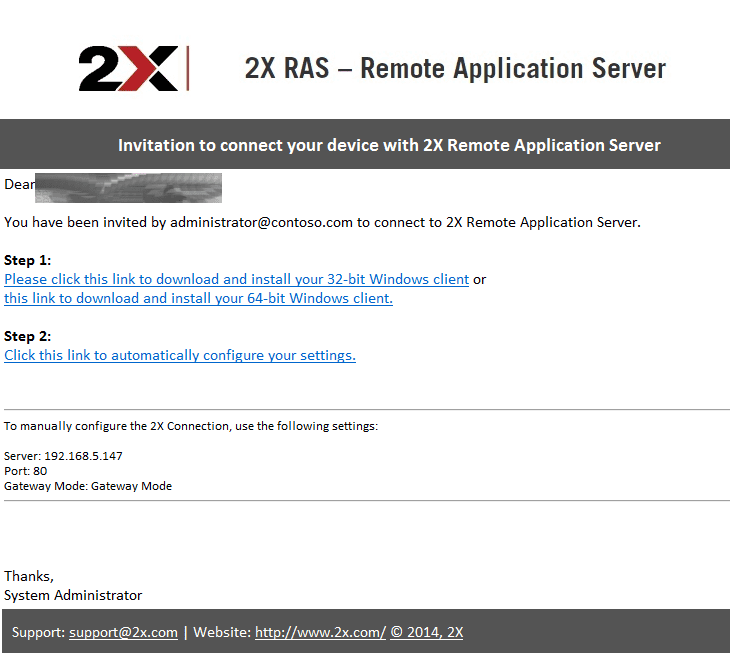 virtualizationadmin Figure 14. Parallels RAS User Email Invitation
The user has the choice to download and install the appropriate Parallels RDP Client and automatically configure the client settings. Alternatively, they can use the defined settings to manually configure the Parallels connection.
Parallels

RAS Reporting
The final feature that I want to highlight is the Parallels RAS Reporting. Before you can use Parallels RAS Reporting, you must install the Parallels Reporting Service on a server that is running Microsoft SQL Server 2008 SP1, Microsoft SQL 2008 R2 SP1, or Microsoft SQL Server 2012 with the Reporting Services installed. I used Microsoft SQL Server 2012 and had to follow these few configuration steps:
Create a SQL named instance

RASREPORTING

 with Instance ID

RASREPORTING

Create an AD user named

RASREPORTINGVIEW

 used to connect and view reports

Configure SQL administrators to include with SA, AD administrator, and System User

Reconfigure the SQL Reporting Services port to 8085
I downloaded the Parallels RAS Reporting installation package from the Parallels website to the SQL Server, and it installed the Parallels RAS Reporting Engine Service in a few minutes. I then launched the Parallels RAS Console to configure the reporting server settings to point to the SQL Server using the RASREPORTINGVIEW user account for access to the reporting information. I tested the connection to the SQL database by clicking the Test Connection button before committing the changes. Figure 15 shows the Parallels RAS Console default reporting view after successful configuration and activation of Parallels RAS Reporting.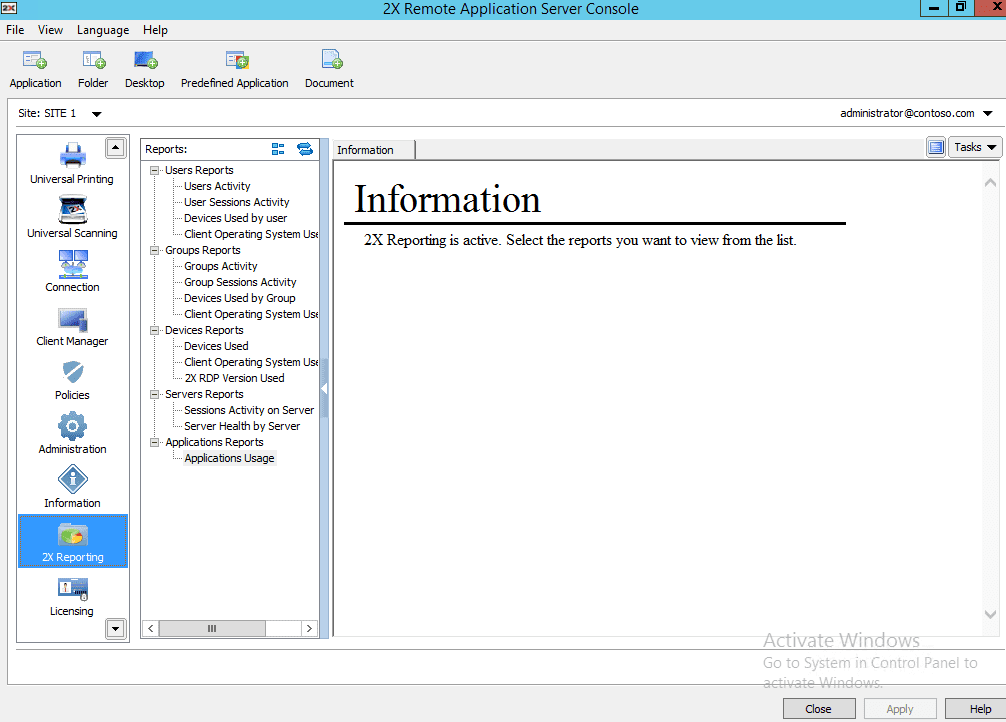 virtualizationadmin Figure 15. Parallels RAS Reporting Default View
Parallels RAS Reporting offers 14 standard reports grouped into five categories:
User Reports – Provides information related to users interaction with

Parallels

RAS
(User activity, User session activity, Devices used by user, Client Operating system used by user)
Group Reports – Provides information related to group interaction with

Parallels

RAS
(Groups activity, Group sessions activity, Devices used by group, Client operating system used by the group)
Devices Reports – Provides information related to devices that are connected to

Parallels

RAS
(Devices used, Client operating system used,

Parallels

RDP version used)
Servers Reports – Provides information about

Parallels

RAS server component activity
(Sessions activity on server, Server health by server)
Application Reports – Provides information about applications used with

Parallels

RAS
(Applications usage)
As for all the tasks performed during my review, the Parallels RAS Console layout for reporting was easy to use, allowing me to open multiple reports in the interface and easily switch between reports. Figures 16 and 17 show the Parallels RAS Console with both the Applications Usage report and Client Operating System Used report opened, respectively.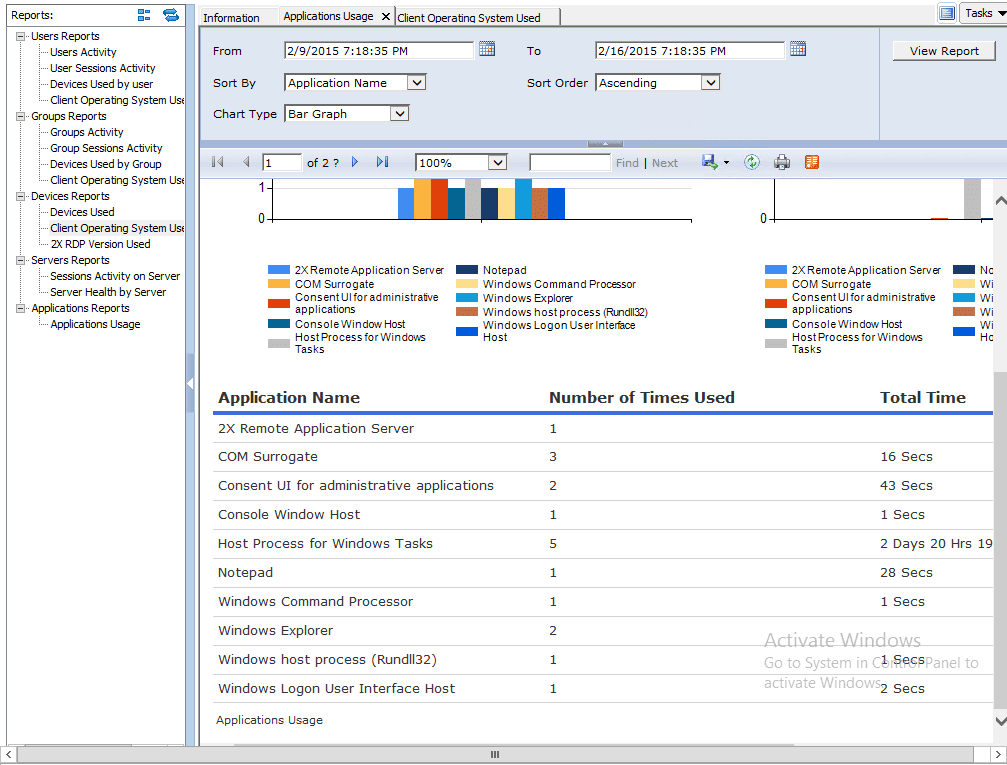 virtualizationadmin Figure 16. Parallels RAS Applications Usage Report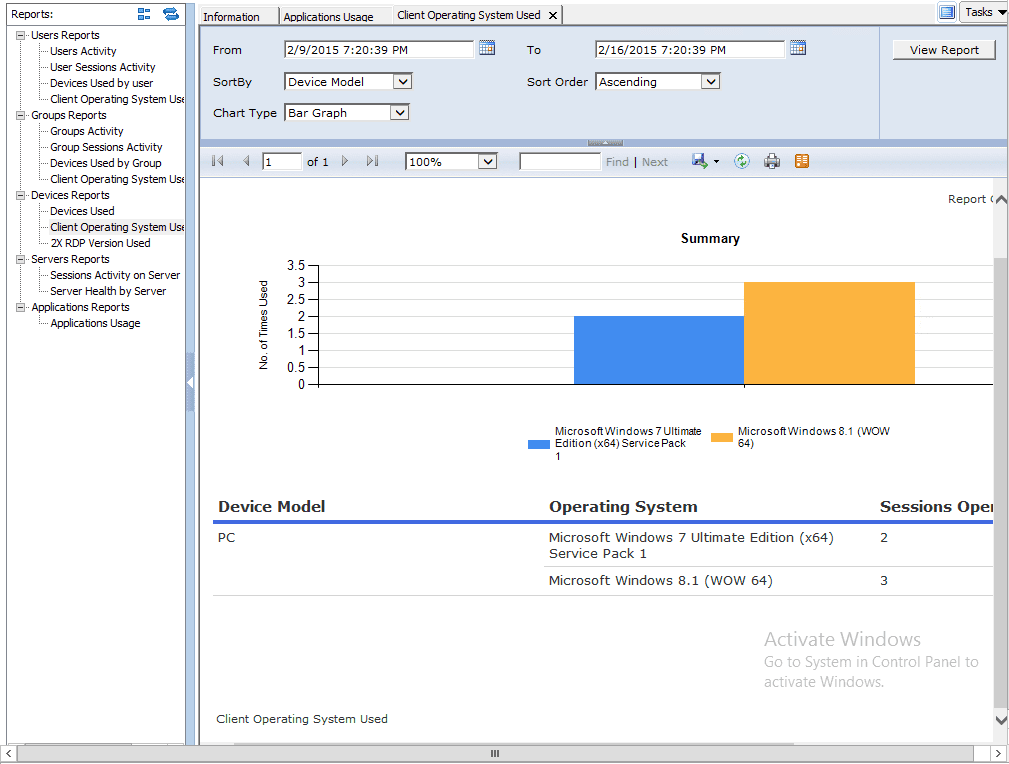 virtualizationadmin Figure 17. Parallels RAS Client Operating System Used Report
Although the reports are fairly basic, they provide some useful information into the activity of Parallels RAS farms and sites.
Conclusion
Above all, I was very impressed with the rich feature set provided in the Parallels RAS software. I was also very pleased with how easy the software is to install and configure. And I very much liked the layout of the Parallels RAS Console, the simplicity of navigating through it, and the consistent experience is offered while managing the Parallels Farm that I created in my test lab. There are a few areas for improvement to address around the documentation of security and firewall integration, application and Parallels RAS services scaling, and Parallels RAS reporting, but overall this product delivers on the value that it advertises.
Based on my review, I give Parallels RAS the VirtualizationAdmin.com Gold Award with a rating of 4.6.