YARSTROYREZE Chooses Parallels – It saved 70% of the cost compared to the previous solution By Giorgio Bonuccelli on | 0
"Cost-cutting was the main factor in choosing Parallels. We were surprised by Parallels's reasonable pricing compared to that of Citrix. And Parallels helped maintain high productivity with an increased number of users." Lapirov Mikhail – Managing Director – YARSTROYREZE LLC.
YARSTROYREZE effectively implements Parallels Remote Application Server for publishing applications and working in a secure connection mode at a cost-effective price.
Company Overview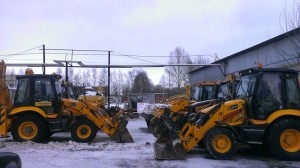 YARSTROYREZE is a leading Russian company in the real estate sector. The company specializes in leasing, repairing, maintenance, selling and renting of construction machinery; wholesaling of wood glues; and renting real estate.
In an area of 1.5 hectares of land and 3500 m2 and with a leasing portfolio of 100 million rubles, share capital of 25 million rubles, more than 600 thousand euros in foreign trade and more than 8000 recorded working hours in 2012, Yarstroyreze has made its mark in the Russian real estate sector.
The Challenge
For Yarstroyreze, the main purpose of remote networking was to publish applications. The company uses two servers based on Windows Server 2003 and Ubuntu Server 12.04, which are also used as file servers and database servers. Windows Server 2003 built-in terminal server was purchased along with 7 device licenses and 3 remote desktop licenses. Ubuntu 12.04 is installed on users computers. This solution worked efficiently until the number of users and hence the server load increased. Moreover, working with remote desktop caused additional problems as far as the users were concerned. The company needed a simple and cost-effective solution to publish applications.
The Solution
The company chose Parallels to publish applications remotely. Initially, Parallels client for Ubuntu was installed on user workstations to grant access to Windows Server 2003 remote desktop. Later, Windows Server 2003 was replaced with Parallels Remote Application Server. The company has 7-10 concurrent users working on a 32-bit server, and does not use any other virtualization platform.
Parallels Remote Application Server effectively replaced earlier remote desktop solutions. It was able to handle high server load with an increasing number of users, which was very important as it eliminated the need to change servers. The company's main requirement was to publish applications and work in a secure connection mode and this was fully satisfied by Parallels. Another reason to choose Parallels became immediately evident as soon as a Yarstroyreze manager downloaded a demo version: after switching to Parallels, technical problems weren't solved, they just disappeared.
Key Benefits
Cost-cutting was the main reason for switching to Parallels. By deploying Parallels ApplicationServer XG, Yarstroyreze realized that the Parallels product handles higher server load efficiently on remote publishing tasks while being highly cost-effective. The company was surprised at the reasonable pricing offered by Parallels. With Parallels Remote Application Server, the company saved 70% of the cost compared to the previous solution. The Parallels solution was simple and there were no technical issues; high productivity was achieved.
About YASTROYREZE

Yastroyreze is a leading LLC in Russia that provides a range of services related to construction machinery in the real estate sector. With 30 highly competent employees and quality infrastructure, the company is committed to deliver high quality and reliable services. The company owns 17 excavators that are available to tackle every type of construction need. The motto of the company is to value every customer. http://yarsr.ru/
About Parallels
Parallels is a global leader in virtual desktop, application delivery and mobile device management solutions. Thousands of organisations worldwide trust in the reliability and scalability of Parallels products. Parallels offers a range of solutions to make every organisation's shift to cloud computing simple and affordable.The company's product line includes the award-winning Parallels Remote Application Server (Parallels RAS), providing platform-independent virtual desktop, application delivery and integrated thin client management from a single software package to any modern operating system, as well as to mobile devices including smartphones and tablets.Parallels Mobile Device Manager (Parallels MDM) offers a complementary (or stand-alone) solution that enables Parallels's customers to monitor and manage corporate and employee-owned mobile devices. With Parallels MDM, customers will be able to track their devices and remotely lock or delete data if a device is lost or stolen. In addition, organisations will be able to monitor mobile devices for malware and remove inappropriate apps. For additional information, visit www.2x.com or contact Giorgio Bonuccelli by email (Giorgio.Bonuccelli@2x.com) or phone (+356 2258 3800).