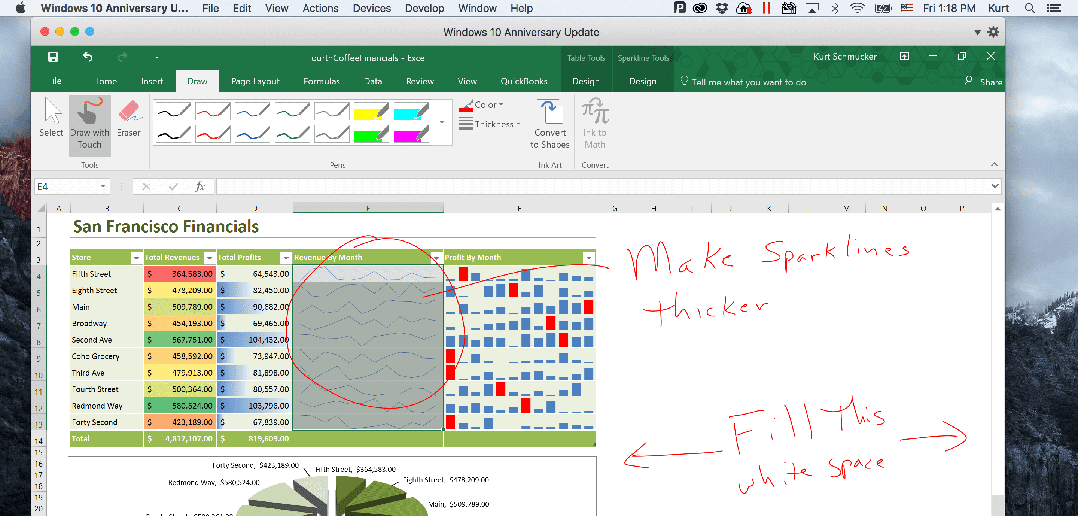 How to Use Microsoft Ink on a Mac
---
Parallels Desktop 12 Update 1 was released a few weeks ago. You can read about all the changes in this update here. In this blog post, I will discuss in some detail only one of the Update 1 features: even greater support for Microsoft Ink. As I wrote about in an earlier blog post, Ink is the ability to annotate or add content to documents with a touch screen or a stylus. Microsoft considers Ink to be a significant step forward in natural interaction with computers, and having used Ink for several months now (and having spent a few minutes using the new Microsoft Surface Studio), I wholeheartedly agree with them.
Alas, as a really longtime Mac user, there wasn't a way for me to use Ink on the Mac—until Parallels Desktop 12 was released in August. The initial release of Parallels Desktop 12 provided some support for Ink, and now Update 1 increases this support significantly. With Update 1, you can use Ink everywhere it is enabled—in Office for Windows 2016, in third-party apps, and in Windows 10 itself. As discussed in my earlier blog post, my Ink setup uses the Apple Pencil, an iPad Pro, and the AstroPad iPad app (Figure 1).
In Office for Windows 2016
Ink is enabled via the new Draw tabs in Word, Excel, PowerPoint, Outlook, and OneNote, which are visible now in Update 1 (Figure 2).
You can annotate docs of these apps, add new content, and in some cases, Office will help straighten up your Ink drawings. You can even turn your Ink-based scribbles into editable text via the new Ink keyboard in Windows 10.
Figures 3 through 5 show some examples of Ink use in Office 2016:
In Windows 10
Windows 10, in the Anniversary update that was released in August, adds Ink support in a new keyboard and in the several components of a new Ink workspace.
Figure 6 shows the use of this new Ink keyboard for English text entry.
(As a preview of a later blog post, Figure 7 shows the use of Ink for Japanese text entry.)
Figure 8 shows the new Ink workspace. I'll write about this workspace also in a later blog post.
In third-party apps
Microsoft is encouraging its third-party developers to use Ink in their apps, and has provided a special pane in the Windows Store to show off these apps (Figure 9).
Haven't yet tested all of them, but most seem to work well in Parallels Desktop 12 Update 1.
Have you tried Microsoft Ink on a Mac yet? Share your experience with us in a comment, or reach out to us on Facebook or Twitter.
Try Parallels Desktop for free for 14 days!