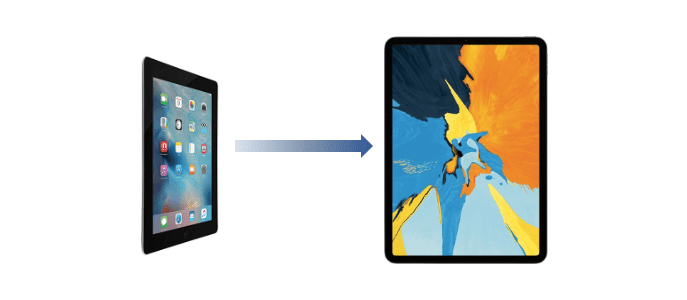 Moving to a New iPad: One User's Experience
---
Moving to a new iPad – Not as seamless as it should be
I purchased a new iPad this week. Great hardware, but the experience of moving my apps and data from my old iPad to the new one was frustrating and troublesome. Here are my experiences—a few good, but too many bad.
Preparation
While I was waiting for the new iPad to arrive, I cleaned up the old iPad: removing photos that I didn't want to keep, getting rid of video content I no longer need and deleting some apps that I don't use any more. I then did a complete backup to my home iMac using iTunes. It would then be easy to restore this backup to my new iPad and moving all my data there—or so I thought.
Hardware
I chose the 11-inch iPad Pro. (Parallels has provided me with a 12.9-inch iPad Pro for customer presentations. It is wonderful but just too big for me to carry around all the time, use on planes, etc.) I knew that this new iPad used a USB-C connector as opposed to the reliable and ubiquitous Lightning Port on the iPhone and other iPad models, so I purchased a bunch of dongles to connect to HDMI video and USB-A devices. I thought I would be fine.
I needed to connect the new iPad to my iMac so that iTunes could t the backup onto it. But how to connect the female USB-C port on the new iPad to the female USB-A port on my iMac? The dongles I purchased didn't help. The male USB-C to female USB-A connectors that I had for other uses didn't help either because I didn't have a male USB-A to male USB-A cable (essentially a USB-A extension cable). Apple doesn't even offer the type of cable needed: male USB-C to male USB-A. So when I was ordering dongles and cables with the new iPad, it wasn't something that I thought I needed—admittedly my error. Amazon carried the cable, and they were happy to deliver one to me in five weeks.
Luckily, an external drive I wrote about in an earlier blog post came with a male USB-C to male USB-A cable. It was only 7" long, but with some struggling I got everything connected. Then I began running into software issues.
Software
1. Software update needed
When I connected the new iPad to my iMac running iTunes, a dialog appeared stating that the iPad needed a software update to properly connect. I began the download in iTunes, but I could not find any confirmation that the download was happening or how long it might take to complete. Now, iTunes has an excellent progress indicator that is very prominent (See Figure 1), but this was not used.

Only after a frustratingly long 20 minutes did I notice the tiny "software is downloading" icon (Figure 2).

Clicking on this showed that the download was about 4 GB—no wonder it was taking so long! Not using the visible progress indicator (Figure 1) is clearly a major fail in the design of iTunes.
2. App names only
Once the software update completed, I started the restore of my old iPad backup to the new iPad. This took about an hour, but that was a reasonable amount of time given the amount of information (about 91 GB), and the progress indicator was used so I was able to determine what was happening and when it might complete.
Remember, however, that iTunes no longer stores the iPhone/iPad apps themselves—only the metadata like the app name, location on the screen and preference settings. The actual apps have to be re-downloaded from the iTunes App Store. This took about six additional hours—and if the app is no longer available in the App Store, you're out of luck. That app is gone forever.
3. Some apps had no data
Many apps store your data, for example Photos, Apple TV and Word. When restored, some of those apps also restore your data. For example, Photos on my new iPad had all my photos and videos, PDF Expert had all the books and other documents I had placed there, Word had all my documents, and Dark Horse Comics automatically re-downloaded all my comics.
However, some apps don't restore any of your data. To my great surprise, Apple TV does not restore any of your downloaded videos. Nor does Netflix, VLC for Mobile, Apple Developer or Amazon Prime Video. Wired Magazine does not restore any downloaded magazines, and Apple Books doesn't restore any downloaded books.
Alas, there are a number other apps that don't restore saved content. In a conversation with Apple Support, I was informed that the app developer has to implement data restore. I sort of understood that some small third-party developers might not think about this scenario. But Apple should. The Photos team did, so why not the Apple TV team or the Apple Developer team? And Amazon has no excuse for not supporting data restore. That content has to be re-downloaded or manually ported over in iTunes—a hassle that should not have been needed at all.
Bottom Line
I am very pleased with my new iPad and its slick new Apple Pencil. While Apple is known for their seamless and delightful user experiences, migrating your information to a new iPad is not one of those.
Are you currently also moving a new iPad? Let us know in the below comments.