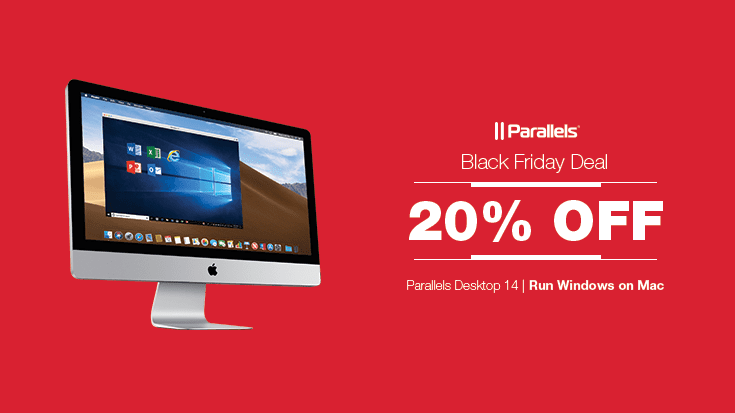 Parallels 2018 Black Friday Savings
Parallels Desktop Black Friday and Cyber Monday Savings
Save 20% Now through November 27, 2018, 11:59 p.m. Pacific
Our biggest sale of the year is here! We encourage you to spend more time with your family this holiday—skip the in-store madness and buy Parallels Desktop® for Mac online. Discount applied at checkout, no coupon code needed. Applies to both Parallels Desktop new licenses and Parallels Desktop upgrade licenses. 
Get 20% off Parallels Desktop, which lets you run Windows, Linux, and other popular operating systems on your Mac®.
Quickly move files, applications, and more from a PC to a Mac.
Develop and test across multiple OSes in a virtual machine for Mac.
Seamlessly run popular Windows applications without slowing down your Mac, such as Microsoft Office, AutoCAD, Visual Studio, games, and more.
Whether you need to run Windows programs that don't have Mac versions or you're making the switch from PC to Mac and need to transfer your data, Parallels Desktop is seamless and easy.
As a bonus, you'll get Parallels® Toolbox for FREE when you buy Parallels Desktop!
Parallels Toolbox empowers users with 30+ tools in a lightweight, powerful, all-in-one application for macOS® and PC. It's easy to use and economical—a whole suite of tools for a fraction of the cost of individual apps, packaged in one simple interface.
Keep your focus with Presentation Mode. Instantly disable those embarrassing pop-ups or bouncing icons.
Clean Drive keeps your computer's storage optimized and free of unimportant data.
Find Duplicates frees up extra space on your computer.
Grab videos from the Internet and watch them offline using Download Video.
Take Screenshots or Record a Video with a single click for easy creative content.
With Parallels Desktop, you also get premium 24/7 phone, email, and social support after activation. 
Parallels Desktop Black Friday and Cyber Monday Savings
Hurry – Save 20% NOW through November 27, 2018, 11:59 p.m. Pacific