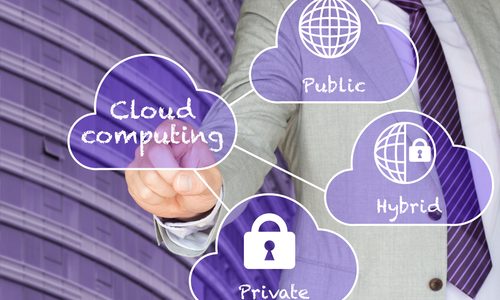 Cloud Hosting Providers – What They Do and How They Benefit Business
Cloud hosting providers have a network of servers that act like one server and make your website accessible via the cloud. Traditional web hosting models store your data on one server in an accessible physical datacenter. Cloud hosting providers, on the other hand, store your data in multiple connected clusters of web servers. When one server fails, others pick up the slack. Additionally, with cloud hosting, websites that see a boost in traffic are assigned more resources and vice versa.
What Is a Cloud Hosting Service?
A traditional hosting service provides you with some space in its datacenter. A cloud hosting service, unlike traditional hosting, is about services, not just about renting space. Cloud hosting services enable resource sharing across the internet or intranet to reduce infrastructure costs and planning dramatically. Cloud hosting does not just give vastly more potential over traditional hosting, but also allows you to access the services offered by cloud computing devices.
Cloud hosting service providers offer several common types of computing services.
Software as a Service (SaaS). The most popular form of cloud hosting service, SaaS provides all the functionalities of traditional applications by using cloud computing resources rather than local computer resources.
Platform as a Service (PaaS). PaaS provides organizations with a platform of virtual servers to run existing applications or develop new applications. You can use these services to create and run applications without the hassle of maintaining local operating systems, infrastructure and server hardware.
Infrastructure as a Service (IaaS). IaaS provides a network, servers, storage and software that can replace traditional datacenters and instead provide a complete infrastructure package.
Differences Between Traditional Hosting Providers and Cloud Providers
There are significant differences between hosting providers and cloud providers which are summarized in the following points:
Space: Hosting providers offer space on physical servers running at service provider facilities, but cloud providers offer space and services spread across different cloud servers across the internet or intranet.
Security: Hosting providers offer greater security through dedicated servers, but cloud providers store data alongside the data of hundreds of companies, reducing security.
Accessibility: Hosting providers require private connectivity for access, but cloud services can be accessed from any device at any place at any time.
Cost: Hosting providers tend to be more expensive than cloud providers.
Services: Hosting providers offer services like email, software, website hosting, file hosting, security, and virtual server hosting, but cloud providers offer cloud computing, software, cloud desktops and cloud storage services.
Differences Between Public and Private Cloud Hosting Providers
There are vital differences between public and private cloud hosting, and choosing the right option depends on your organizational requirements.
Public Cloud
Public MSPs share the cloud computing infrastructure with the public over the internet and have the following features:
Tenancy: Data of different enterprises are stored in a shared environment, so public cloud hosting is multi-tenancy. Data sharing occurs based on rules, security measures or permissions.
User-base: Cloud services and hardware are shared as if the user-base is the world. Hardware and services can be accessed by different people and organizations.
Hosting: Public cloud is hosted at the service provider's site.
Network: Connectivity occurs via the public internet.
Scalability: Public cloud hosting is highly scalable with moderate reliability.
Management: Cloud service providers manage public cloud hosting.
Cost: Public cloud is more economic than private cloud.
Security: Security is dependent on the service provider.
Performance: The public cloud has low to medium performance levels.
Servers: Public cloud hosting offers shared servers.
Private Cloud
Private cloud hosting providers do not share the cloud computing infrastructure with the public and have the following features:
Tenancy: With private cloud hosting, data for a single enterprise is stored in a private environment (single tenancy).
User-base: Cloud services and hardware are shared as per the need of the single enterprise.
Hosting: Private cloud is hosted at the service provider side or the enterprise side.
Network: Connectivity occurs over the private network.
Scalability: Scalability is limited but highly reliable.
Management: Cloud computing infrastructure is managed by a single enterprise.
Security: Private cloud hosting provides better security compared to the public cloud.
Performance: Private cloud hosting is high performance.
Servers: Private cloud hosting offers dedicated servers.
Key Features
The key features of cloud hosting providers include:
High Availability
Constant Monitoring
Fully Managed Solutions
Scalable and Fully customizable
Why Parallels RAS Is a Great Companion for MSPs Partnering with Cloud Hosting Providers
Two of the biggest challenges MSPs face when they offer DaaS are the complexity and high cost of traditional application and desktop delivery solutions like Citrix and VMware. These solutions have become barriers to entry.
Parallels® Remote Application Server (RAS) eliminates those challenges, as well as a lot of other issues like security, consistency and platform support. Parallels RAS simplifies DaaS delivery for MSPs and lowers the total cost of ownership (TCO). In addition, its superior versatility enables deployment on all major cloud hosting providers and hypervisors. Its deployment options—along with out-of-the-box load balancing, universal printing, white-labeling, and more features—enable MSPs to quickly implement multi- and hybrid-cloud strategies, a capability that's increasing in demand. Check out all these features with the Parallels RAS 30-day trial.
Interested in learning more about the Parallels Partner Program? Have a look at our webpage!
Growth Opportunities for MSPs, ISVs, VARs and SIs in the Post-Pandemic Era
The Road from VAR to MSP: How to Successfully Transition from One-Off to Recurring Revenue