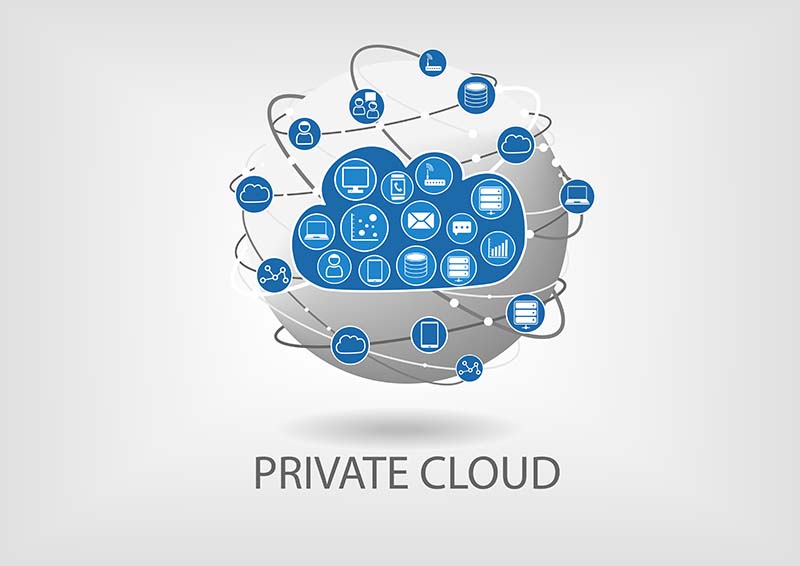 Private Cloud Providers Are Being Taken Over by MSPs – Learn Why
Private Cloud Providers or Managed Service Providers?
Despite the popularity of public clouds, there are still many organizations that need the benefits only private clouds can offer. However, there's a hitch—private clouds are complicated to build and maintain, and very few organizations have the in-house talent to address those issues. Their best bet is to partner with private cloud providers (PCPs) or managed service providers (MSPs).
Types of Private Clouds
Depending on the services offered, private clouds can be of different types. For instance, some private cloud options offer Infrastructure as a Service (IaaS), while some can be Platform as a Service (PaaS) providers. Some private clouds can also host storage, compute services, or networking services. Depending on the hosting environment, however, the types of private clouds are:
Virtual private cloud
A virtual private cloud exists in a walled-off environment within a public cloud. Organizational workloads run in this environment in an isolated manner. While the main server is shared within organizations, the virtual logic is what isolates the data and applications of each cloud from the other making it private. This option is suitable for organizations looking for lower costs.
Hosted private cloud
The hosted private cloud consists of a separate server for an organization, which is not shared. Service providers are responsible for the configuration of the hardware, software, and network, but the server as a whole is used by a single organization and the organization is responsible for its day-to-day activities. It can be hosted on-premises or in a data center, and this option offers greater security and availability. This option is suitable for organizations looking for higher security but with their own human resources to handle day-to-day operations.
Managed private cloud
As the name suggests, this private cloud requires the cloud service provider to not only host but completely manage the private cloud. In other words, the cloud service provider manages and monitors all the day-to-day operations, deploys and updates additional storage or identity management services. This is suitable for organizations that are looking for higher security but lack experts who can handle day-to-day cloud operations.
The Benefits of a Private Cloud
Private clouds have several benefits, including the following: 
Complete control over resources, giving organizations the flexibility to design a cloud to meet their specific requirements. This helps avoid instances of underutilization and overutilization since resources can be added or shifted with little difficulty. 

 

Better performance and scalability, as it takes the complexity out of deploying cloud and bare metal servers. It is easy to scale up and increase capacity when needed.

 

Meets regulatory requirements since

 responsibility for the physical infrastructure lie

s solely with the organization. This allows you to comply with privacy and other standards that the multi-tenancy inherent in public clouds could not otherwise meet.
Major Private Cloud Vendors
The most famous public cloud vendors are well known, with the likes of Amazon Web Services, Microsoft, Google, and IBM topping the list. However, deciding the most famous private cloud vendors isn't quite as simple. Mentioned below are the major private cloud vendors that offer the best private cloud services.
HPE
Hewlett Packard Enterprise (HPE) is certainly one of the top 10 private cloud providers. It sells its private cloud offering under the Helion name and offers hardware, software, as well as cloud services. It offers managed as well as virtual cloud solutions allowing better management of operations, thus ensuring a secure cloud solution. 
VMWare
VMWare stands hand in hand with HPE when it comes to its sales in the private cloud. Accounting 7 percent of the private cloud market, VMWare offers virtual private cloud, dedicated cloud, and hybrid cloud. It offers its virtualization software, and software-defined data center platform, making it one of the market leaders. 
Dell
Dell sells private cloud solutions, servers, storage, cloud management, and security software. Its private cloud solution, Dell Cloud allows users to customize the cloud solution with an end-end portfolio, helping companies cut cloud deployment time and effort. It centralizes cloud management, offers application monitoring, automates workload delivery, secures access, simplifies provisioning and manages access. 
BMC Software
A global leader in software solutions, BMC is also known for offering a competitive advantage over other providers when it comes to the private cloud. It offers an innovative, agile, full-stack service that is scalable, intelligent, and easy to deploy. 
IBM
Holding a market share of approximately 4%, IBM solutions offer hosted private cloud services, cloud managed services, cloud manager, cloud orchestrator, and mainframe cloud capabilities.  
Microsoft
Microsoft offers Windows Server and the Microsoft Azure Stack as its private cloud solution, and its operating system and virtualization software are its strengths. Microsft's multi-platform support, enterprise-wide storage management, data protection, and cost-effectiveness make it one of the top 10 private cloud solutions. 
Cisco
Cisco offers its ONE Enterprise Cloud Site, Metapod, and Cloud Center as its offerings. Its Intervloud Fabric is secure and flexible, and Cisco's secure hybrid cloud introduces no demarcation between external and internal clouds.  
Platform.sh
Platform.sh is targeted towards the web application market and is the official cloud partner of open source projects like Symfony and Drupal Commerce. It offers the features of flexible deployment, scalability, built-in Github and Bitbucket integrations, and configurable micro-container architecture.   
Red Hat
RedHat offers its Cloud Suite, software, virtualization capabilities, OpenStack Platform, and Gluster Storage and has the strengths of being an open-source software with cloud management capabilities, hence making it one of the top 10 solutions.  
Amazon Web Services
Amazon Web Services not only has its domain name in the public cloud market but is also gaining popularity as a viable private cloud solution. Its top solution is its Virtual Private Cloud which runs over its public cloud infrastructure.  
The Trust Component
Companies aren't familiar with the staff who'll be in close contact with their data in large public-cloud environments. However, if their MSP manages the cloud infrastructure, that means their data is under the care and supervision of people they already know and trust. That's a big draw, especially for businesses governed by laws and regulations like PCI-DSS and GDPR or strict corporate security policies.
As MSPs, You Have More Control
As an MSP, you have the option to partner with a cloud service provider (CSP) and offer public-cloud services. However, one advantage of being a private cloud provider is that you have more control if something goes wrong. It's undoubtedly going to be much easier to maintain service-level agreements (SLAs) if you can immediately address an issue in your cloud's physical infrastructure instead of waiting for CSP engineers to resolve it for you.
The Biggest Challenge of Private Cloud Providers
The biggest challenge of being a private cloud provider is dealing with all the complexities and costs of building and maintaining everything, such as the physical servers, networking, data storage, cooling and virtualization environment. 
While maintenance and management can be dealt with with the help of experts in the cloud computing genre, the pricing of private computing has to be the biggest challenge for private cloud providers. The upfront costs associated with operating a private cloud on-premises are comparatively expensive in comparison to using a public cloud.   
The capital expense of implementing a private cloud, amalgamated with back-end maintenance costs, makes on-premises private cloud unreasonably expensive. However, these costs can somewhat be controlled by providing a managed private cloud as a service.  
Private cloud providers can use the one-year subscription model, or the pay-as-you-go model to obtain a suitable price for the spectrum of hardware, software, and services they offer. However, the pricing models also lack a one size fits all strategy, as every business and every organizational need is different. To create a flexible pricing model that caters to businesses, but also covers up the costs incurred by private cloud providers, it is important to tailor these prices according to the business needs and the spectrum of vendor products that the business requires.  
Become a Private Cloud Provider with Parallels RAS
One way to keep costs down is by leveraging solutions that you can manage internally as an MSP. One example is Parallels® Remote Application Server (RAS). As an application delivery and virtual desktop infrastructure solution (VDI) solution, Parallels RAS plays a significant role in the private cloud-based application and desktop delivery. It enables businesses to securely deliver applications and desktops to end-users regardless of where they are and what device they're using.
Parallels RAS is available for MSPs that want to give it a test run or learn more about the Parallels Partner Program for Parallels RAS!
---
References