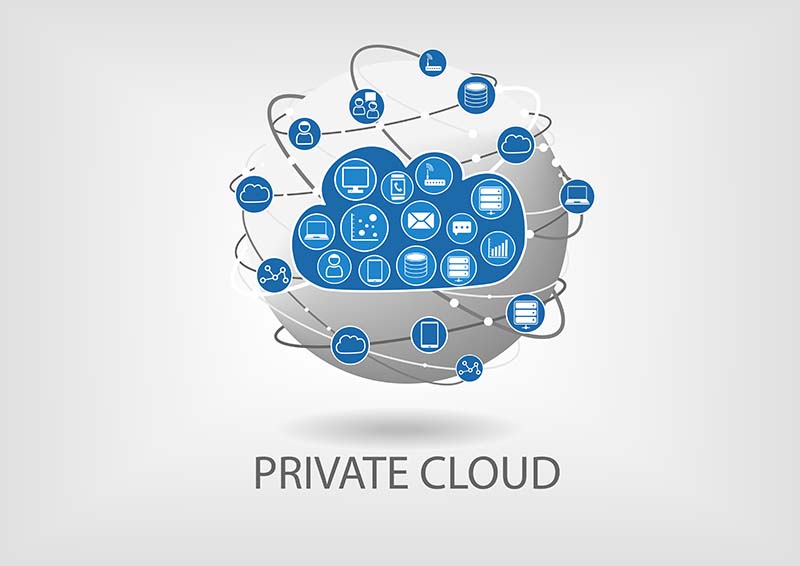 How to build a private cloud and why? | Parallels RAS
How to build a private cloud: Business agility, scalability, and lower cost of ownership are the three important aspects that draw businesses to the cloud. According to a Rackspace Infographic posted on PCWorld, 88% of organizations are already using cloud computing technologies, 43% of them wishing they had adopted the cloud sooner.
The projected overall cloud spent $235 billion in 2017. While moving to the cloud is an advantage, data security and integrity are concerns for enterprises. This is why enterprises are keen to implement private clouds. According to RightScale, 82% of organizations have a hybrid cloud strategy, with data-sensitive applications hosted in a private cloud.
But what exactly is a private cloud?
A private cloud is an environment that offers similar benefits as those of public clouds, including agility, cost savings, and self-service, only that it is single-tenant, and that tenant is you. Unlike public cloud deployment models that leverage multi-tenancy architectures where multiple organizations share the IT infrastructure, private clouds are dedicated to a single organization's requirements.
Private clouds rely on server virtualization to gain efficiencies and agility and take their data centers to a new level. Besides virtualizing data centers, private clouds rely on software-defined storage (SDS) and software-defined networking (SDN) technologies to achieve on-demand service provisioning and simple resource scaling.
Most private clouds get deployed on-premise. However, you can also build your own private clouds on leased, vendor-owned datacenters that reside off-premise, provided its underlying IT infrastructure gets dedicated to you.
Before choosing the right cloud strategy, it is crucial to know how to build a private cloud and the essential components.
A private cloud involves a private network that accepts connections from internet-based clients. Businesses must not compromise security in this process. This is why a demilitarized zone (DMZ) is set up between the public network and the company's private network. The DMZ contains a web server that acts as a web portal to accept public connections.
Secondly, a secure authentication procedure is required to authenticate every connection, requiring a gateway server that acts as a secure proxy between the private network and the DMZ environment. This gateway server can relay authentication credentials to the server.
Thirdly, back end components are required that vary with the size of the business, type of network, VDI/RDS deployment, and the network products used. In a virtual desktop infrastructure (VDI)/ remote desktop session (RDS) environment, a hypervisor and a connection broker are the two critical components.
A hypervisor runs the virtual machines, while the connection broker matches end-user session requests to virtual machines. Another vital component is the management console. As a virtual environment involves several moving parts, a management console enables administrators to monitor and manage the entire infrastructure from a single dashboard.
When thinking about how to build a private cloud, consider other factors such as the platform, security, storage, and administration.
Parallels RAS provides a comprehensive platform to easily install, set up, and manage the entire virtual infrastructure at a cost-effective price.
How to build a private cloud with Parallels RAS
Choosing the right hardware and hypervisor to build a robust virtualization platform is critical. Microsoft, Citrix, and VMware are the major players in the hypervisor field, all providing useful features, but there are certain aspects to consider.
Firstly, all three hypervisors are complex to install setup & maintain, and administrators need to have good knowledge of virtualization concepts. Parallels RAS is easy to install and use and supports all major hypervisors so that you can leverage these tools to deploy & manage a robust VDI infrastructure.
Secondly, hypervisors like Hyper-V do not offer a comprehensive package to manage the entire infrastructure. For instance, load balancing is not available by default with Hyper-V – you need to add the Windows Network Load Balancer (NLB) tool, which is not easy to install and configure. With Parallels RAS, load balancing is available by default: it's High Availability Load Balancing (HALB) not only checks for available virtual servers, but also checks available gateways, for additional redundancy.
Thirdly, reporting tools are essential to the successful monitoring of the VDI infrastructure. Parallels RAS provides 14 types of reports that are categorized into five groups, to provide detailed insights into the performance of each resource across the infrastructure.
Fourthly, Parallels RAS offers excellent technical support, which is not available with other virtualization server tools. For Citrix, technical support is not available in any edition.
Finally, price is an important aspect. While Citrix offers excellent performance, it is costly and certainly not affordable for all businesses. Parallels RAS provides all the features outlined above at a significantly lower price.
Download your 30-day evaluation period of Parallels RAS and build your own private cloud within hours!
References
First five steps to building a private cloud environment | http://searchcloudcomputing.techtarget.com/tip/First-five-steps-to-building-a-private-cloud-environment
How to build a private cloud | http://www.networkworld.com/article/2166356/cloud-computing/how-to-build-a-private-cloud.html
The issues organizations must consider in migrating to private cloud | http://www.computerweekly.com/feature/Migrating-to-private-cloud
Why everyone wants a private cloud | http://www.techrepublic.com/blog/the-enterprise-cloud/why-everyone-wants-a-private-cloud/
Parallels RAS Deployments | https://www.parallels.com/products/ras/resources/cloud-deployment-models/