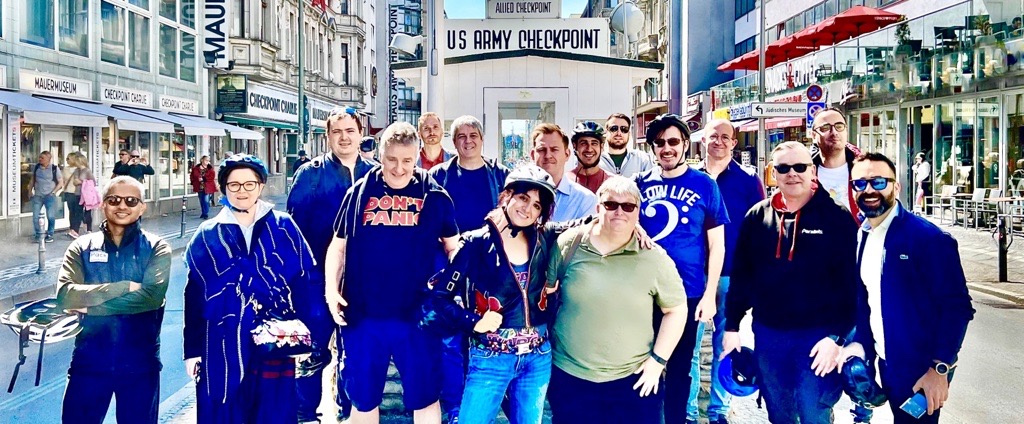 Parallels VIPP Summit Berlin 2023: an extraordinary, real-world example of Community Leadership 2.0
From May 8-10 in Berlin, following the E2E Virtualization Conference, an unprecedented Summit of the best and brightest minds gathered to share their expertise, perspectives, and ideas on the current and future state of the end-user computing industry, feedback and input on Parallels, from both a product and a company perspective, and sharing IT-related personal experiences and lessons from the past, and best practices for the future.
This exclusive, private event was Parallels VIPP Summit 2023, and in just three days, it truly moved the needle for Parallels, the Parallels VIPPs, the global IT community and the plethora of organizations (of all industries) that it supports, and the evolution of the IT industry.
The goodness of the community-driven Parallels VIPP Program
We believe the individual and collective contributions of seasoned EUC community leaders, advocates, and experts are the catalysts of technology and business evolution. Through their various contributions, community leaders and active members provide the global IT community with a multitude of opportunities to level-up their knowledge and skills. Many also provide opportunities for community members to build and enhance their careers, meet their personal goals, and contribute to the community in the ways they do best.
Some key contributions to the community include:
Developing and participating in events, meetings, and groups.
Training and educational sessions and workshops.
Blogs, forum posts, books, and documentation.
Tool creation and sharing.
Open peer-to-peer discussions and knowledge-sharing.
Mentorship, support, and advocacy.
The Parallels VIPP Program is an exclusive worldwide community advocacy program, and its members are a hand-selected group of seasoned end-user computing (EUC) leaders, experts, and advocates. Program eligibility is based on an individual's deep knowledge of and passion for Parallels products and the EUC industry, as well as their ongoing contributions to their peers, the worldwide community, and the EUC industry at large.
Through their influential advocacy of the technology solutions and services they believe in, they help companies around the world thrive. They deserve to be recognized for their contributions, and this is our main goal of the Program. More about the VIPP Program and how to apply for membership.
Now about VIPP Summit 2023…Parallels established the VIPP Program in 2016, and the VIPP Summit is our annual in-person multi-day mega-meeting.tailored to our VIPPs, to deliver the best, VIP-level experience possible for themas a main benefit of program membership.Here's an overview of the event and why our members are passionate about the VIPP Program and Summit:
VIPP Summit: 3 days of work and play!
A combination of learning, discussions, and fun, VIPP Summit was a memorable experience of epic proportions. Here are some of the highlights:
Monday, May 8: Welcome Reception
VIPPs arrived at the venue hotel, the Westin Grand Berlin, at various times throughout the day via planes, trains, and automobiles, and gathered together in the evening at the VIPP Welcome Reception that we held in the main atrium of the beautifully classical hotel.
A custom-made silver drink menu and plates upon plates of gourmet finger-food was the main fare, and the conversations were the focus. 13 VIPPs and 11 Parallels engineers and product managers had a grand ol' time catching up and talking tech, and the party continued into the night, although we all knew the next day was our day-long meeting, so we finally called it a night.
Tuesday, May 9: Summit Meeting and Dinner
Our Summit meeting held in the Dragon Room-a separate building that was a quick, beautiful walk from the hotel, started promptly at 9 AM, and the agenda was filled with program and product roadmaps, and technical sessions, with non-stop feedback and discussion throughout. We also introduced new program opportunities that were very well received, and I could tell the VIPPs loved their new swag. :).
Dinner at Crackers Restaurant was another memorable experience. A few meters walk from the hotel and through a wrought-iron gate, we walked into a quintessential eclectic Berlin hotspot and upstairs to our private dining room, with fantastic food, great discussions, and a whole lot of fun.
Wednesday, May 10: Activities Day
We kicked our Activities Day off with a Private Segway Discovery Tour through the heart of Berlin on a picture-perfect Berlin morning, visiting many of the must-see historic locations. This was quite an experience for many, as it was their first time on a Segway, but everyone got the hang of it quickly and we had an absolute blast rolling quickly through the streets of Berlin from sight to sight.We became Segway pros that day.
Next was a traditional German lunch at a restaurant built out of wood from the Black Forest.
Then we headed to the historic Mampe Manufactory, a spirit and liquor distillery founded in 1831, for a private tour and tasting. We learned about their unbelievable history, and the ways they pivoted along the way to remain relevant and appeal to the trends of the times. Through their resilience, agility, flexibility, and brilliant ideas and marketing campaigns, the business survived and often thrived throughout the ages, despite the various hardships they faced along the way.

Group 1 was blindfolded and led into a realistic dungeon, where we were locked up in rickety prison cells, except for one lucky fella who was chained to the wall. We escaped in half the time by working as a dream team, despite the dank, creepy circumstances.
Group 2 had their own challenges at "Checkpoint Charlie,"where they had to figure out several puzzles and codes to free themselves from the dark times of Berlin. They did, and they were the next group out!
Group 3 was whisked away to an authentic-looking office setting where they were given the unsettling task of searching for someone to the point of "Obsession." We were told this room was the most difficult; still, they took so long we were a tad worried their obsession got the best of them!
An open night for attendees to take a breather, a nap, a meal, or a work break provided some welcome downtime, and we met up at the classic hotel bar in the atrium of the hotel for a final farewell toast.Finally, we were transported into alternate universes, otherwise known as three elaborate multi-room challenges at House of Tales-Escape Room Berlin.
We are thrilled to continue supporting the many diverse activities, efforts, and careers of our invaluable VIPP members, enhancing our VIPP Program and its benefits, and hosting our incredibly constructive and always memorable in-person annual Parallels VIPP Summit. Many thanks to the VIPPs and Parallels staff who joined us for this extraordinary experience in Berlin. You all contributed to making this year's VIPP Summit better than ever!
Director of Customer & Community Advocacy
Alludo | Parallels
Sr. Director of Product Management
Alludo | Parallels