IT community news: E2E Virtualization Conference Berlin 2023 – it's a wrap!
The Expert2Expert Virtualization Conference (E2EVC), established over 20 years ago in 2003, is the longest running end-user-computing (EUC) community event in existence, connecting seasoned end-user computing experts from around the globe for deep-dive virtualization and cloud computing discussions and information-sharing.
E2EVC Berlin 2023 was no exception – it sold out at its 200-head cap faster than ever – not surprising, as it was slated to be yet another epic meeting of the best & brightest IT minds openly sharing their expertise and perspectives for the benefit of the 200 attendees, the organizations they advise, support, and contribute to; and ultimately, the worldwide EUC Community and the evolution of the IT industry.
Want to know more about E2EVC?
If you haven't heard the buzz, this 3-day virtualization and cloud extravaganza is billed as, "a series of worldwide, non-commercial virtualization community events," and their main goal is "to bring the best virtualization experts together to exchange knowledge and to establish new connections." This couldn't be more accurate, as anyone who has attended would agree. Still, I'd say the benefits of this 3-day ultimate exchange of technical knowledge, industry information, personal expertise and ideas go way beyond this description.
E2EVC is a long weekend whirlwind of technology sessions, master classes & roundtable discussions – a myriad of learning opportunities. Virtualization and cloud community experts presented on a variety of topics – from technology deep-dives to business-level skills, sharing insight into the latest and greatest EUC technology features, personal recommendations and tips & tricks for success, in addition to their perspectives on the current and future state of our industry.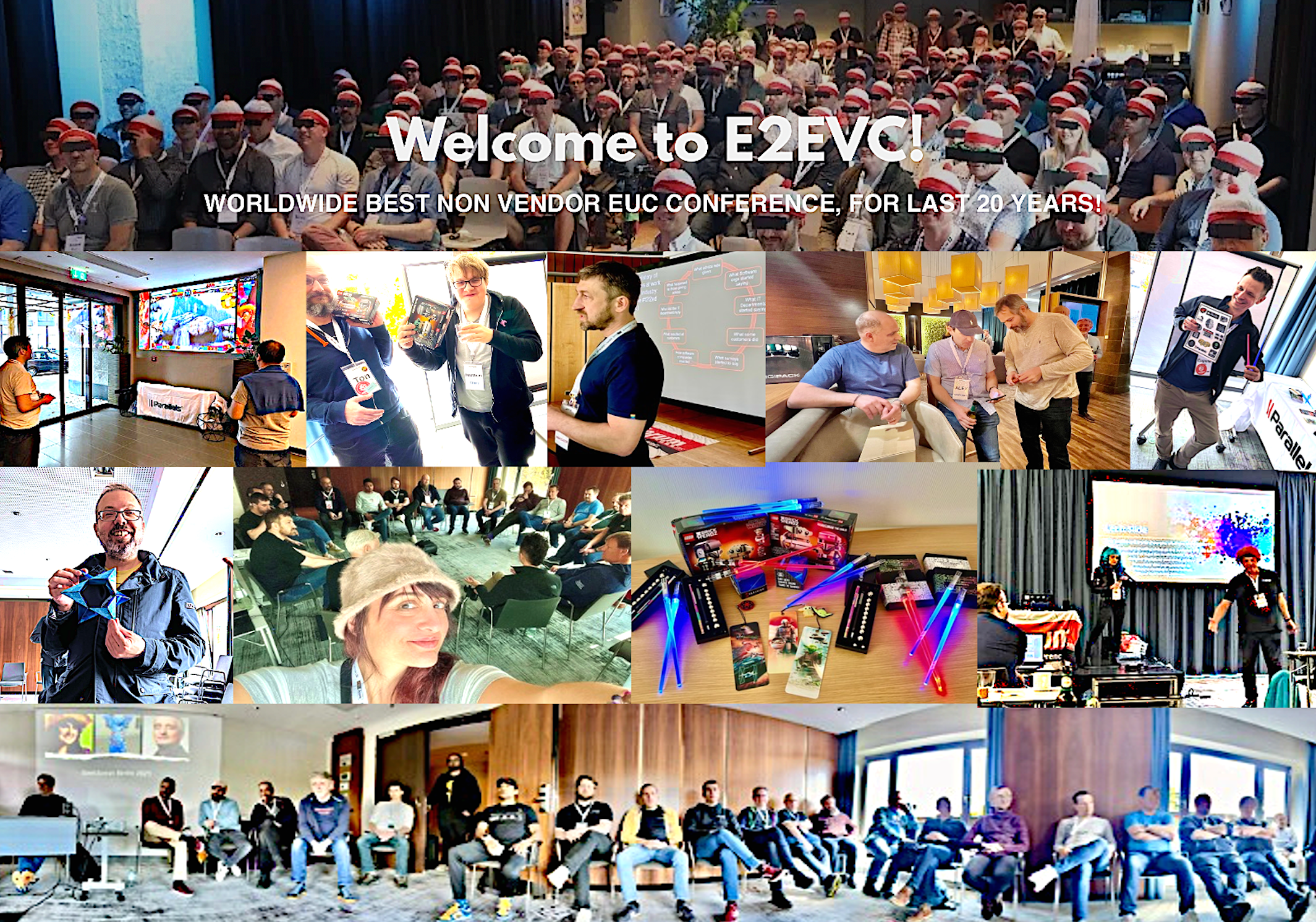 Why do we sponsor and attend E2EVC?
Parallels has been a staple E2EVC Global Platinum Sponsor for years. Why? Because we believe EUC community leaders, advocates, and experts and their many contributions are the catalysts of technology and business evolution. Through their altruistic contributions to their fellow community members via in-person and virtual events; training and educational sessions; blogs, books, and documentation; tool creation and sharing, and peer-to-peer discussions, they provide the IT community with various opportunities to level-up their knowledge and skills. Through their influential advocacy of the technology solutions and services they believe in, they help companies around the world thrive. They deserve to be recognized for their contributions, and we wholeheartedly support their efforts.
As such, I want to recognize Alex Cooper for his seasoned community leadership, his time, and his extraordinary effort over the past two decades, to develop and drive the E2EVC biannual conference that has withstood the test of time, and evolved throughout the years to provide countless opportunities for global community members to build and enhance their careers, meet their personal goals, and contribute to the community in the ways they do best.
Alex, you are a true community leader, we are happy have the opportunity to support your efforts, and we are proud to have you onboard as an instrumental member of the Parallels VIPP Program.
Agenda highlights, you ask?
The agenda was chock-full of fantastic sessions by seasoned EUC community experts, including Parallels VIPPs like Bernhard Tritsch, Claudio Rodrigues, Esther Barthel, Guy Leech, Thomas Poppelgaard, and Samuel LeGrand; other community rockstars, like Denis Gundarev, Ton DeVreede, Andrew Wood, Sasa Masic, and Helge Klein (+ many more); as well as some great new E2EVC presenters!
During Esther Barthel's session, Now that we are happily collaborating on Infra-as-Code, let's talk about branching strategies, she dove into the fun world of source control, git, and how to select a branching strategy to successfully sharing code and collaborate.
A one-of-a-kind standup comedy routine purely on the subject of IT, by Guy Leech, Master of Dad Jokes himself! …groans were heard for miles. ;D

Samuel LeGrand's provocative session: RDP, HDX, Blast, PCoIP, does any customer actually give a *?  Samuel took a realistic look at the top pillars EUC projects should be focusing on, rather than going into details of every protocol and their features and gimmicks.
What were our other E2EVC contributions?
In addition to our sponsorship activities and giveaways, we hosted a rad Retro Gaming Lounge, using a single robust gaming console that featured thousands of nostalgic video games from dozens of old-school gaming consoles. We also delivered the following sessions:
How to be a EUC Hero – Everything, Everywhere All at Once! During this fun, educational session, Chris Marks, my E2EVC counterpart and colleague at Parallels, shed light on how to deliver simplicity in a complex world: deploy apps once and deliver/update/retire for hybrid/multi-cloud environments simultaneously, including AVD, VDI, and RDS.
Slide into Success – Best Practices for Delivering 2.0 Presentations – An idea I had a while back was to develop an offshoot of my Geek Speak Live! session format, by diving into the discussion topics that got the most traction. This time in Berlin, I joined forces with my friend and fellow E2EVC Senator, Rob DeKorte to deliver a session with a hybrid style combo of presentation and open discussion, that ended up getting super positive feedback from attendees! Rob and I noticed a topic that was discussed passionately and at length during both Geek Speak @ E2EVC last year: best practices for delivering memorable, topical sessions that really resonate with audiences. Everyone at Geek Speak agreed that this would be a fantastic offshoot solo session, so we made it happen this time in Berlin!
The official closedown: Geek Speak Live! at E2EVC
As I've done at E2E since 2008, I moderated a lively 3.5 hour unfiltered Geek Speak Live! peer-to-peer discussion session to close the conference. That's right, 3 1/2 hours! This unprecedented open discussion session allows attendees to wind down from 3 days of back-to-back intense learning, have fun, and jump into passionate conversations about the topics we care most about. As usual, we transformed the room setup into a large circle of attendees wrapped around the room, and had a non-stop unfiltered discussion from one hot topic to the next – from:
What E2EVC sessions  made the biggest impact on us and why, to…
Why are community conference agendas shifting from structured technical sessions to include business-level learning and skill-focused best practice sessions, to…
These non-traditional security questions I posed that took on a life of their own: We all agree that IT security is critical. We talk about various solutions, but what about strategy? Within most organizations, are we truly considering security a top priority? Are we aware of the growing urgency and properly communicating the critically high risks if a single mistake is made? Are we thoroughly addressing security, implementing the best solution(s), and undergoing rigorous testing processes? Does the onus and responsibility of this business-critical requirement lie with the right folks within the organization?
E2EVC Berlin then came to a close, but as always, we were amped to continue the discussions remotely – until we meet in person again!.
We are thrilled to continue supporting and participating in this unique, industry game-changing community conference, and I can't wait for E2EVC Centurion in November. Hope to see you there so we can "Speak Geek!"
Laura Whalen – E2E Senator  
Director of Customer & Community Advocacy 
Alludo