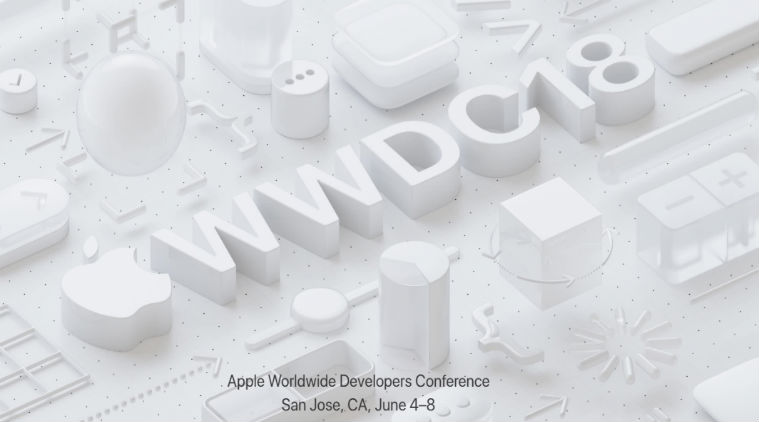 Everything from WWDC 2018: iOS 12, macOS Mojave, & Much More!
What we were expecting from WWDC 2018:
macOS

 

iOS
The name of the new macOS!
What we got from WWDC 2018:
 iOS 12
watchOS® 5

 

tvOS™
macOS® Mojave
Answer to the question: Is Apple merging macOS and iOS? NO!
Tim Cook kicked off the highly anticipated Apple®  Keynote event with a Planet Earth style intro to the keynote surrounding "spectacular mammals" in their temple of worship: WWDC 2018 in San Jose, California. The 6,000 attendee "mammals" referred as "Developers" traveled from 77 countries and are a key part of Apple's Dev network, which consists of 20 million developers, worldwide. No big deal. (read: this event is a very big deal to Apple dev's & nerds.) Now that we've set the stage for WWDC 2018, let's dive in to what Apple announced:
iOS12 has been revealed with some impressive stats:
95% customer satisfaction for iOS 11. (This is extremely high for an operating system!)
It took only seven months for a 50% adoption rate of iOS 11. (The latest Android OS has about a 5% adoption rate.)
Five years of backwards support for devices. This means less users being left out of future abilities in iOS 12.

 

40% faster app launch time. (WOW!)
50% faster launch time for the iOS keyboard.
70% faster to take a photo. (Most-used feature of iOS.)
[Watch the full 2 hour WWDC 2018 Keynote from the Apple Developer here]
(or keep scrolling)
Last year, the entire focus of iOS11 was surrounding AR. The transformational technology of augmented reality is changing our literal perception of what reality really is. Apple teased ARKit 2.0 with developmental technologies. Check out what LEGO has created with Apple to provide iOS users an interactive LEGO experience: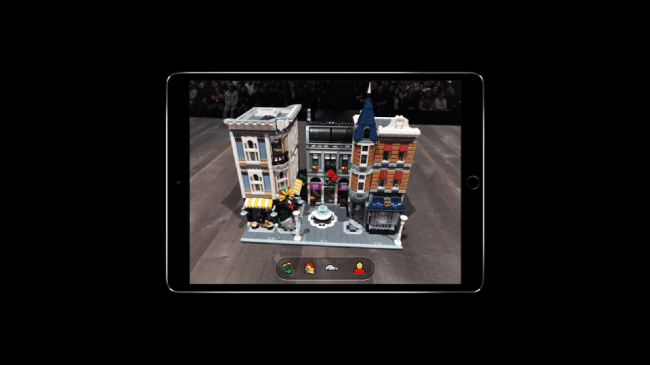 Plus, new multiplayer options, improved face tracking, realistic rendering, 3D object detection, persistent experiences, and sharable experiences.
Search, For You, and other updates within your Photo Gallery: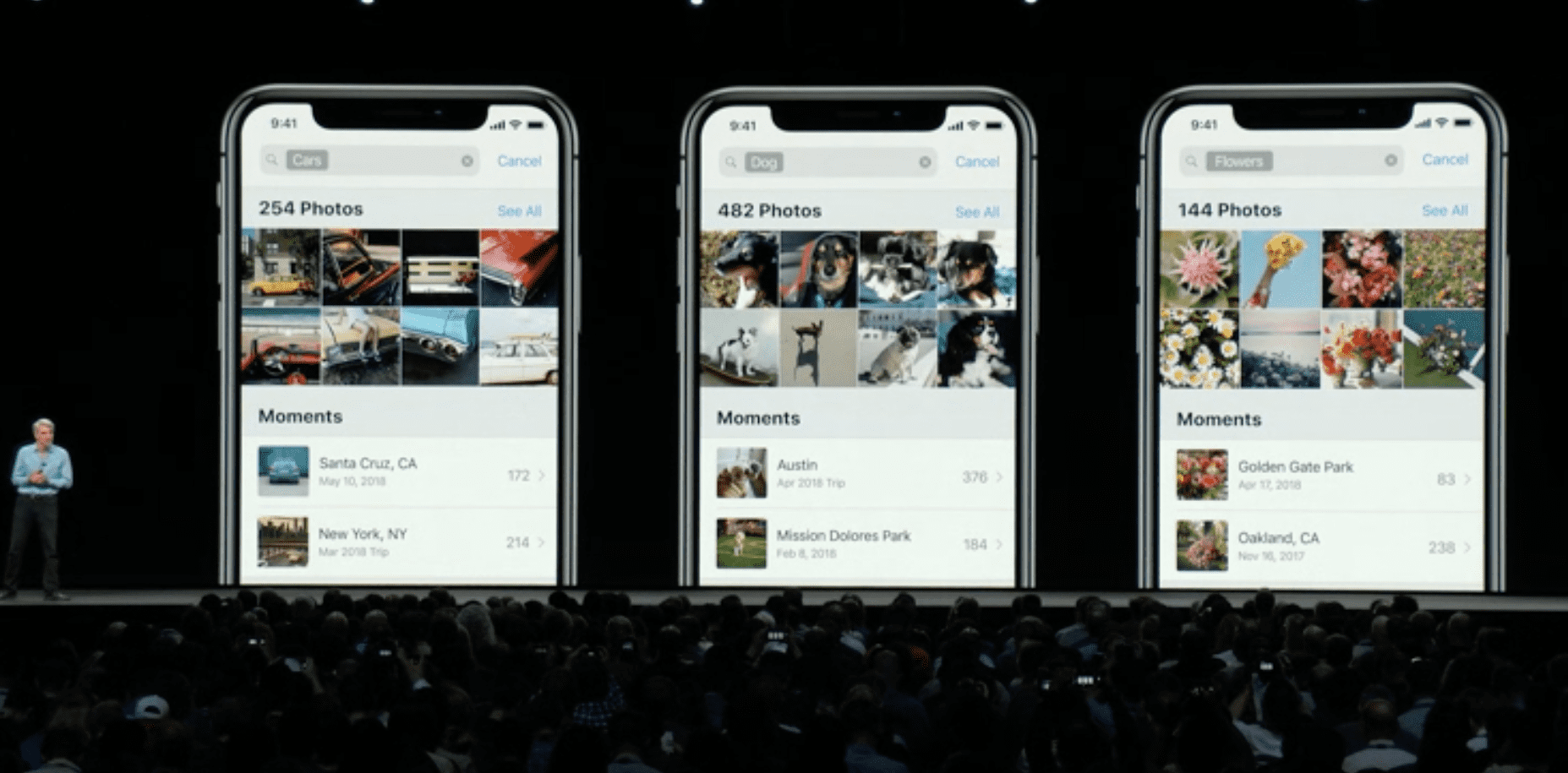 Since Photos is the top used function with iOS devices, there has been specific focused updates for the management and sharing of your photo gallery. Search within your photo gallery now starts working for you even before you start typing with Search Suggestions, since key moments, locations, and familiar faces are tagged for you automatically. Location-based searches help identify physical locations and events such as concerts. Under a new "For You" tab, all of your memories are here but also highlighted featured photos on this day in past years. 
Sharing great photos with the people you care about most has been improved. Sharing suggestions is now a new feature with iOS12 that will suggest not only photos to share but who to share the photos with. Forget about trying to connect with others to get those photos you may have missed. Now, iO12 will suggest photos for your friends to "Share Back" with you. This way, you have a full set of photos from one event without having to coordinate with your friends and nobody misses a shot. 
Siri Updates: 
10 Billion requests are processed per month with Siri. This is a perfect example of user behavior evolving as technology evolves. Third party support has been the missing feature of Siri in the past. Now, Shortcuts will allow any app to have short actions with Siri. Assign your own shortcut with your favorite apps, create your own Shortcuts with Siri with a custom phrase, and automate it to occur when you want it. This is very similar to what Google and Amazon are already doing. It looks like Siri in catching up with these other intelligent assistants.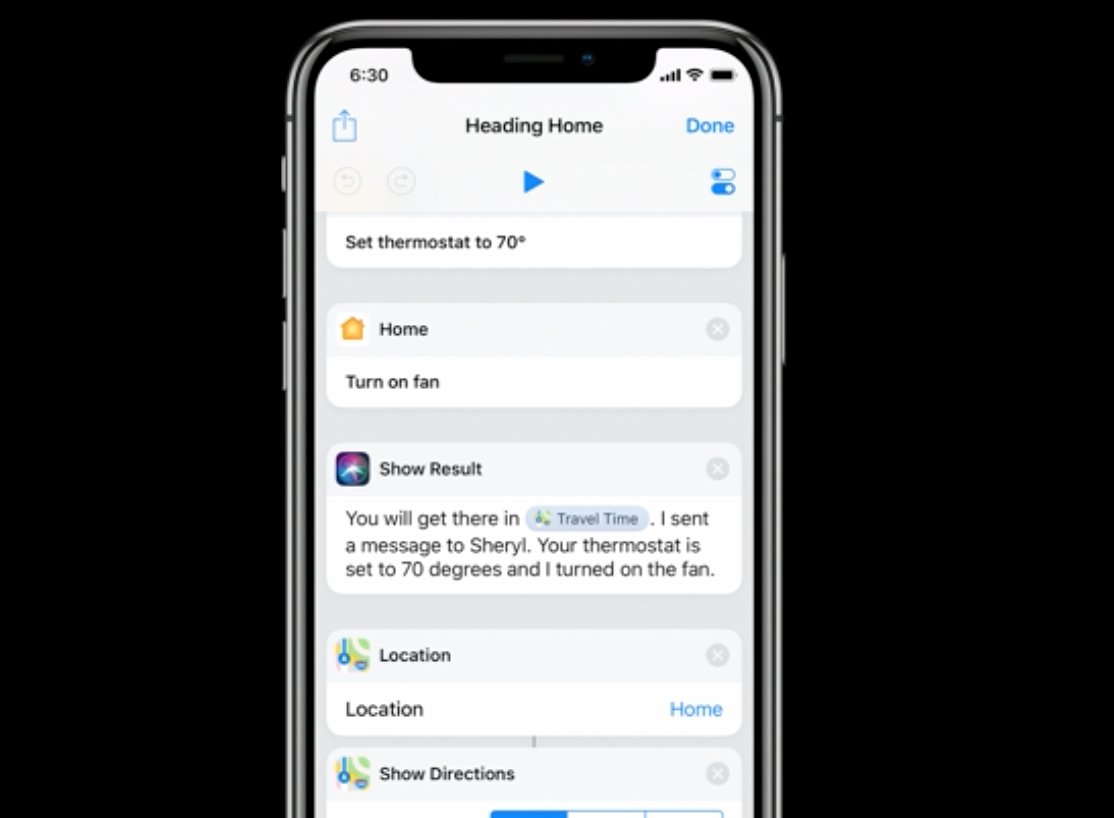 However, Siri Shortcuts will also work cohesively with watchOS to ensure user needs are always being met without being forced to carry around all your Apple devices. To mention Apple devices, Apple could not ignore CarPlay.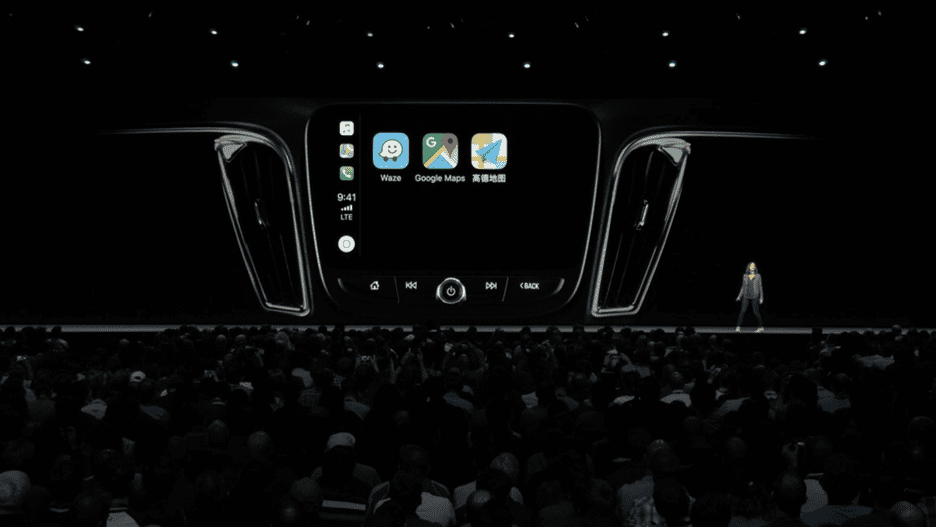 There's some very minimal updates here but third-party support messaging, music, and calling has always been supported. With iOS12, CarPlay will support third party navigation apps such as Google Maps or Waze.
Do Not Disturb and Screen Time:
Do Not Disturb is an existing feature has been updated with a refreshing bed-time snoozer for your notifications. Start confronting those notifications in the morning, not at 12am when you're checking the time. The new Do Not Disturb new mode can be customized for calendar invites, too. Which means scheduled Do Not Disturb for important events like birthdays, work, or even quality time. Additional built-in features have been added to help users limit distractions, focus, and balance the things that are important to them with management of Screen Time.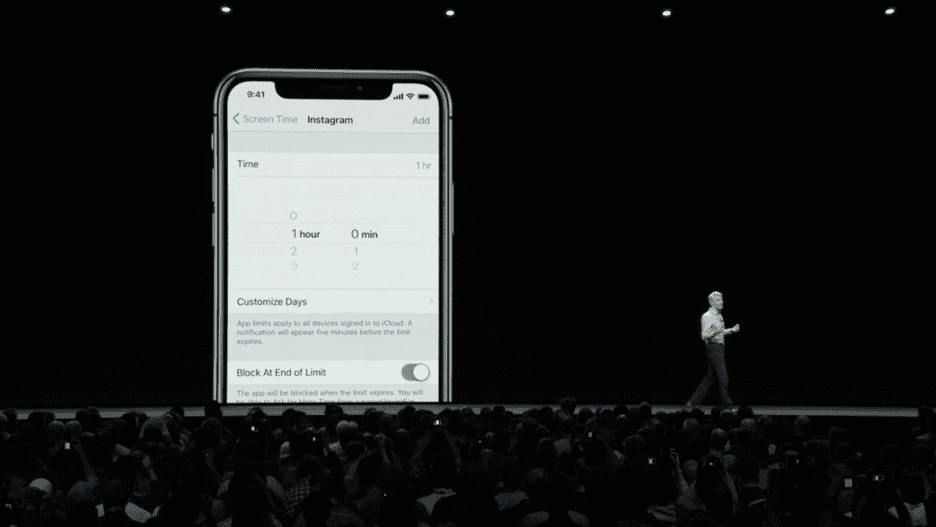 Screen Time is a new feature in iOS12 that empowers users with data driven insight and provide better control how you spend your time. You get a weekly activity summary of your activity and can can even set limits for yourself to help manage your screen time. ("I spent two and a half hours on Instagram yesterday! This has got to change.") This is marketed directly toward parents who need to help their children in time management. In iOS 12 parents can create app time "allowances" for their children, but I think this is also great for high-functioning multitaskers who need to constantly micromanage where their energy is going. (Yes, I talking about you, Karen.)
Messages and Group FaceTime:
iMessages has been enhanced to give users a really fun and creative way to express themselves with "Memoji", a personalize Animoji to look like you with customizable faces to send fun messages! Only iPhone X users can play, though. Cool. 
Newly announced group FaceTime allows for up to 32 users to contribute to 1 video call. (I'll start with 3+. I'm not so sure about 32, but, I see the appeal with FaceTime on the macOS, too.)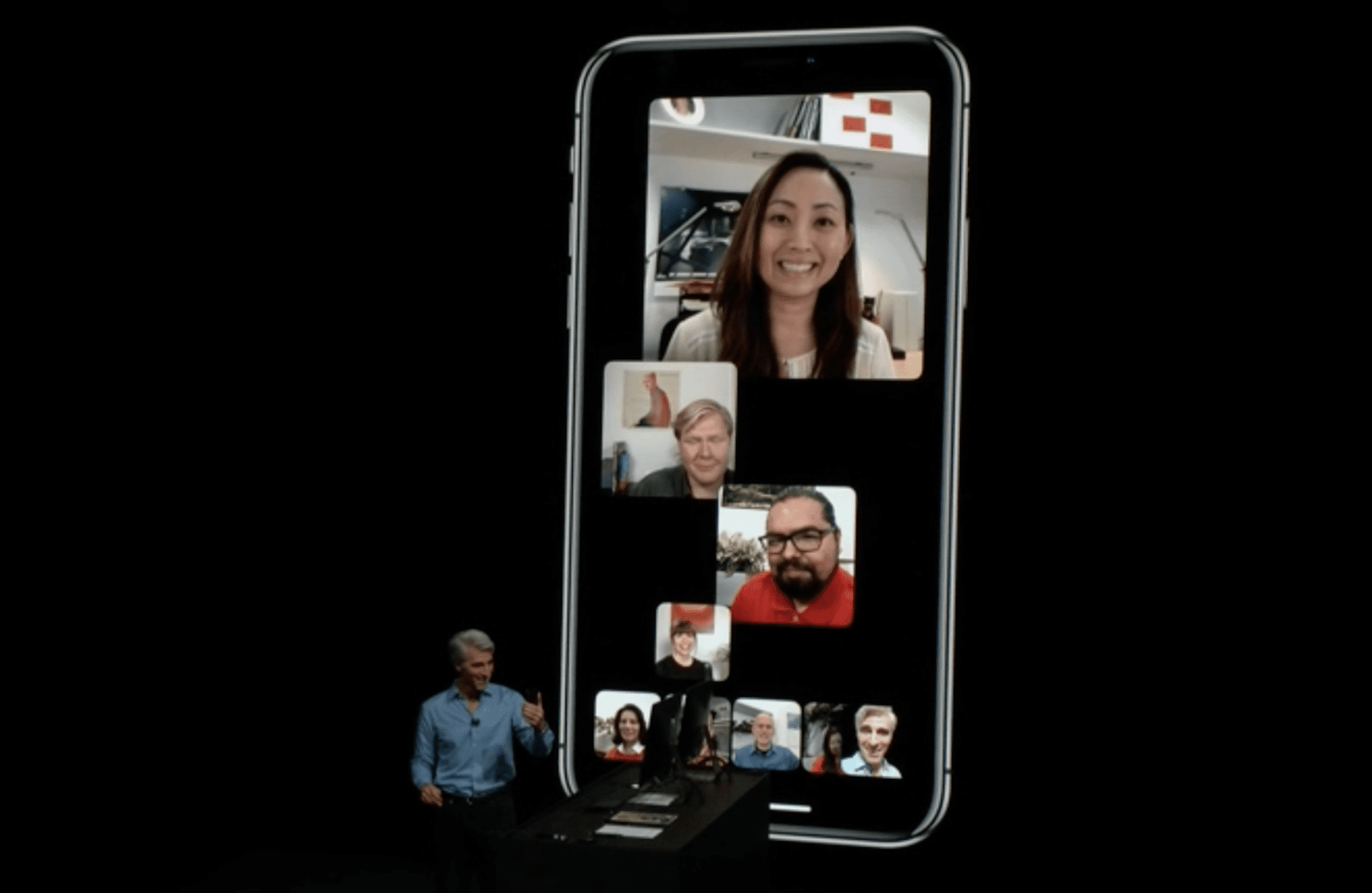 Note: this is a long-time anticipated desire of iOS users and it's great to see Apple actively listen to their users.
Grouped Notifications: 
Apple has finally tackled a powerful request, an easy-to-understand issue: there are just too many notifications. It is easy to miss notifications due to the long list that makes its way to a user's iPhone screen. ("Yes, I am still talking about you, Karen".) The iOS 12 version of Notifications takes a user's long list of individual notifications and summarizes them by group. This way a user can see ALL of their notifications instead just the few you have the patience to scroll through. This will solve a problem for many users because it will be easier to digest and deal with groups of our seemingly never-ending notifications.
watchOS, Walkie Talkie, and Students:
WatchOS 5 has great new updates for social sharing. Contributing to the shifted upward shift of adoption regarding health and activity apps, Competitions create a whole new way to enjoy the Activity app with friends. For example, "I will beat you tomorrow in X Steps Taken."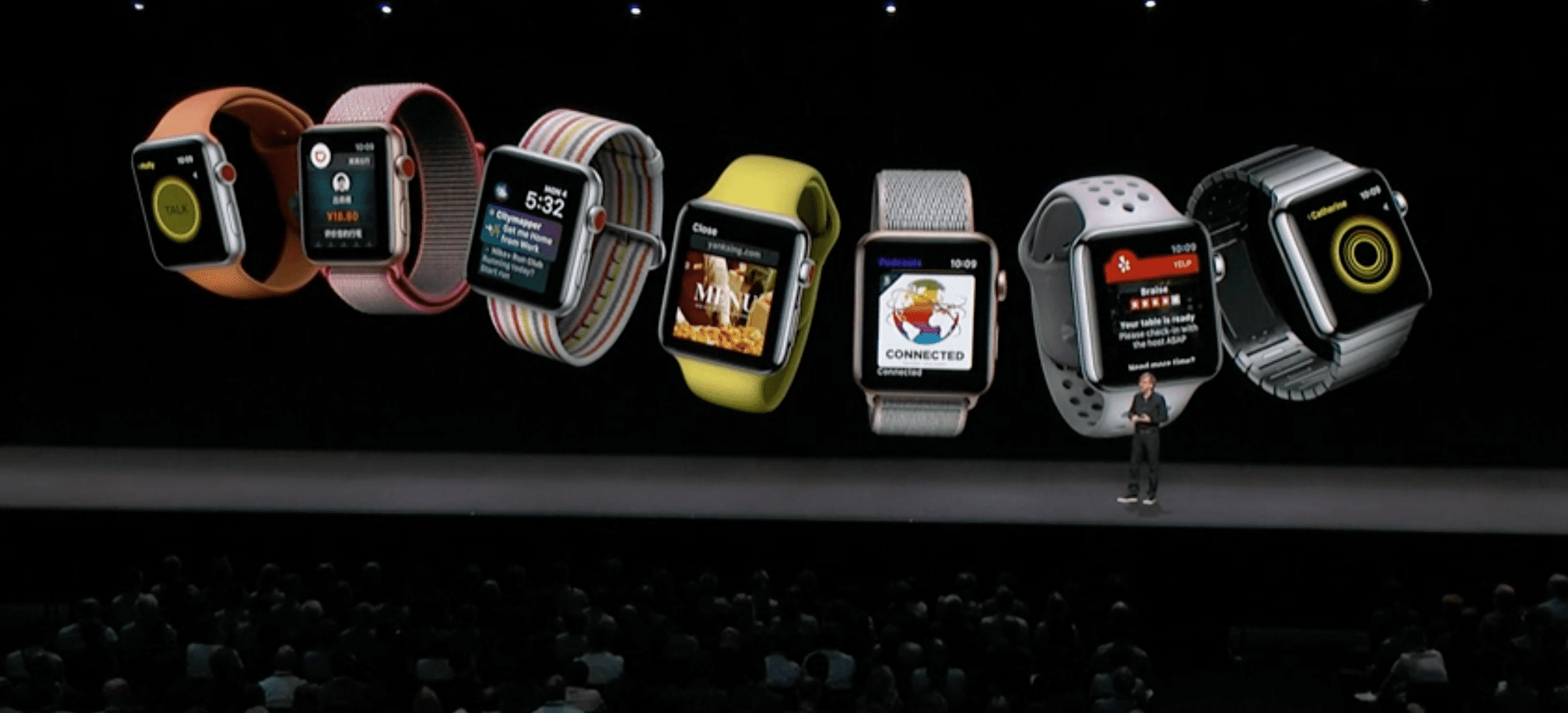 Apple encourages users to stay connected with the people they love while doing what they love. To further influence users to stay in contact with those they love, Walkie Talkie was announced as a new app for watchOS. This will need to be enabled on a per person basis, but I don't think this is a downside to Walkie Talkie, but rather an essential feature that is well thought-thru by Apple's designers. Imagine your most embarrassing friend Walkie Talkie-ing you while you're in line surrounded by strangers. Yeah, that could get awkward.  Walkie Talkie works exactly how it sounds: send a short voice clip to communicate to avoid hopping on a call or pulling your phone out to shoot a text off. 
Podcasts are also coming to your watch now which makes a podcast junkie like myself VERY excited!
Apple has always had a deep love for students. Good news for students with an Apple Watch, you are able to now add your StudentID cards to your Apple Watch. This will enable students to use their Apple Watch to pay for meals, jump on the bus, enter their dorms, and so much more! A number of universities will enable this in the Fall, and I expect many more to jump on this bandwagon by the end of the year.
Also, showing the cross-device integration that Apple is so famous for,  Siri Shortcuts will also work with watchOS 5 which means your personalized Shortcuts have the potential to be really helpful or really distracting.
AppleTV and tvOS:
AppleTV 4K and HDR was announced last year during WWDC but Apple announced today that previously purchased movies will be upgraded to 4K for free. Device wise, AppleTV 4K is also bringing the latest in sound technology with dynamic support from Dolby ATMOS to provide crisp surround sound using your Apple devices. Internet based delivery is destroying the cable box industry but now you can destroy the need for that big, ugly cable box by easily controlling your AppleTV through your iPhone. Your AppleTV remote will be found in your iOS control center, and has dynamic support for Siri. The brilliant AppleTV screensaver now has been updated with 4K flyover of our home (Earth, yo) from the ISS. On your AppleTv you can see 16 sunrises and sunsets in 1 day with the new Earth flyover. 
macOS Mojave:
For more than 30 years the Mac has enabled people to control their computers and be user friendly at the same time. The macOS is the heart of what makes a Mac – a Mac. 
Today, Apple introduced macOS Mojave, which includes a new UI look with Dark Mode, Screenshot advancements, iOS-influenced macOS apps, an updated UI to the Mac App Store, and intuitive technologies for developers to create with. No real major or flashy updates in macOS Mojave, but the updates here are useful.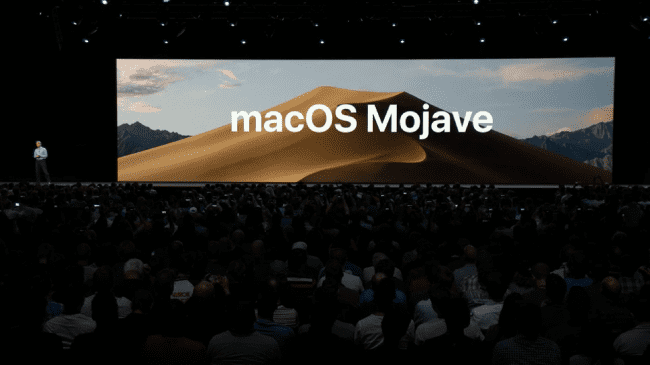 Dark Mode was announced as a new UI for the macOS. Dark Mode also needs no explanation. Check out how beautiful the UI for macOS Mojave is with Dark Mode: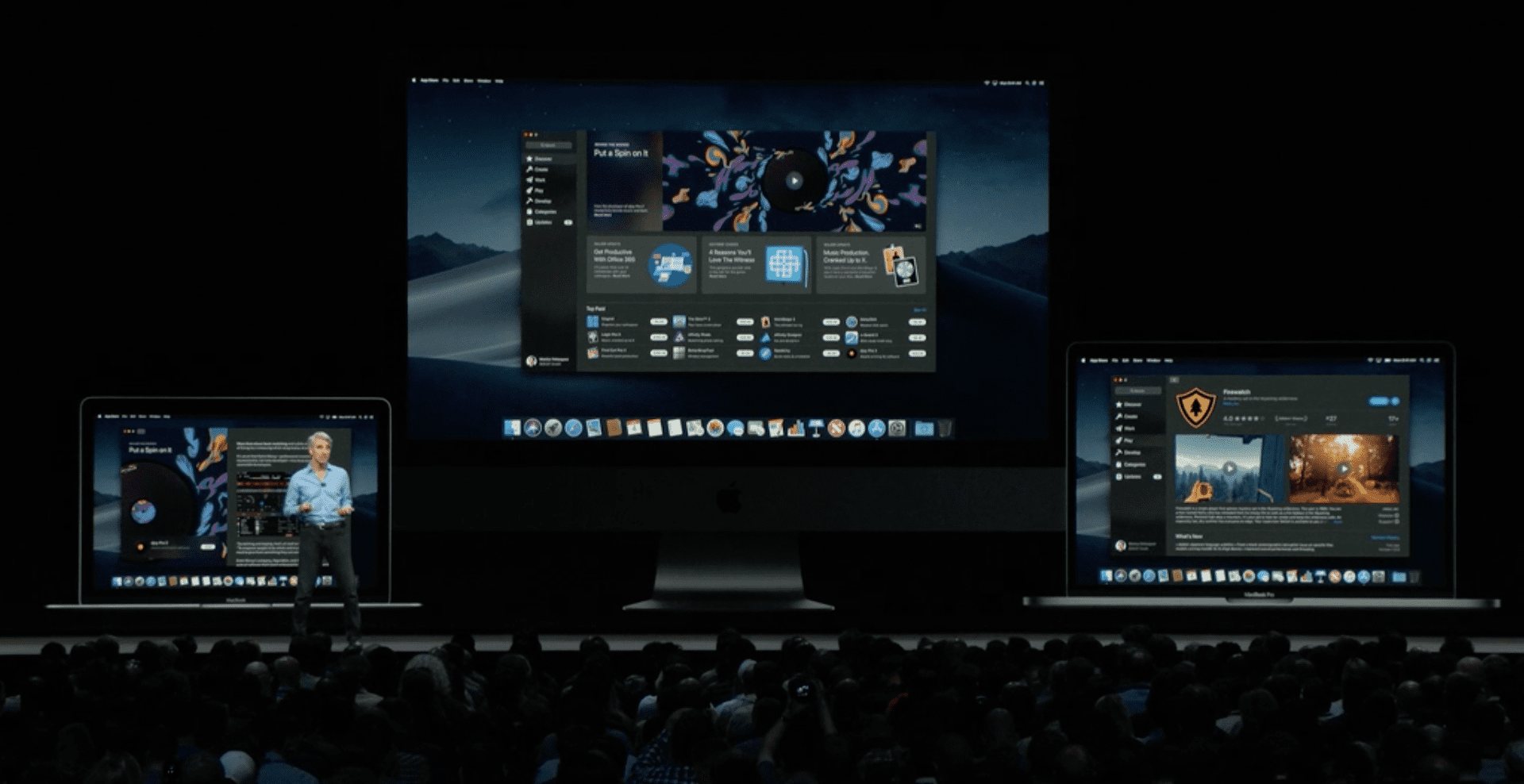 Within the macOS Desktop there's some also some healthy updates to the Finder that showcases a new Gallery View that has dynamic information built-in with quick actions to make quick edits like rotating and cropping an image, and even the creation of  PDF's. Stacks enables users to easily declutter a messy desktop with 1-click intuitive file system for arranging files with intelligent categories such as photos, videos, documents, and more. Some additional macOS Finder and General UX Updates include an intuitive update to Quick Look. Within Quick Look, Markup is now enabled to quickly edit, trip, or sign content without opening an image or PDF in Preview. A steal from the iOS platform that we're happy to see on the macOS is an improved ability with Screenshots. Users will have an accelerated workflow to make dynamic edits immediately to a screenshot. This, not only enables users to utilize their screenshots in a more unique way, but can also help users who are constantly multitasking to get back to their main task more quickly.
One real surprise to me, the new Continuity Camera technology. This new feature enables Mac users to unlock whole new possibilities across their Apple devices. Ever find yourself creating a presentation and need to take a photo with your phone? macOS Mojave is now as intuitive as iOS in that it enables users to streamline their workflow by taking photos and immediately uploading to the presentation currently being edited. Forget having to send yourself photos via email, Dropbox, etc. This saves a ton of time when creating dramatic content.
Focus on user requested iOS Apps coming to macOS Mojave:
I mentioned earlier that Apple answered, "Are you merging macOS and iOS?" with an emphatic "NO!"
However, Apple kind of said "YES" and provided a special sneak peak into News, Stocks, Voice Memos, and Home. By offering the technology of integrating iOS apps with the macOS (with very few code changes for developers) is a great move by Apple.
BUT, Apple is bringing some of users favorite iOS apps over to the macOS. macOS Mojave brings News to the Mac and allows for news to be customized for users, top stories to be curated, and has great new sidebar organized with customized news users actually care about. Stocks has been carried over from the iOS, too. The update to Stocks is not only a sleek new UI but also integrates News that is surrounding your desired Stocks so ensure you're up to date with the latest from the companies you care about. iOS app Voice Memos is making its debut on Mac, too! I have to mention, native macOS app QuickTime Player has always allowed for audio recordings. Now, with Voice Memos, it is much easier to create audio content and you can even launch with Siri. Sharing audio content will also become much easier than previously using QuickTime Player. Well played, Apple. The ever-popular Home app allows for users to manage and control their HomeKit devices such as thermostats, coffee makers, and your other Apple devices. This update in combination with the new iOS Siri Shortcuts allows for Apple users to create perfectly customized experiences on their devices and in our everyday lives.
Because this keynote was for software developers, Apple emphasized that moving the iOS apps (News, Stocks, and Voice Notes) over to the Mac involved only a small amount of code changes, & developers should start thinking about moving their iOS apps to the Mac next year.
Apples users understand that a key component of Apples long term success comes from the deep integration of privacy protections in macOS and iOS (and thereby) into all apps. There will be now greater API level protection in macOS Mojave for your camera and microphone. As well as sensitive parts of your user behavior while spending time online with Safari.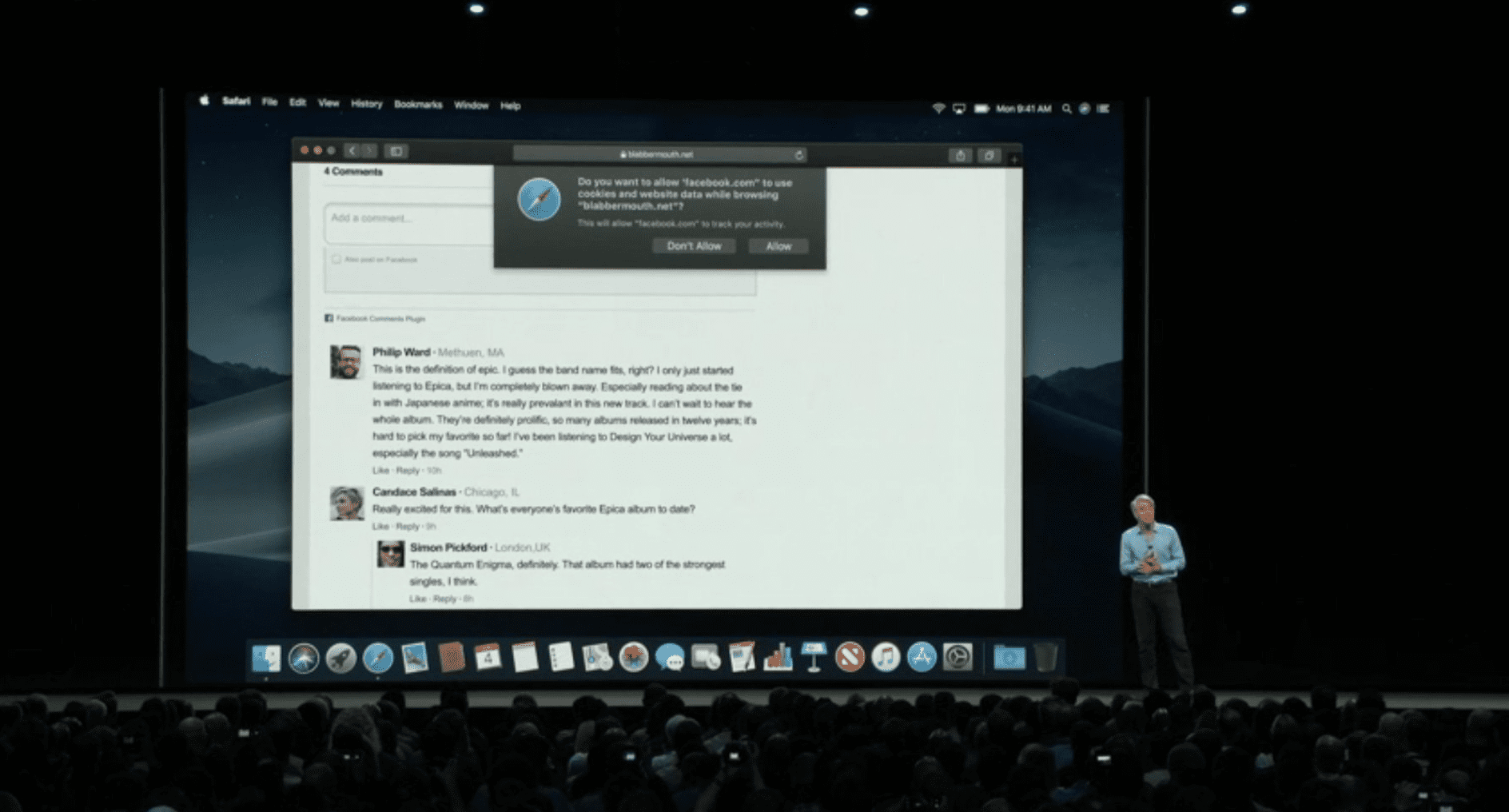 Safari works really hard to protect user's privacy. Last year, to dramatically reduce apps abilities to track you via cookies, Safari had added the ability to stop the cookies from tracking you. Now, Safari will now have the ability to turn off engagement-based tracking such as comment boxes, social sharing buttons, etc. This allows for Safari to protect you and limit companies who use your behavior data to show you personalize ads and track you any further. Safari's protection is not automatic in a Safari web browsers.  This must be user-enabled and will not automatically turned on. (Let me say it louder for the people in the back: If you want the protection, go into your settings and turn it on.)
Mac App Store:
Last year, Apple completely redesigned the iOS App Store to celebrate apps, games, and developer's exciting projects. Now on macOS Mojave, Apple will change how you download and install apps by redesigning the UI of the Mac App Store from the ground up to include detailed content surrounding the story behind some apps or behind some developers.
Don't panic, we'll be seeing an influx of third party applications having support on macOS such as Microsoft Office365. What? Microsoft, Panic, Barebones are all partners with incredible technologies that will be supported by macOS moving forward. This is very exciting time for Mac users because Apple is actively working closely with partners that previously may have been considered competitors!
WWDC 2018 has shown that Apple actively cares about its users and most importantly: what users create! The focus on bridging iOS 12 and macOS Mojave provides users with the ability to create compelling and dynamic content quickly without needed to spend resources on third party apps. Developers are empowered with the new ARKit2.0 to forge dynamic apps for users to enjoy.. With the 2018 WWDC keynote wrapped up, many Apple watchers were disappointed with no announcements of Apples upcoming hardware. Well, this is the Developer conference. Sorry. To the 20 Million Apple Developers, you'll get the latest tools and SDKs for all Apple platforms. Now. Here.
Here at Parallels, we look forward to seeing a possibility of a new iPhone, iMac, Apple Display, and more in September as per Apple's usual habit.